Vera Koo: Bianchi Cup Competition Gear
The Bianchi Cup, a shooting competition which occurs near Columbia, Mo., each May, is not only a contest of skill, but also is an equipment race. Every competitor tries to have the latest technology – competition gear – especially in the Open Class in which I compete. In this Open Class, competitors are allowed to have any number of accessories on their gun. However, even this class has rules about its equipment, so if you compete in this class, you will need to check that your competition gear does not violate any restrictions.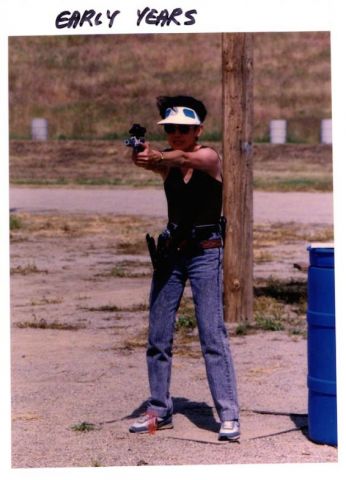 The Bianchi Cup has progressed a lot throughout my 20 years participating in the competition due to the amount of new technology that has been developed. If an item can make a shooter's performance smoother, more effective or more certain, every shooter wants that item.
Some of the competition gear you will need for the Bianchi Cup is very high-tech. Other pieces of equipment are fairly simple. Combined, the gear helps competitors achieve the performance they desire.
Here's what you need for Bianchi Cup Competition Gear:
Equipment for head and ears
I recommend you wear a hat for competition. Not only will a hat shield you from the sun or rain, but also it helps protect you from projectiles from neighboring shooters' guns that might come your way during competition. If you do not wear a hat, the projectile could end up inside your safety glasses or catch your attention and distract you, causing you to drop points. A hat will help you block out potential distractions.
Safety is a top priority in shooting, so you will need protective eyeglasses whether you are engaged in competition or practicing on the range. I wear Maui Jim prescription eyeglasses with high impact resistant lenses. The amber color of my lenses draws out the red dot in the scope of my gun. If you wear prescription glasses, make sure the lenses are big enough so you are not forced to look over the edges of the lenses when you shoot from the prone position.

Sponsored by Vera Koo
I add self-made blinders to my glasses to further eliminate side-view distractions. There was one occasion in which I noticed what the shooter beside me was doing. That slight disruption of my attention caused me to drop points. From that day forward, I started wearing blinders. I cut out rectangular blinders from plastic folders or ammunition boxes. I cut 2 small slits on each blinder and slip them over the temples of my eyeglasses.
I learned from other high-level shooters to wear double ear plugs. I wear custom-molded ear plugs sold by What-Ya-Say, plus outside earmuffs. For my outer ear protection, I wear Pro Ears electronic earmuffs. If you do not wish to wear the bulky style earmuffs, another option is the Pro Ears Pro-Fit custom electronic earplugs. Both of these options block out loud gunshot noises while allowing you to hear people talk.
Equipment for your gun
You will want to have 8 Metalform pistol magazines that hold 48 rounds apiece. My gun resides in a Bianchi International competition holster. I cut out part of the plastic on the holster so that the holster fits the profile of my gun. I use Pistol Pro Grip Enhancer to ensure that I get a good grip on my gun.
Because I compete in the Open Class, I can make additions to my gun. I add custom pistol wings on each side of my gun. These wings allow me to mount the gun on the edges of the barricade for that event. I also use a custom extended grip on my gun, which helps me whenever I shoot from the prone position. By lengthening the gun's grip, it brings the scope of the gun more eye-level, allowing me to sight the target more easily. I also use the moving target adjuster Stick Shift by Warren Moore. This device comes in handy for open-class shooters on the moving target event. This device helps me lead the target while it is moving to the left or the right. When you shoot, if you aim at the point of impact, the bullet will go there. Without the adjuster, you must lead the target by a specific distance.
As for scopes, my favorite model is the Aimpoint CompC3. This scope allows me to clearly sight my target, because the intensity of the red dot is very sharp.
Because you are required to shoot both left- and right-handed in the practical event, your gun will need ambidextrous safeties.
I have three match guns, plus a backup gun. I use my backup gun in training, because you do not want to overuse your match gun, or it could malfunction before or during the match.
Having the proper attire
Weather in Missouri in May for the Bianchi Cup can be unpredictable, so I bring 4 seasons' worth of clothing, including waterproof clothing in case I must compete in rain. You will want to have practiced in any clothing you might need to wear so that you know you are comfortable competing in it.
Additionally, kneepads are a must-have for the prone position. Otherwise, your knee could land on a rock or rough surface while you assume the prone position, and that could throw off your concentration. I insert extra foam into my pads to cushion my knees. I also recommend elbow pads to ensure that your elbows do not get scraped or rubbed raw while shooting from the prone position.
It might seem like kneepads and elbow pads would inhibit a shooter's appearance, and certainly in big matches it is nice to feel like you look good. The nicer we look, the more we help the sponsors and help the sport. However, with a little research, you can find a variety of color options that are both fashionable and functional.
For my competition belt, I use a Safariland Model 332 Range Series belt, which opens at the front and latches shut with Velcro. I add extra Velcro to make the seal stronger.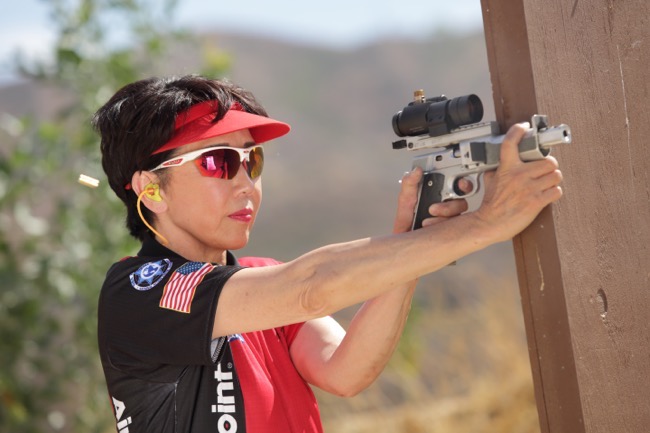 Every shooter's needs are different, but this is some of the gear I have found helpful throughout my career. Shooters, over the course of time, will tinker with various gear to find what helps them get the performance they desire.
Having the proper competition gear will help ensure that your body and gun function the way you want them to during competition. The correct gear can only aid us so much. The rest, of course, is up to the shooter.
DOWNLOAD: Vera Koo's Downloadable List of Competition Gear for the Bianchi Cup
Visit Vera Koo: http://verakoo.com
About Vera Koo

Vera Koo is a first-generation Chinese American woman. She's a wife and mother, author, entrepreneur and retired competition shooter. Along with two published books -- "The Most Unlikely Champion" and "Wisdom and Things: Essays From an Unlikely Champion" -- she writes her column, Vera Koo, at "Women's Outdoor News." View all posts by Vera Koo →