Be Prepared: Car Carrying Tips for Your Firearms
Stacy Bright has some tips for those seeking more information about car carrying.
Most states have some kind of law dealing with the Castle Doctrine, known in various areas as the "Castle Law" or "Make My Day Law." Generally this means that citizens have the right to protect themselves inside their residence or private property. In some states, this extends to their vehicle. Since we spend quite a bit of time in our cars, we often take for granted how vulnerable we are in them. Taking precautionary measures ahead of time is important!
Car Carrying Tips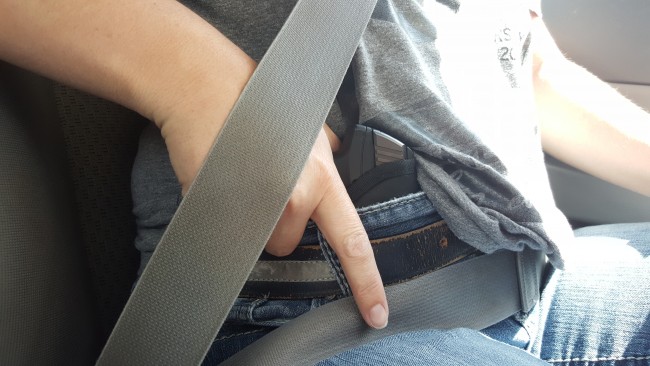 Carjacking and Criminals
According to a survey conducted by the AAA Foundation for Traffic Safety, most Americans drive 29.2 miles per day, making two trips with an average total duration of 46 minutes. The time spent in a vehicle gives ample opportunity to criminals who seek to rob, kidnap or hurt the occupants. As cited in Paxton Quigley's book Not an Easy Target: Self Protection for Women, recent studies show that women (in particular) who resist a carjacking do not substantially increase their likelihood of being seriously injured or murdered. Fighting back during a carjacking generally gives you a better chance to survive, according to most law enforcement officers.
If you've decided to carry a firearm in your vehicle, there are some things you'll need to think about. First, will your car carrying be on your body, or in the glove box or middle console? Easy access is key. Practice drawing from the location you choose so that you can do so safely and quickly. Next, if you are carrying on your person, does the seatbelt get in the way of accessing and drawing your gun? If so, you might want to consider several products that make car carrying more effective, while still securing the gun.
Car Products
The first way you can secure your firearm in your vehicle is with the Sticky Travel Mount. It lets you mount your Sticky holster and gun to vehicle center consoles, motorcycle saddlebags, boat compartments and other locations. It can be purchased from The Well Armed Woman.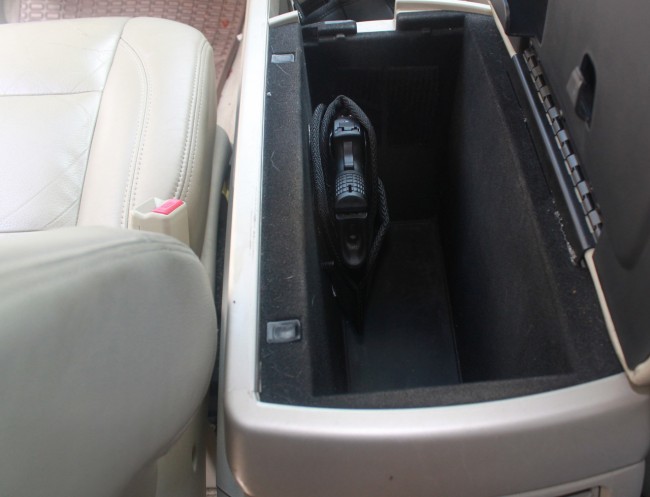 The next option is the Gum Creek Car Steering Column Mount. This mounts directly into the gap below your steering column and secures at the bottom of the dash/kick panel. By keeping it on the steering column, your gun will always be within close reach. The mount and holster are sold separately. The Well Armed Woman also carries this product.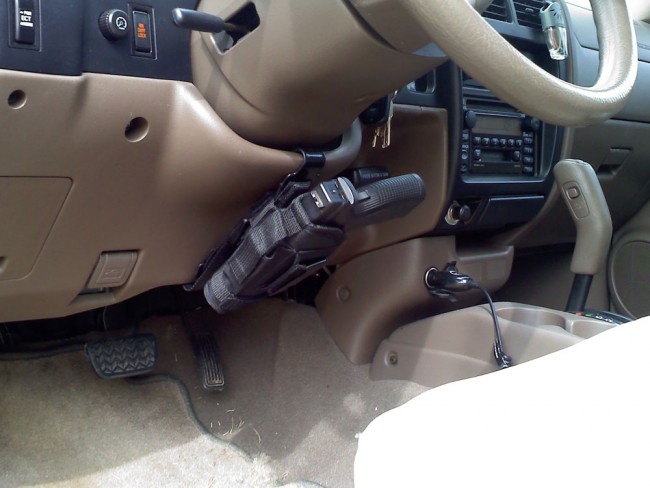 The third option is Crossbreed Holster's RAM Mount. This system will securely mount your firearm to almost any flat surface; it can be installed in your vehicle by drilling a couple of small holes, making your handgun readily accessible. This option is available on Crossbreed's website.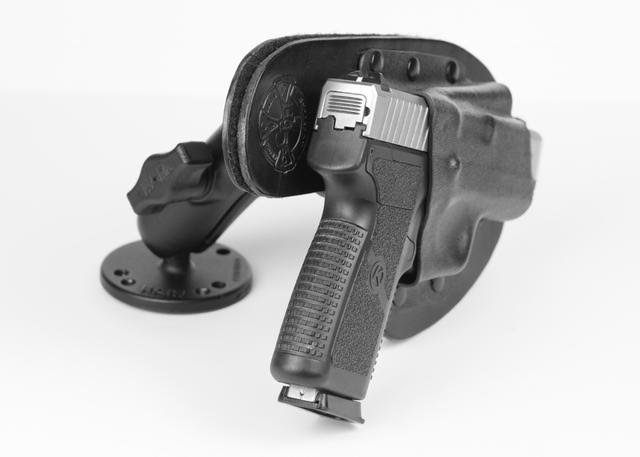 Traveling Across the Country
Whether traveling for business or going on vacation, the last place you want to end up is in jail. If you're planning to travel with a firearm from state to state, make sure you do your research and know what's legal, as well as safe. The NRA's Institute for Legislative Action has great web resource to verify your state's gun laws.
If you're going to be carrying your firearm concealed, virtually all states require you to have a concealed-carry permit. In most places, having a concealed-carry permit makes transportation and possession easier to do legally. Map out your route ahead of time and check the laws in each state you'll visit before traveling.
Traffic Stop While Carrying
If you're driving carefully and following the rules of the road, hopefully you'll avoid being stopped by a law enforcement officer. Should you find yourself seeing flashing lights in your rear view mirror, however, there are a few things you'll want to remember.
The officer wants to see your hands to make sure you're not a threat. Keep them on the steering wheel until he tells you to do otherwise.
Let the officer know that you have a concealed-carry permit (if you do) and that you have a firearm on your person, or in your vehicle. Use those words; don't say, "I have a gun."
Show your current driver's license and concealed-carry permit.
Comply with whatever the officer asks you to do.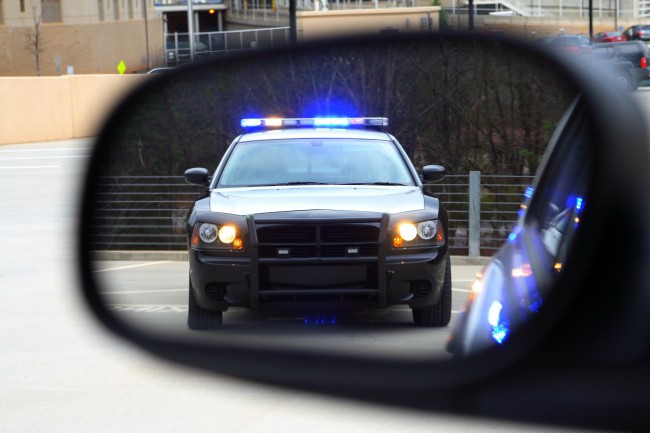 Remember that the officer doesn't know who you are, and wants to go home safely that night. Do everything possible to ease his or her mind by being polite and agreeable.
In Conclusion
We must prepare ahead of time for situations that might occur that would threaten our safety. Just as a seat belt is there to help protect us in the event of a crash, a firearm should be viewed the same way. Remember that each state's laws are different, so it's up to the citizen to understand their rights as they pertain to carrying a firearm inside the vehicle.
About Stacy Bright

Freelance writer Stacy Bright holds instructor certifications from the NRA in Pistol & Rifle, as well as being an Range Safety Officer and Refuse to be a Victim instructor. In addition to her NRA credentials, she also is a Missouri CCW instructor and teaches various other home and personal defense courses. "In a field dominated by men, I feel I bring a unique perspective to firearms and training, especially to women. I'm passionate about educating, empowering and developing confidence in those I train. In November of 2014, I started the Southwest Missouri chapter of The Well Armed Woman," said Stacy. Stacy lives in southwest Missouri, and has been married for 20 years. Visit TWAW Facebook page: The Well Armed Woman-Springfield, MO Chapter. View all posts by Stacy Bright →