Meet Pro Walleye Angler Marianne Huskey
Marianne Huskey remembers fishing with her grandfather in Charlevoix, Mich. "From the time I put my first crawler on the hook until the first perch was landed, my heart was racing with excitement. I still have the same feeling of excitement with each fish that I catch today," said Marianne, who currently is recognized as one of the finest anglers in the nation.
Marianne continued honing her fishing skills, and in particular, spent 12 years in Michigan's Upper Peninsula developing walleye skills while on the St. Mary's River. She began competing in grassroots tournaments and then, in 2009, went pro and competed in every pro-walleye series tournament she could find. Currently she is fishing the Cabela's National Walleye Tour (NWT).
Marianne Huskey #FishOn
We are pleased to announce that Marianne will be providing fishing tips this spring and early summer at Women's Outdoor News and at the Outdoor section at The Daily Caller. The series is titled "#FishOn with Marianne Huskey." The series is sponsored by Matzuo America. Marianne's other sponsors include Garmin, Lund boats, Mercury, Plano/Frabill, Optima batteries, Off Shore Tackle, Trilene, Costa, Abu Garcia, Fishouflage and Mr. Outboards Watersports Marine.
Marianne took time from her busy seminar schedule recently to answer some questions for us.
The WON: What did you do before becoming a pro angler?
Marianne Huskey: Before crossing over to the professional side of fishing I owned a general contracting company with my late husband, along with a clothing store in the Upper Peninsula of Michigan. My husband passed away one week after my first professional tournament. After the loss I finished up the project we had just begun and closed the business. I had closed the clothing store a year earlier, prior to his death, due to the fall-out of the economy.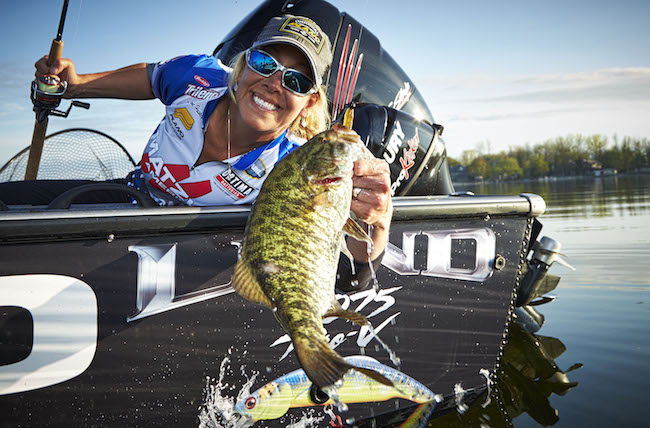 The WON: What's your background with other fish, other than walleye?
Marianne Huskey: I have been very fortunate to compete in other tournaments such as tarpon, red fish, bone-fish, bass and the World Predator Classic in Europe for perch, pike and zander. The common denominator in competitive fishing pertains to the use of electronics. With the help of my Garmin I can now use the Panoptix for real time sonar locating fish and watching their behavior at the same time.
The WON: Congratulations on winning the Angler of the Year (AOY) award in 2012. What does that mean?
Marianne Huskey: The Angler of the Year Award is by far the most difficult award to achieve. During the entire fishing season each angler is awarded points based on the place that you finish … At the end of the year the angler who has been most consistent and finishes with the most points wins the AOY title. This is very had to do and there is only one professional walleye angler with 2 AOY titles. It is a huge honor.
The WON: What types of tips and tactics will you be doling out during the 3-month run of "#FishOn with Marianne Huskey" at The WON?
Marianne Huskey: During the next 3 months I will be addressing many topics:
Preparing your equipment for the open water season
Boater safety on the great lakes/ how do these bodies of water compare to inland lakes
Transition from the jig bite to the trolling bite
Water clarity/water temp/ wind why is this so important
Understanding electronics/how to identify and target the fish in the water column
Challenge yourself to become a better angler
On the water safety tips
Tuning a crank bait
The WON: When you're not fishing, do you think about fishing? In what ways?
Marianne Huskey: I am always thinking about fishing. I can recall so many nights having dreams that I am in a tournament and cannot seem to get to the launch on time. I try to do a lot of reading about fishing as well. It is always good to see what other anglers are trying.
The WON: Who's on your support team, other than your sponsors?
Marianne Huskey: My biggest supporter is my husband, Matt Pikka. He is always by my side and we discuss direction for my career. Both my parents, Barry and Kristine Pfister, and my in-laws, Bill and Denise Pikka, also are extremely supportive. In addition to that, my sister and brother-in-law, Aimee and Brayton Pointner, are amazing, as well. I travel with 4 other professional anglers. These guys are like my family and are always there when I need them: Mike Gofron, Mark Brumbaugh, Scott Duncan and Jim Carroll.
The WON: What's your advice to women if they are thinking about going pro in the angling world?
Marianne Huskey: The most important thing to keep in mind is that you must always put family first. Be sure that your support team is in place.
Prior to making the decision to become a pro angler, it is important to sit down and create a 5-year plan with goals that are obtainable. Don't set yourself up for failure.
Last, but certainly not least, please, please, please respect yourself at all times.
A true professional female earns the respect of her peers. Using social media to post risqué photos with fish will never help you in this industry; it will only hurt you in the long run and you will never obtain the respect as a true professional female angler.
Follow Marianne Huskey at her website and on Facebook.
About Barbara Baird

Publisher/Editor Barbara Baird is a freelance writer in hunting, shooting and outdoor markets. Her bylines are found at several top hunting and shooting publications. She also is a travel writer, and you can follow her at https://www.ozarkian.com. View all posts by Barbara Baird →