WOW Wednesday: Olympic Rifle Shooting 101
Jamie Corkish, two-time Olympian & 2012 Olympic Gold Medalist, shares her Rifle Shooting 101.
Rifle shooting is a sport that is not very well known, even in the shooting industry. Most of the time when someone finds out I am an Olympian in rifle shooting their first question is asking about the skiing portion, to which I inform them I do not ski, that is the sport of Biathlon. Rifle Shooting is not only a complex sport, but the fact that not many people know that it is an Olympic sport makes it even more difficult to understand.
Rifle shooting is a very technical sport, which cannot be described in few words, however, I will give you a quick overview. Olympic rifle shooting consists of five disciplines: Men's and Women's Three-Position (prone, kneeling, standing), Men's prone and Men's and Women's Air rifle. Men and women do not shoot the same amount of shots in any of the rifle competitions, making it impossible to compare the scores. Each match consists of a qualification round followed by a final round which is the top eight qualification scores. The qualification scores are zeroed out when moving onto the final, therefore whomever shoots the best final out of the eight competitors is the winner of the match.
During all Olympic rifle events special equipment is utilized. You will see shooters wearing special jackets and pants made of canvas or a similar material. These jackets and pants are used for stability and injury prevention, however there are many rules and regulations that go into making sure not one competitor has an advantage over another. Special boots are worn that are flat soled so shooters have the best possible stance where they are not swaying. A thick glove is worn on the non trigger hand as well as a sling for support in the kneeling and prone positions.
Three-position and Prone events are shot using a .22LR caliber rifle at 50 meters, or approximately 55 yards. These events are shot outside, therefore wind and mirage must be taken into account as they have a major effect on the bullet and aim. The ten ring of the target is about the size of an American dime, which is being shot at with all open aperture sights. The air rifle events are shot at 10 meters, about 33 feet, indoors from the standing position. The ten ring of the target is about the size of a printed period on a piece of paper. Air rifle is shot with open aperture sights as well.
Most casual observers are troubled by the space-age design of the rifle, as it doesn't fit the mold of the common rifle. Seeking the utmost in precision, each Olympic rifle is customized to fit the need for both athlete and supreme accuracy. In the book, Ways of the Rifle, the authors point out the that "although the human body is very limited in what it can achieve, astounding feats become possible through the clever use of tools. Target rifle shooting is an impressive demonstration of this theory." They go on to say that "rifle shooting is a kind of sporting handicraft in that tools, knowledge, experience, skill and ambitions are all requirements which must be blended into a single unity."
When watching a rifle match one may think it looks quite easy; the athletes are not running incredibly fast or lifting an immense amount of weight, but to the surprise of many it is far from an easy sport. Holding a gun anywhere from eight to fourteen pounds for two to five hours a day takes a lot of training and endurance. The size of the targets are very small and the scores are always increasing. To be able to hit a dime at 50 meters takes great body control, breath control, trigger control and concentration. A great shooter knows their body so well that they can tell what little muscles are activating throughout their shooting, where the goal is to relax as much as possible.
Not only is there the physical demand of keeping a rifle steady to hit the target, there is also the mental endurance to be able to concentrate for two to five hours a day on shooting. Once a shooter has the technical aspects of rifle shooting down, the sport turns to a mind game. A shooting athlete has a great amount of time where they can think about what is going on in the match, therefore being able to control all the emotions that come up is a great task. Most rifle shooters work closely with a sport psychologist to help them improve on the mental side of the sport, as this truly becomes the difference of hearing your National Anthem on the podium and watching in the stands.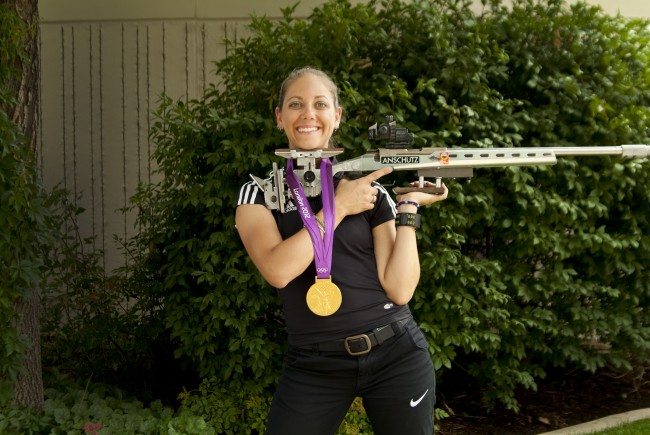 I encourage you to take some time to learn a little about the sport of rifle shooting and follow some of the athletes through their journey to the Olympics. Most shooters have put over 20 years into this sport and are continuing to try to improve their techniques and mental game every day. To be successful, about six hours a day is devoted to the sport, whether it is actually on the range shooting, spent doing mental exercises or spent in the gym lifting or doing cardio. It is a sport that takes maturity and the ability to concentrate for long periods of time, however all that hard work pays off when you get to hear the Star Spangled Banner at the most coveted sporting event in the world.
Have you been following our series on our WOW Wednesday (WONderful Olympic Women?
About The WON

The Women's Outdoor News, aka The WON, features news, reviews and stories about women who are shooting, hunting, fishing and actively engaging in outdoor adventure. This publication is for women, by women. View all posts by The WON →