Meet Our New Instagram Intern: Caroline Nens
Women's Outdoor News is delighted to announce that Caroline Nens has agreed to work as an intern to build further our Instagram following and continue communications with those followers this summer. Caroline is currently on summer-break. If you are inclined to follow us and share your outdoor life on Instagram, we thought you'd like to meet Caroline. She will be working closely with our other fabulous intern, Lea Leggitt.
Here's a little more about Caroline.
The WON: Why business and why marketing for your college major?
Caroline: I chose to go into business because I feel that having a business degree opens so many doors, and provides a lot of opportunities. Marketing interested me because my dad, sister and stepmother all work in the field, so I have grown up hearing about how cool it is! I love the idea of connecting products to the consumers, and maintaining a brand that will resonate with them positively.
The WON: You said you have an interest in beauty and that world of marketing? We think lots of women think about that facet of their lives, especially in regard to being outdoors. Why are you interested in that area?
Caroline: I think the beauty and outdoor worlds coincide more than people would think. I'm interested in this area because I love being active outside, but also, like to feel good about my appearance while doing my favorite activities. I enjoy searching for the best beauty products that work with my active lifestyle, and look forward to sharing them with everyone.
The WON: Your favorite outdoor activity this summer?
Caroline: My favorite outdoor activity to do in the summer is going on bike rides with my family.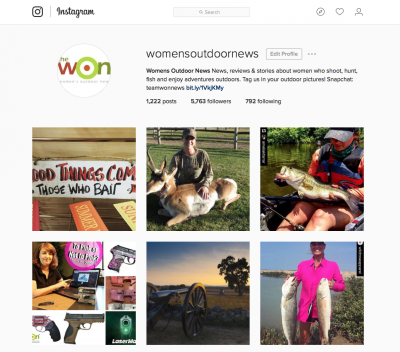 The WON: What do you want to find for our Instagram account?
Caroline: I hope to find and post about the best hair, makeup and skincare products/styles for Women's Outdoor News followers. Hopefully this will help women look great, and feel great while doing their favorite activities outside.
The WON: What outdoor skill would you like to learn?
Caroline: I would like to learn how to hunt. I have heard a lot of stories from my family members, and think it sounds awesome!
Check out The WON's Instagram.
About Barbara Baird

Publisher/Editor Barbara Baird is a freelance writer in hunting, shooting and outdoor markets. Her bylines are found at several top hunting and shooting publications. She also is a travel writer, and you can follow her at https://www.ozarkian.com. View all posts by Barbara Baird →