To Pink, or Not to Pink … That is the Question
To pink, or not to pint? That is the question. The colorful side of firearms.
Henry Ford used to say of his Model T, "You can have any color you want, as long as it's black." That used to be the case with firearms, too, but times have changed. Now, I'm a gal who gravitates towards black. Black dresses, black business suits and, yes, black guns. But there's a huge market for color these days. Manufacturers are changing the rules and producing some colorful firearms…but do they appeal to you? I set out on a quest to see the colorful side of firearms!
The overwhelmingly popular color choices, seemingly to appeal to the female market, are pink and purple. But with the strong growth in the female firearms market, manufacturers are jumping on the bandwagon by adding fun combinations like digital camo, Muddy Girl patterns, as well as other solid and two-tone standard options.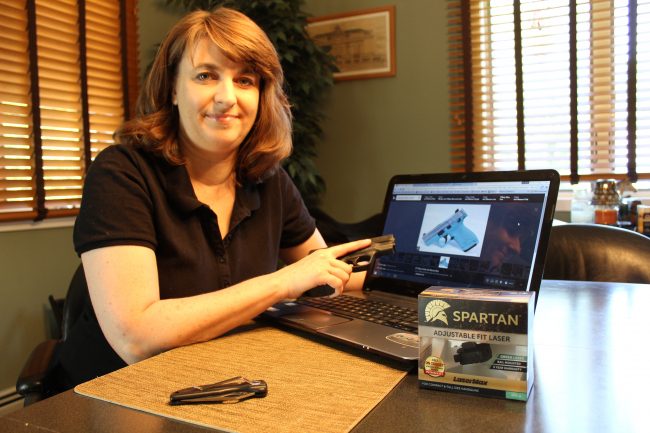 I decided to poll a popular online female-only firearm forum about color choices. I asked: "Tell me, are you a fan of colored guns? Do you have one? Tell me what it is and what color it is, heck, even show me a picture of it!! If you aren't a fan of colored guns, tell me why!" Within 3 days, I had 85 comments. (Women who are passionate about guns also seem to be passionate about whether or not they like colored ones.)
The overwhelming response was that these ladies were definitely pro-color, but a few had some excellent reasons as to why they, like me, prefer basic black. Here are excerpts from the many responses I received:
ED: Most of my guns are basic black and oh-so-slimming (especially the carry guns). If I am carrying concealed and someone sees black at the waistband, they dismiss it fairly easily. But if they see zebra, floral or bright colors, it draws their attention. My range guns? I'd do color if it was appealing, but it is not a motivating factor for me. I purchase guns for fit, function and purpose.
LMW: I personally do not care for colored firearms. My opinion is that a gun is a tool, and I don't need it to be trendy or cute. Nothing against anyone who likes/has them. It's just not for me. Again, I'm in no way bashing anyone!
RR: Fire Camo stock on my AR and pink camo stock on my shotgun, but my carry weapons are factory. I can get colored holsters if I want color.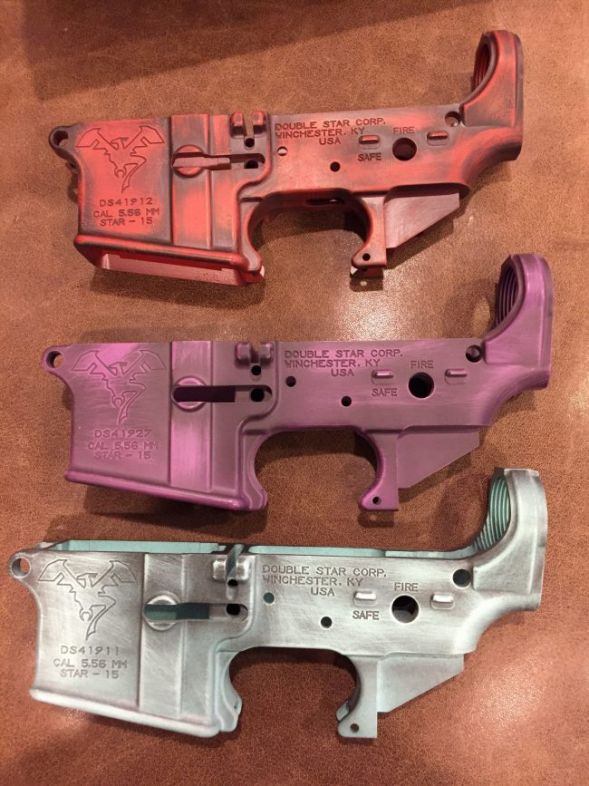 MMC: My rifle is on its way to Cerakote right now. It will have a purple theme. My husband is getting red, and my son robin's egg blue. I love being able to pick out my guns easily from a rack at a match.
DS: All my personal guns are purple. But I love purple.
KJH: I couldn't care less what anyone else does. I love color. I'm getting Cerakote as soon as possible.
I took a look at some of the manufacturer's websites to see who is marketing colored guns, and which colors are the popular choices. I was surprised to see how many major manufacturers are jumping on the colored bandwagon. Camo, which used to be green-based to appeal to military types, is now showing up doused in pink, blue, purple and Muddy Girl options, which are selling well to the female market. Still available are the dark, earthy tones, which, while they do appeal to women, are popular with the "other" gender as well.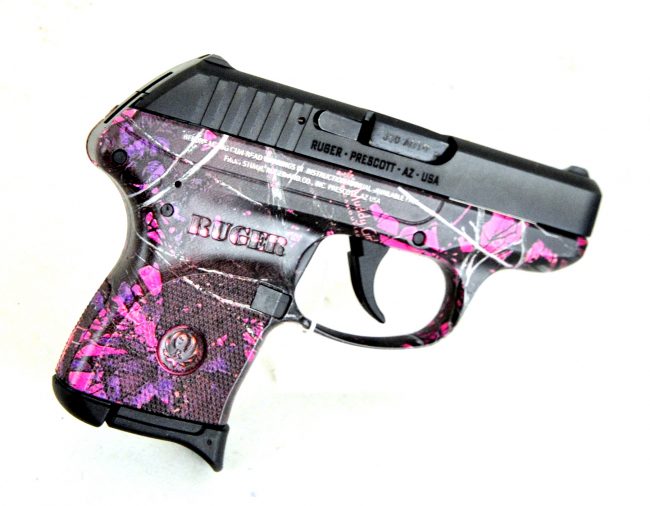 Ruger: It's a pretty safe bet to say if you like colored semi-automatic pistols, you can find something you'll love at Ruger. While I didn't see color in their revolver section, their rifles also had a few colorful choices. Solid, patterned, pink, purple or Tiffany blue, Ruger has a gun for you!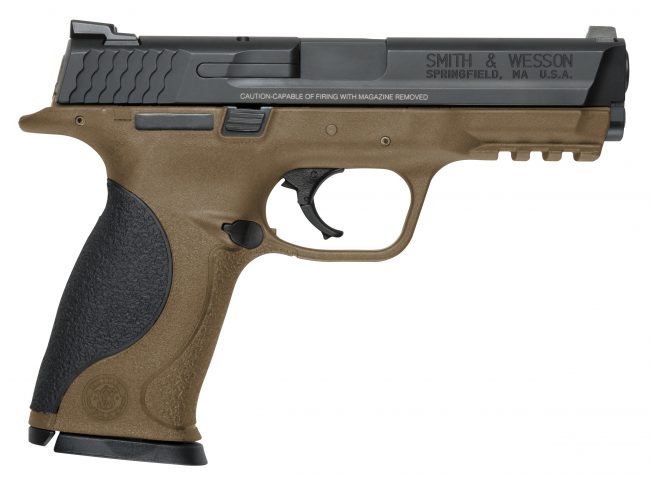 Smith and Wesson: Color wasn't jumping out at me on the Smith and Wesson site; however, dark earth is an option on the M&P pistols and rifles. Camo also is an option on many of their rifles. That said, they do make an adorable pink .38 special that definitely is marketed to the ladies!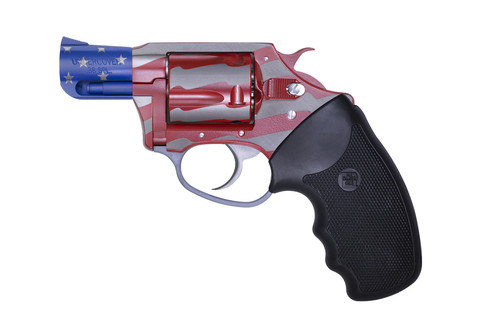 Charter Arms: Although they're not one of the biggest manufacturers, when I Googled "colored firearms," Charter Arms was one of the brands that came right up with images of pink revolvers. The company's home page says it all: "Never before has personal protection come in so many stunning color options." If you're looking for anything from red to an American Flag revolver, give Charter Arms a look.
Taurus: If you're looking for pink, check out Taurus. It's the only color I found.
Kimber: While mostly stainless steel, Kimber does offer some "special edition" colors. Blue, amethyst and even some earthy tones are scattered around its website.
Due to column constraints, I obviously couldn't write up every firearm manufacturer out there, but the above companies are all offering options that might make ol' Henry Ford dizzy. One thing is for sure though: Ladies like color, and manufacturers are now producing colorful firearms!
A lot of the pistols and rifles that I looked at were colored after-market. If you're looking for something specific, or if you're a "do-it-yourselfer," do some research on DuraCoat firearm finishes, as well as Cerakote. While you can find many reputable companies that apply these coatings professionally, both can be applied at home. (Cerakote recommends that it be applied by a professional, but it can be purchased for home use on sites such as MidwayUSA). Reviews of both products state that they're easy to apply, so if you're so inclined and brave, you might want to consider blinging out your baby at home. DuraCoat looked easy to use, and is available in more than 250 stock colors.
As for me, color-filling is about as artsy as I'd like to get with my own pistol. And if I want some color, I'll chose between the green or red laser!
Do you like pink? What color is your favorite?
About Annette Doerr

Annette Doerr is a freelance outdoor writer and business services consultant living in suburban New York. This married mother of two is an NRA Certified Pistol Instructor and Range Safety Officer. Annette is not only passionate about the sport of shooting, she also loves helping new shooters get involved, especially women and teens. An active equestrian, she enjoys riding her American Quarter horse, Cody. She volunteers in greyhound rescue and adoption, and shares her home with Casper, a rescued racing greyhound, along with her her cat, Tony, and her husband, Bob. Visit Annette at WeShoot2.com, her personal blog. View all posts by Annette Doerr →