WOW Wednesday: 2016 Paralympic Games Preview for Shooting Sports
Showcasing the depth and growth of USA Shooting's Paralympic program, eight athletes, including four women, have been named to the 2016 U.S. Paralympic Team. The 2016 Paralympic Games begin next Wednesday, September 7 in Rio de Janeiro, Brazil.
Five athletes were preliminarily named earlier this summer. Three additional athletes earned their selection as a result of a Court Arbitration of Sport (CAS) decision to uphold the suspension of the Russian National Paralympic Committee (NPC). As a result, reallocated shooting slots were directly awarded by the International Paralympic Committee (IPC) to three pistol shooters.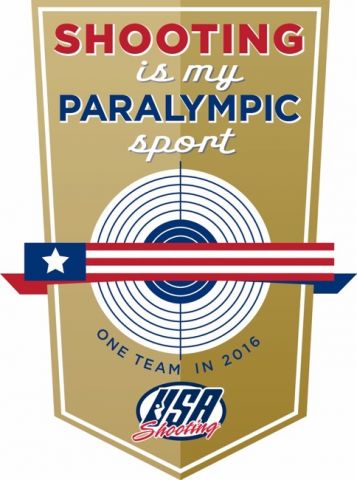 McKenna Dahl, Jazmin Almlie-Ryan, Tammy Delano along with Mike Tagliapietra and John Joss were all first-time Paralympic selections earlier this summer having earned the five Paralympic quotas the U.S. obtained during competition in 2014 and 2015.
Last week, the International Paralympic Committee reallocated specific shooting spots to Tricia Downing, Marco DeLaRosa and Shaun Tichenor.
Our program has come a very long way since London with greater depth, better results and more visibility," said USA Shooting National Paralympic Coach Bob Foth. "The strides we've taken are nearly miraculous, given the short timeframe and limited resources to work with. These athletes have all invested so much in this process and it is amazing to be part of this team. I'm tremendously excited about the possibilities going into Rio. The challenges all have overcome in order to be here have given them remarkable resilience and broad perspectives on the sport and life. I couldn't be more proud of the accomplishments that have led them to this moment and can't wait to see how they'll perform in Rio.
More than 4,350 athletes from 160 nations are expected to compete in 22 sports during the 2016 Paralympic Games. U.S. media rights holders NBCUniversal and the USOC will build on its unprecedented coverage of the 2014 Paralympic Winter Games, with more coverage of the Games than ever before in 2016. The networks will air 66 hours of coverage of the Rio 2016 Paralympic Games, an increase of 60.5 hours from the coverage of the London 2012 Paralympic Games, while TeamUSA.org and USParalympics.org will provide comprehensive online coverage.
USA's Paralympic history in Shooting includes three medals overall. Roger Withrow earned the only gold medal thus far at the Stoke Mandeville/New York 1984 Paralympic Games for the 10m Prone Air Rifle event. West Brownlow also earned a bronze medal that same year in Air Pistol. Former Alaska Fairbanks head coach Dan Jordan is the last Paralympic medal winner for the U.S., having earned a silver medal in the Three-Position Rifle event at the 2004 Athens Games.
Shooting first appeared as a demonstration event at the Stoke Mandeville 1972 Paralympic Games. Shooting became an official Paralympic event at the Toronto 1976 Paralympic Games. The sport's debut came with 14 participating countries and only three medal events.
There are 12 events for Paralympic shooting, which include eight rifle and four pistol events. Paralympic shooting offers three events for men and three events for women. Men and women compete together in an additional six events. There are two classes for Paralympic shooters: SH1 pistol/rifle and SH2, which are broken down as follows:
SH1 identifies athletes who do not need a support for the gun.
SH1 pistol athletes may have upper and lower limb impairments.
SH2 rifle athletes need support for the gun.
Get to know the U.S. Women of the U.S. Paralympic Shooting Team . . .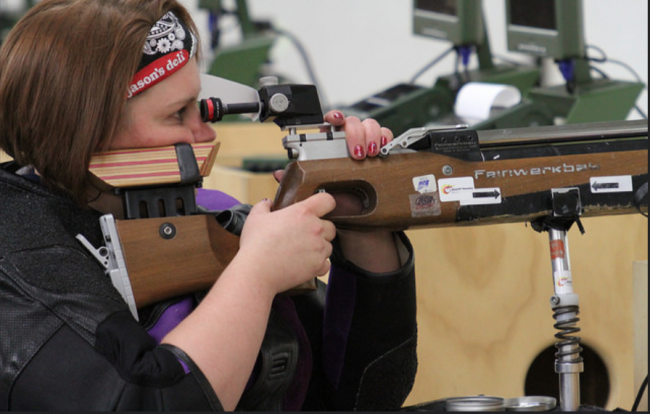 Jazmin Almlie-Ryan: Three months after having her first child, Almlie-Ryan came through with the performance she needed to qualify for Rio at the 2015 IPC World Cup in Fort Benning, Georgia. All she did there while competing in her first international match in over a year was earn two trips to the finals, earn a Paralympic quota and complete a great week with a gold medal in the R5 (Mixed 10m Air Rifle Prone SH2) event. Since she was 18, Jazmin has battled progressive spastic myelopathy that started in her lower back, forced her into a wheelchair when she was 22, and now has progressed into her cervical spine area affecting her hands, wrist and arms. Full Almlie-Ryan bio.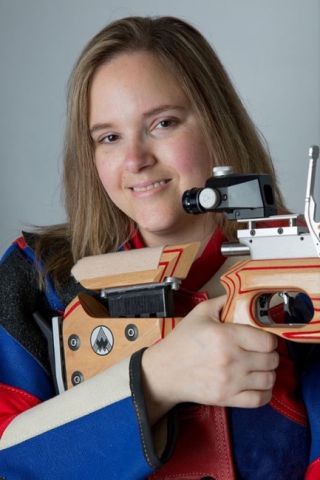 Tammy Delano: Delano shook off neck surgery, the death of her father and few other unlucky breaks just to reach this pinnacle moment. Born with spina bifida, she was introduced to the shooting sports in 2009 through a clinic conducted by the NRA's Disability Shooting Services. She was an alternate for the Wheelchair Curling Team for the 2010 Paralympic Winter Games. Full Delano bio.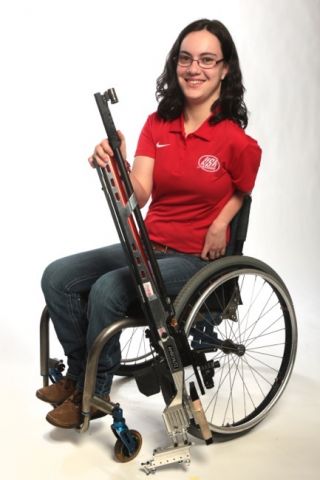 McKenna Dahl: The 20-year-old Olympic Training Center Resident Athlete earned her Paralympic quota during the 2014 World Championships. She has three fifth-place finishes in IPC World Cup action in 2016. At the age of 12, Dahl tried shooting for the first time at a summer camp. Originally a wheelchair basketball player, she preferred shooting because it was an individual sport. She was born with amyoplasia in her left hand and both of her feet, causing her muscles not to form properly. Full Dahl bio.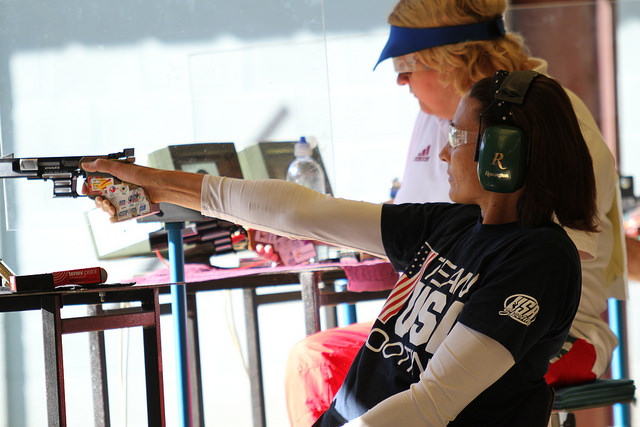 Tricia Downing: Sixteen years after her fate changed drastically, Tricia Downing is now preparing for one of the pinnacle moments in her life as a 2016 U.S. Paralympic Team Member. Out cycling on September 17, 2000, she was hit head on by a car that left her paralyzed from the chest down, requiring a wheelchair for mobility. The injury reignited her passion for sports as evidenced by the 100 races, including marathons, duathlons and triathlons, she's competed in since her accident. She was the first female paraplegic to complete an Ironman triathlon and qualified for the Hawaii Ironman World Championships in 2006 and 2010. In 2011, she competed as part of the U.S. Rowing team at the World Championships in Bled, Slovenia.
Injuries and pain led her to try the sport of shooting in November 2014 and it helped satisfy her need for an athletic challenge as well as the continual satisfaction she derives in sport. She finished 17th in a 2015 World Cup event in Croatia. Read the steps it took to becoming a Paralympian here. Get to know more about Downing here.
Follow the Paralympic Games Team via the USA Shooting FANHUB
About The WON

The Women's Outdoor News, aka The WON, features news, reviews and stories about women who are shooting, hunting, fishing and actively engaging in outdoor adventure. This publication is for women, by women. View all posts by The WON →