Taking Pride in Our Team USA Olympic Shooters, the Underdogs
A little over three weeks ago, 19-year-old Ginny Thrasher became the first Team USA Olympian to win a gold medal. Not only did she win gold in the Women's 10m Air Rifle competition, but she did so as an underdog.
Naturally, former CNN host and gun control zealot Piers Morgan couldn't help himself and had to weigh in negatively on Thrasher's incredible accomplishment.
LEAST SURPRISING BREAKING NEWS EVER: America's 1st Olympic Gold Medal is for Shooting. #Thrasher," he flippantly tweeted.
We often hear about the so-called "gun culture" in America from uninformed media anchors and writers. They portray this culture as a disease, an epidemic of "gun violence" in streets awash with "weapons of war." They follow this up with the argument, "We don't want to take everyone's guns away, we simply want new, 'common-sense' measures."
Morgan's statement, which I'm sure was applauded by his gun-control allies like Everytown and Mom's Demand, is a reflection of how dishonest their stated position truly is. They can't even bring themselves to congratulate or respect our Olympic shooters, how do we expect them to respect the everyday gun owner?
The truth is, the scary "gun culture" amplified by the media and their gun-control supporters makes up a tiny fraction of the overwhelmingly positive gun culture we should be celebrating and embracing in America. The shooting sports make up a large percentage of that positive culture and are growing every year.
According to the National Shooting Sports Foundation, target shooting in American is up 19 percent since 2009, when 34.4 million Americans were participating. In 2012 that number increased to 40.8 million. The average age of newcomers to the sport has also decreased by 10 years, from 43 to 33.
The International Defensive Pistol Association, which hosts local and national competitions in chapters across the country throughout the year, has seen its membership in grow to 23,000 in the U.S. and more than 50 foreign countries. Thanks to the friendly and safe atmosphere of its events, IDPA participation has grown by 58 percent since 2010.
USA Shooting, the organization supporting shooters with Olympic dreams, has also seen participation, both of shooters and of coaches, significantly increase since it was officially chartered in 1995.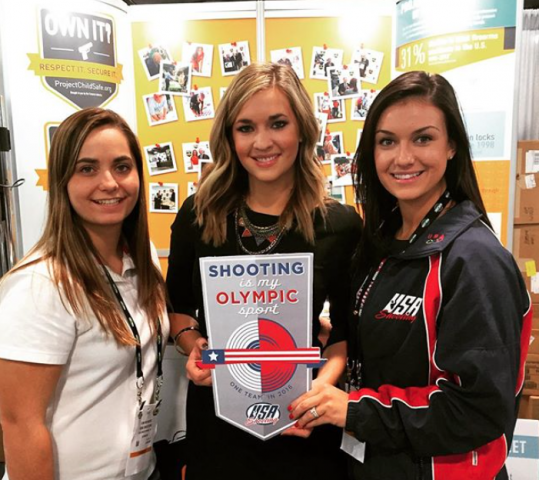 Olympian trap shooters like Kim Rhode, who just made history by medaling in six different Olympic games, and Corey Cogdell, who brought home a bronze in Women's Trap from Rio, set an example for the rest of us, both in character and talent. All of our Team USA Olympic shooters do. We should take pride in their accomplishments and promote their positive representation of gun culture, especially when the usual detractors do the opposite.
All of us at TeamWON take pride in Team USA!