WOW Wednesday: Why Shooting is an Olympic Sport
Who hasn't heard this question? Those of us so intrinsically tied to this sport, we can't see why anyone would question shooting's inclusion in the Olympic Games, but as we move toward Rio, jockeying for airtime (and respect) with swimming, gymnastics or track and field, enthusiasts of the gun sports are once again finding themselves justifying their existence in the greatest sports spectacle the world has ever known.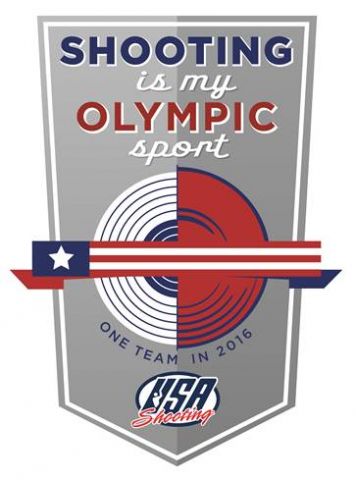 Rifle coach, psychologist and author of several rifle and pistol shooting books Heinz Reinkmeier writes in his book Sport Psychology and Competition: The Psyche of the Shot: "In spite of all protests to the contrary, [shooting] is a sport. A sport, because the performance of both mind and body play equal parts. Because the execution of movement, or to put it another way, the athlete's precision is what makes the difference."
Dr. Robert DuVall, director of Sports Medicine of Atlanta (SMA) echoes Reinkemeier's remarks. Shooting sports represent the essence of fine motor control in sports…few other sports require the refined motor skill and precision of shooting. Likewise, few other sports necessitate the combined physical and emotional aptitudes that are required for sport shooting success.
Precision – it seems to be the resonating sentiment of what sets shooting apart from other Olympic sports. In no other sport can millimeters separate an athlete from a medal to not even making a podium. It happens often, and most recently at the Olympic level when Wang Zhiwei of China edged out Xuan Vinh Hoang of Vietnam for the bronze medal in Men's Free Pistol at the 2012 Olympic Games by one-tenth of a point – that's the difference of hitting between the dimples on a golf ball from about a half a football field away.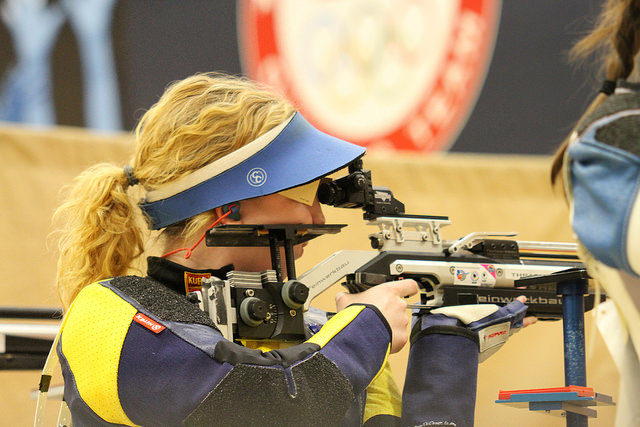 Or take for example another one of the precision shooting sports at an even smaller level – 10m Air Rifle. The 10-ring competitors are aiming at is just .5mm across – that's the size of a period in newsprint from about 30 feet away. The slightest twitch can send the 4.5mm pellet disastrously off course — that includes a heartbeat or a mistimed breath.
The body control skills [in shooting] are very precise," said Sean McCann, Senior Sports Psychologist for the USOC. "It's a fine motor control sport. In general, fine motor control sports are more disrupted by pressure, anxiety or nerves than gross motor sports like running or swimming. Being a little bit off can make things really off. Because you're doing such a small movement, any slight variation, just being a little bit off makes them so volatile. In some sports, if a top athlete has a bad day mentally or physically, that just means that they don't set a world record or that they get a silver medal instead of a gold medal. In shooting, if you're having a rough day mentally, then you can go from the top three into the 60s.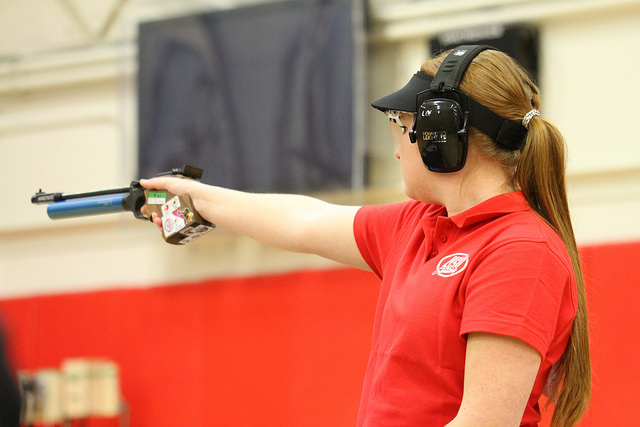 Merriam-Webster defines the world "sport" as "a contest or game in which people do certain physical activities according to a specific set of rules and compete against each other." Shooting has been included as an Olympic sport since the inception of the modern Olympiad in 1896. The founder of the modern Olympic movement, Baron Pierre de Coubertin, was himself an avid pistol shooter. A former French champion, de Coubertin supported the inclusion of four pistol and two high-power rifle events on the Olympic program. The current Olympic program consists of 15 Olympic events across rifle, pistol and shotgun.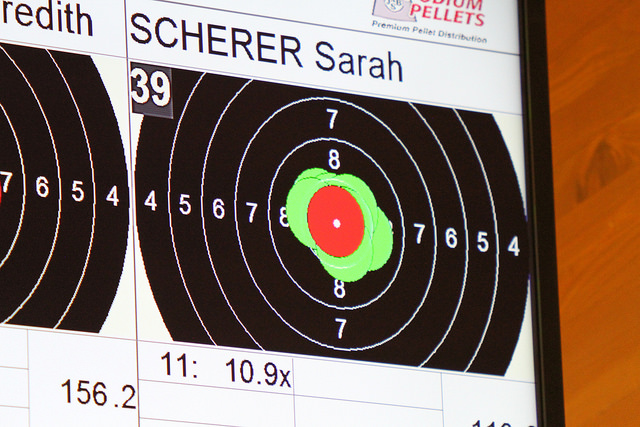 In the introduction to Olympic Shooting by Col. Jim Crossman, two-time Olympic Champion and Vice President of the International Shooting Sports Federation Gary Anderson wrote: "It is to the credit of the Olympic movement that a wide range of athlete attributes are tested by many different sports and individual events in the Olympic program. Those events are not limited to testing speed or strength or endurance. Many Olympic events also test precise motor control skills and the athletes' mental abilities to continue to perform those skills under the pressure of competition. Shooting is that kind of sport and has been an important part of the Olympic sports calendar since the modern inception in 1896."
Every Olympic sport is a combination of physical and mental requirements. There's no doubt in my mind that shooting has the toughest mental requirements of any Olympic sport," asserts McCann. "For me, it's just an issue of what's the ratio. Some sports are very physically dependent and have some mental components; some are very mentally dominant and have some physical components, and I think shooting is more in that area. You can't say any sport is purely physical or purely mental. They're all some sort of combination. But if you're looking at difficulty on the mental side, there's nothing tougher than shooting.
Read more Wonderful Olympic Women (WOW) Wednesdays here.
Jessica Delos Reyes, USA Shooting.
About The WON

The Women's Outdoor News, aka The WON, features news, reviews and stories about women who are shooting, hunting, fishing and actively engaging in outdoor adventure. This publication is for women, by women. View all posts by The WON →
The Conversation