Give Your Pistol a Facelift with These DIY Upgrades
Remember the television show from a few years ago, Pimp My Ride, where the host would take an older car or truck and modify it, bringing it new life? Well, what would you do to your pistol if you could? There are plenty of ways to give a pistol a facelift and keep it shooting great. Here are 4 upgrades a lady can do all by herself to modify and her pistol. (And trust me—if I can do it, you can, too.)
COLOR FILL
Why not personalize your pistol with a little color fill—adding a color to the engravings on your pistol so they really "pop"? This technique is not only easy to do, but it's also inexpensive and quick. In fact, you probably have everything you need already lying around your house. It only takes about 20 minutes to complete, plus drying time. Make sure you do it in a well-ventilated area to avoid inhaling nail polish fumes.
And should you second-guess your color choice, don't worry—it's not permanent. This fun, quick personalization can be removed with non-acetone nail polish remover.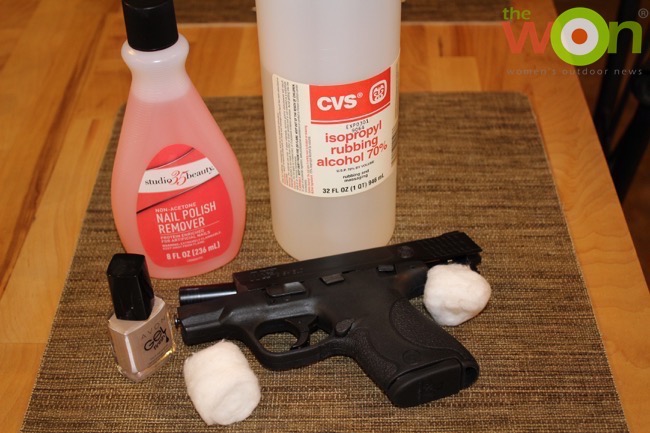 What you'll need:
Rubbing alcohol
Cotton balls
Q-tips / cotton swabs
Nail polish in the color of your choice
A toothpick
Non-acetone nail polish remover. It's important that it's non-acetone, or you may damage the bluing on your slide.
Paper towel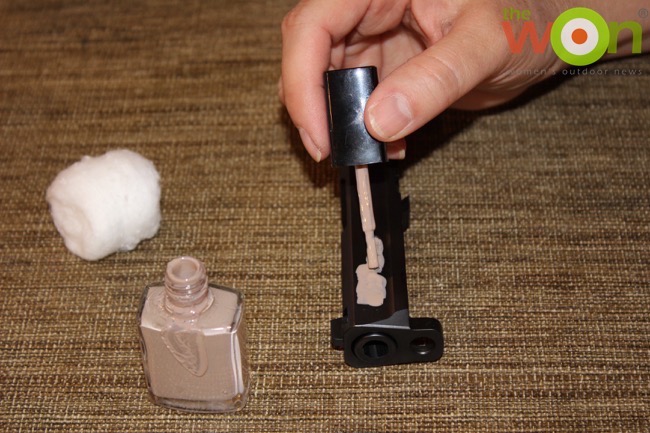 Instructions:
Safety check your pistol to make sure it's unloaded. Once you've triple-checked that it's unloaded, field strip the pistol so that you can just work with the slide. This will ensure you don't get nail polish on the grip or other parts of the pistol.
Using a cotton ball dipped in rubbing alcohol, wipe down the slide to clean off any residue, oil or grime.
Take a Q-tip and dip it into the rubbing alcohol, and carefully scrub around and inside the indentations you're planning on color-filling, making sure to get down into each crevice.
Shake your bottle of nail polish to make sure you get a good mix. Wipe some of the excess off the applicator brush, using about the same amount you would if painting your fingernails.
Slather the nail polish over the areas you're looking to fill. It's OK if you get a little on the slide; that's what the nail polish remover is for.
Wait a few minutes to let the nail polish set up. Then, using a small piece of paper towel dipped in non-acetone nail polish remover, lightly rub down the side of your slide to take any excess polish off.
Depending on the coverage of your first coat, you might want to repeat the process of applying the color. You can use a toothpick to help force the polish into tiny crevices that you can't reach with the applicator brush.
Allow a few hours for the polish to properly dry, and then hit the range to show that baby off.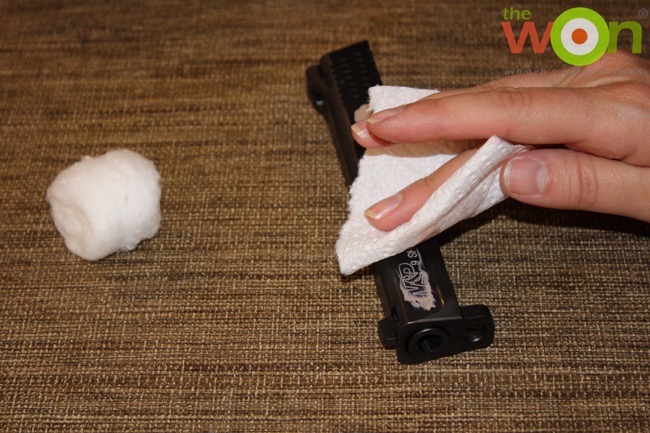 Some people prefer to use enamel paint to color-fill. I like the nail-polish method because it's cheap, easy and super quick. There are plenty of YouTube videos on the subject if you'd like to check out other possibilities and supplies. If you do go with enamel paint, Hoppe's No. 9 bore cleaner will take the excess paint off your slide. Bright, contrasting colors look great. Don't be afraid to use a bright yellow or neon green; you're only limited by your imagination with this one.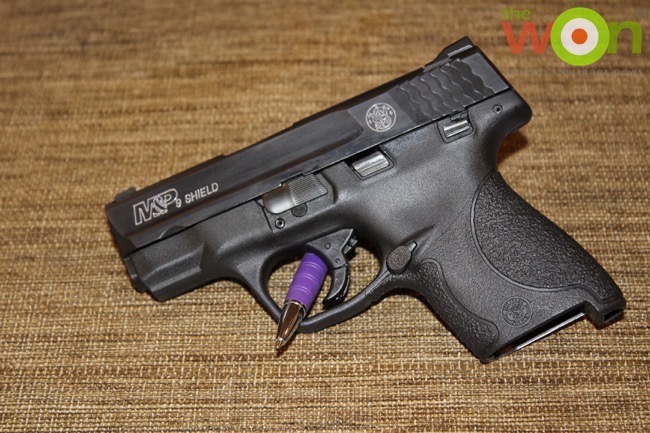 MSRP: Depending on your choice of nail polish, this will probably run under $10. I had everything at home already, so it cost nothing.
Looking for a little extra grip to your grip? Consider adding a set of Talons. Talon Grips are a decal-style grip enhancement, available for most popular pistol models. I chose to add a set of Talons to my Smith & Wesson MP Shield. I've tried the rubber slide-on grip enhancements, but I never got used to their bulky feel, and they never stayed in place. Talons are super thin and come in 2 different textures: rubber and granulate. Both surfaces maintain a positive grip on the pistol even if your hands are wet or slippery. The granulate option has a feel similar to sandpaper; the rubber option has a great feel and is more comfortable on your skin if you carry concealed (there's no sandpaper rubbing on your skin). Because I often carry concealed, I chose the rubberized model.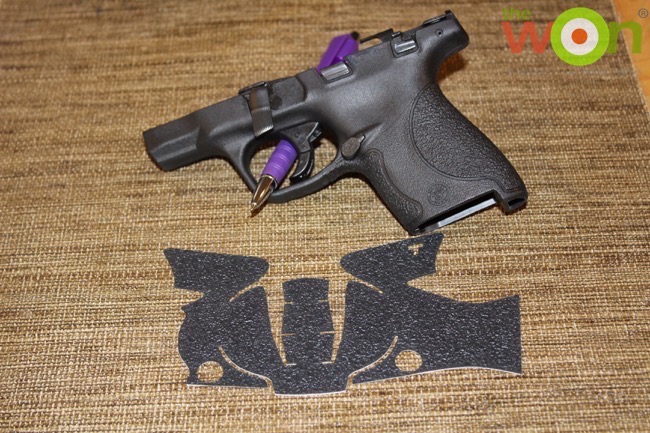 What you'll need:
Talon Grips in your choice of texture
Rubbing alcohol (an alcohol pad is included, but the manufacturer recommends additional rubbing alcohol and a brush to deep-clean your grip)
Hair dryer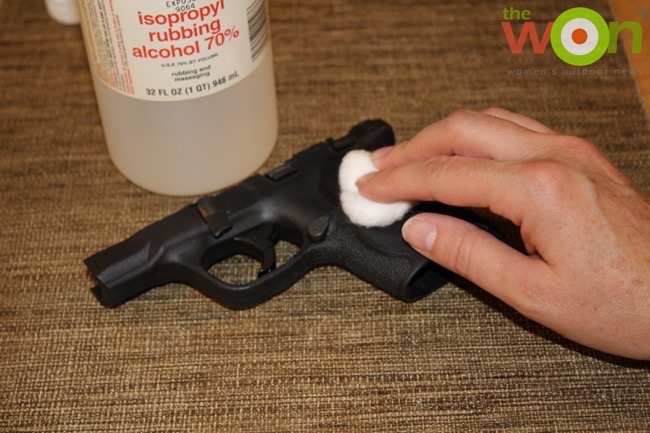 Instructions: I'll admit to watching a few YouTube videos before trying this myself, as I didn't want to cause any damage to my grip. But the instructions included with the grips are clear, concise and simple to follow.
Field strip your firearm for safety.
Test fit the Talon Grip by lining it up on the left side of your grip and wrapping it around, while keeping the paper backing still on. This will ensure that you bought the correct grip for your gun.
Using the included rubbing alcohol pad, clean the grip to remove any grease and oil. You can use additional rubbing alcohol and a brush if you need to. Allow the grip to dry completely.
Remove the backing and line up the Talon grip with your pistol's grip. Starting on the left side and working around the pistol, lightly affix the Talon grip, making sure to smooth out any air bubbles along the way.
Very lightly wrap the finger strips around the front of the pistol grip. Tuck the ends into where you started (it should lift up easily).
Once your new grip is in place, heat the grip using a hair dryer, making sure not to overheat (the directions say to heat the grip to the temperature of a "warm cup of coffee"). Repeat several times while you mold the grip onto your pistol grip, making sure you press all of the edges well.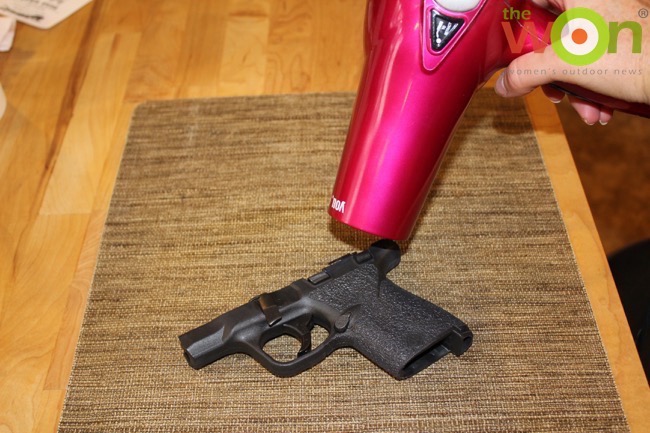 Once installed, Talon Grips last for a few years. Should you need to take them off, they're removable. I love how they feel; I won't be removing them any time soon.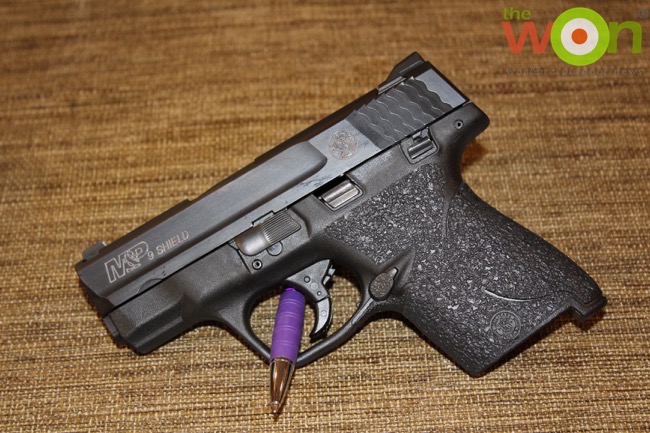 MSRP: +/- $18
Many guns now come with integrated lasers, but what if you'd like to add a laser to a pistol you already have? No worries—there's the Spartan Laser, by LaserMax. I recently reviewed the Spartan Laser, and as I mentioned, the installation was simple. The Spartan is designed for a universal fit on your pistol's lower rail.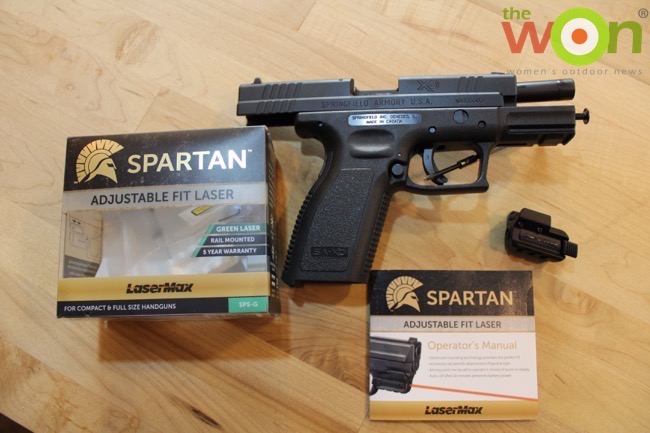 What you'll need:
Spartan Laser in your color choice (red or green)
Small Phillips screwdriver
Instructions:
Safety check your pistol to ensure it's unloaded.
Using a small, Phillips screwdriver, remove the 2 clamping screws from the left side of the laser housing.
Separate the laser housing into 2 pieces.
Position the right side of the housing against the rail on your pistol.
Match up the left side of the housing to the right side.
Screw both pieces back together using the clamping screws you removed earlier; don't overtighten the screws.
That's it, you're done. The laser activates when you touch one of the ambidextrous paddles.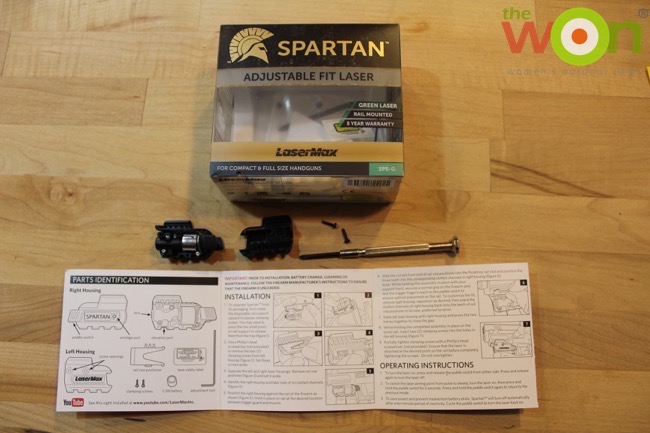 MSRP: $99 (red laser) / $149 (green laser)
Looking for an upgrade from those factory iron sights? Why not add a reflex sight? Reflex sights are a reflective, non-magnifying optical device a shooter can look through that will provide a red aim point (hence the nickname "red dot.") Using this type of sight can assist you getting on target faster and easier.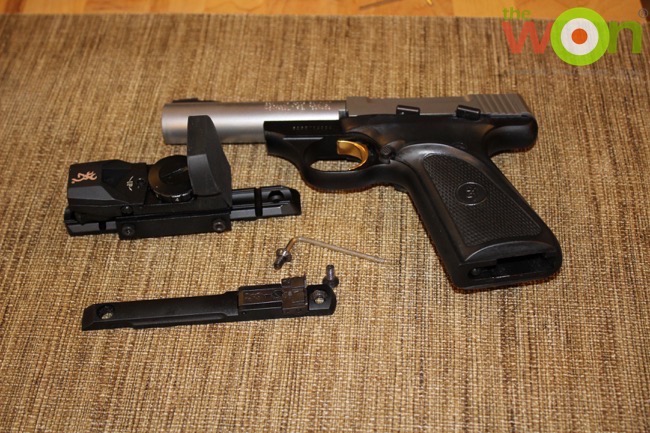 What you'll need:
Red-dot of choice. Do your research; find which optic you'd like to add.
Small screwdriver or Allen wrench. As optics are all a little different, so refer to your manufacturer's instructions to get a list of what tools you will need.
Depending on your pistol, you might need a Weaver rail (see below).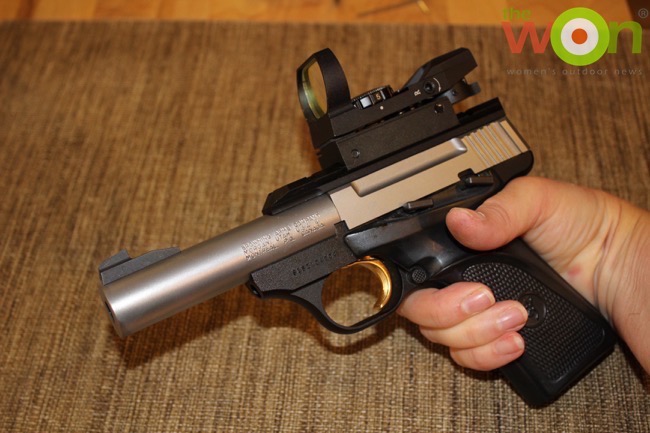 Instructions: Because my sportsmen's club pistol league allows non-magnified reflex sights, I chose to install a Browning Mark Reflex Sight on my Browning Buck Mark Camper; the sight is also available for rifles and shotguns too. Obviously instructions will vary depending on your firearm and the optic you choose. While I could list my step-by-step instructions, no 2 installs will be the same; instead, let me warn you against a rookie mistake I made when I first did my install. Having never installed a red-dot before, I originally didn't realize that I would need to buy a Weaver rail in order to attach the sight (duh!). A quick trip to the gun shop rectified my mistake, and I was ready to go. The Weaver rail installed quickly by removing the existing screws on my iron sights; using my original screws, I secured the rail to the top of my pistol. Once the rail was in place, I simply adjusted the reflex sight's base using the included Allen wrench, tightening it once it was set. Then I was ready to hit the range to sight-in my new sight. Super-duper simple.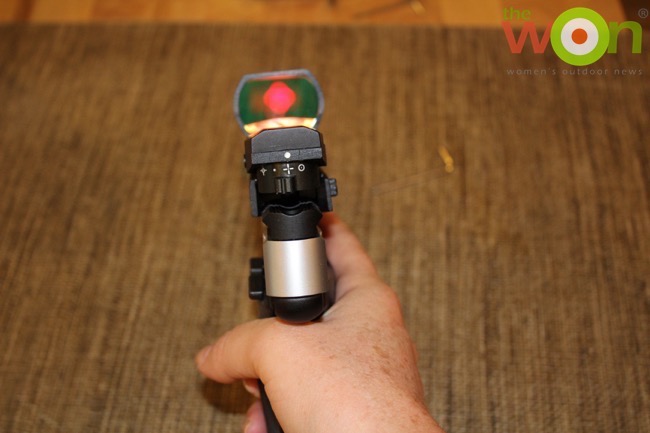 MSRP: Varies widely, depending on sight. Mine was $45, but they can run into the $100s.
These 4 upgrades were a blast to do. The color fill is an aesthetic upgrade, but the Spartan Laser, the reflex sight and the Talon Grips are upgrades that can help improve your shooting, as well. Don't be afraid of getting some tools out and tackling a new project. The sense of accomplishment that comes from knowing you did it yourself is amazing. Now, go show off that pistol!
Show us your pistol upgrades.
About Annette Doerr

Annette Doerr is a freelance outdoor writer and business services consultant living in suburban New York. This married mother of two is an NRA Certified Pistol Instructor and Range Safety Officer. Annette is not only passionate about the sport of shooting, she also loves helping new shooters get involved, especially women and teens. An active equestrian, she enjoys riding her American Quarter horse, Cody. She volunteers in greyhound rescue and adoption, and shares her home with Casper, a rescued racing greyhound, along with her her cat, Tony, and her husband, Bob. Visit Annette at WeShoot2.com, her personal blog. View all posts by Annette Doerr →
The Conversation