Jana Waller and the Fine Art of Taxidermy
The word "taxidermy" is derived from 2 ancient Greek word; taxis, meaning movement; and derma, meaning skin. The first taxidermists were primitive hunter-gatherers who crudely formed animal skins over mud and sticks for use in their hunting rituals. Over time, as methods improved and the need for good tanned skins increased, a tanner became one of the more important members of the tribe.
In the 1800s, hunters began bringing their trophies to upholstery shops where the upholsterers would actually sew up the animal skins and stuff them with rags and cotton. This is where the term "stuffing" or a "stuffed animal" was originated. In the early 20th century, taxidermy began to evolve into its modern form, doing away with the stuffing method of the past, which produced some terrible looking mounts and gave taxidermy a bad reputation, acts that still haunt the industry to this day. Professional taxidermists take offense at the term stuffing, preferring the word "mounting," as they have transitioned into handmade polyurethane mold, customized to fit.
In the not-too-distant past, taxidermy procedures were closely held secrets that could only be learned through long apprenticeships. Today, there is a wide variety of training available for aspiring taxidermists. No degree is required for the field of taxidermy, but trade school certificated and diploma programs are available and recommended. Since taxidermy offers the opportunity for self-employment, a basic knowledge of business and marketing is important for success. Most states require taxidermists to be licensed, but specific licensure and professional practice requirements vary by state. Some states require applicants to pass an exam on taxidermy regulations to obtain licenses in various categories, such as general, mammals, birds and fish. Applicants need to consult state departments of natural resources or fish and wildlife to verify licensure requirements.
Taxidermy in the latter part of the 20th century has developed into a full-fledged form of wildlife art, and the successful taxidermists of today must also be considered as fine artists in their own right.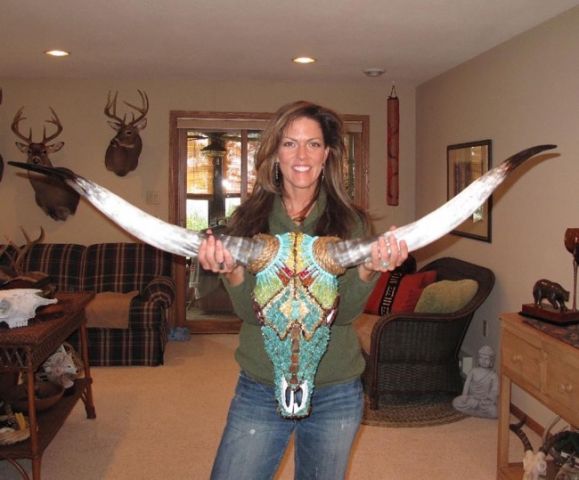 Along with "traditional taxidermy," we are now seeing a more elegant approach to skull art as an alternative way to mount and display your trophy. This is where we lead into introducing Jana Waller, the host of "Skull Bound TV" and dedicated skull artist. Jana is an avid bowhunter, outdoor writer and artist. Her passion for shed hunting spearheaded her recent outlet of creativity: painting, beading and feathering skulls.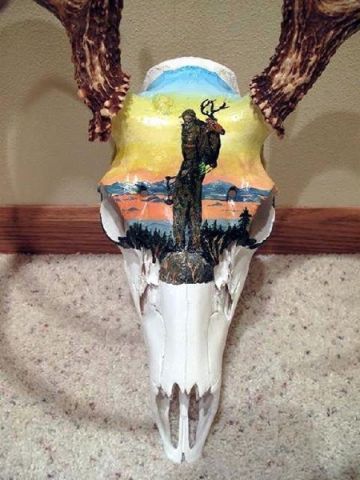 2girls hunting: What type of artwork/skull work do you find most fascinating to see? How about to design?
Jana: I have always loved all types of European mounts. Whether it's exotic species from Africa or a simple coyote skull, I find all types of skulls fascinating. I started painting some of my own whitetails skulls years back after my dad showed me a photo of a painted ram skull that he saw while in New Mexico. After painting a few for friends and getting more requests, I founded my website paintedskulls.com. A couple years after, I started beading them with various types of stones, crystals, arrowheads and even feathers. I don't have a favorite design style. They are all so unique and different and it often depends on where they are going to hang. Some are very Southwest looking while others have a very natural 'earthy' look. The crystal skulls are very "blingy" and are a favorite among the ladies.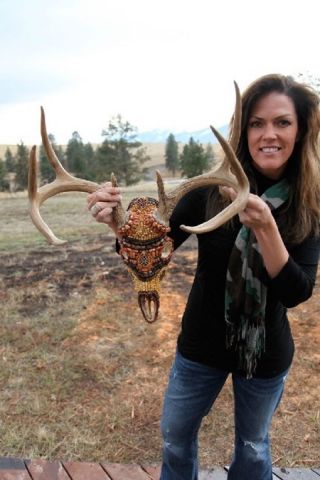 2girls hunting: About how many hours does it take from start to finish?
Jana: It all depends on the size of the skull and the materials used to estimate how many hours go into each project. My smaller skulls can take as little as 5 to 8 hours. I actually beaded a duck skull with Austrian crystals that took me about 5 or 6 hours. When it comes to larger skulls, such as buffalo or longhorns, those can take 40 to 50 hours depending on the size of the beads and the design style.
2girls hunting: We have seen some of your work and notice you have donated a few pieces for auctions for conservation organizations. Is there a piece that stands out as one of your favorites?
Jana: One of my favorite pieces I've ever beaded was a Swarovski crystal bighorn ram skull. It was donated to me by the Fish & Game Department and together we donated it to the Montana Outdoor Legacy Foundation. It raised $1,250 for conservation.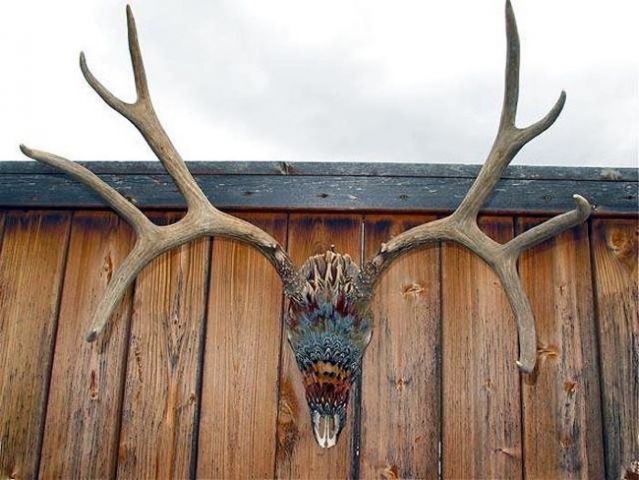 2girls hunting: Do you display you work in your own home?
Jana: Yes, I have 3 or 4 painted and beaded skulls in my home. After a couple years I switch them out and then often sell them in a gallery, The Native, in Jackson Hole, Wy.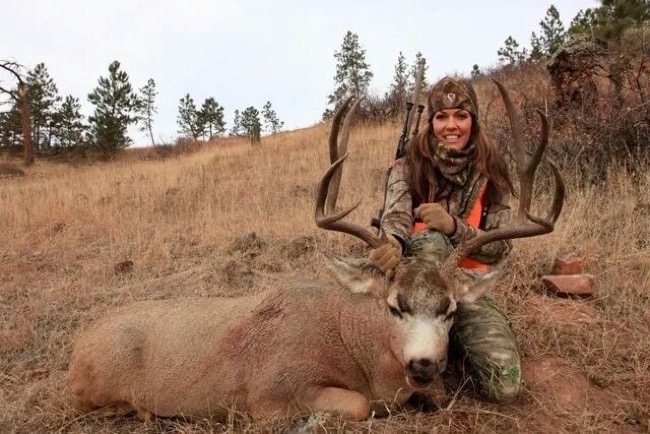 2girls hunting: How did you get into hunting?
Jana: My dad noticed my love of the outdoors when I was a little girl. He would take me along to shadow him on pheasant or duck hunts when I was 5 or 6. Hunting has always been more about immersing myself in nature than pulling a trigger. I went through hunter safety when I was 12 and mostly bird hunted until I went to college. When I was a freshman, I met another gal who was a bowhunter who inspired me to buy my first bow. I arrowed my first whitetail that year and have been obsessed with all types of big game hunting for the past 25 years.
In case you have never heard about Jana or seen her passion for preserving a heritage tune, into "SKULL BOUND TV" on Sportsman Channel and watch her travel the world in search of her next adventure. Jana's skull design business leads her to some of the most colorful and interesting characters who also share her passion for hunting.
Social Media:
https://www.facebook.com/SkullBoundTV/?fref=ts
https://www.instagram.com/skullboundtv
https://twitter.com/skullboundtv
Share with us some of your taxidermy photos.
About Morgan Mason Baseley

Morgan and Mason Baseley are just everyday girls who love the outdoors and who happen to be identical twins that also love hunting – from waterfowl to big game. "We are here to empower girls and shooting sports. At 17-years old, we are the next generation of female hunters and need to be able to speak up to protect our hunting rights and protect the Second Amendment." Sponsored by Girls with Guns Clothing, these young women are given the platform to make their voices heard in their column at The WON, "2Girls Hunting." They also speak at banquets about hunting and write a blog for the Sportsmen's Alliance. View all posts by Morgan Mason Baseley →