How to Stay Warm and Dry this Hunting Season
Let's face it. No one likes to be cold, wet or hungry. During my first hunting season, I was never hungry. Cold and wet? Well, I just figured that was the norm. Eventually I wised up and did my research. With all the various types of gear available, I deserved to hunt in comfort. My search for the proper base layer and outer layer began, or how to stay warm and dry during a future hunting season.
The Base Layer
My husband always told me I needed to wear wool when hunting. Ughhhh! I hated wool. Every piece of clothing I borrowed from him made me itch like crazy. I would rather freeze than wear wool all day, or so I thought. Through an online search I found the Woolx brand. Made from the finest Australian Merino wool, my love for their products began with socks and a base layer shirt. Recently they sent me leggings that feel really comfy, have no tags and I love the color. The Woolx website explains why wool is the perfect base layer.
Wool is the ultimate temperature regulator. In cold weather the natural crimp in wool fibers creates tiny pockets of trapped warm air that act as insulators, holding in heat next to the body.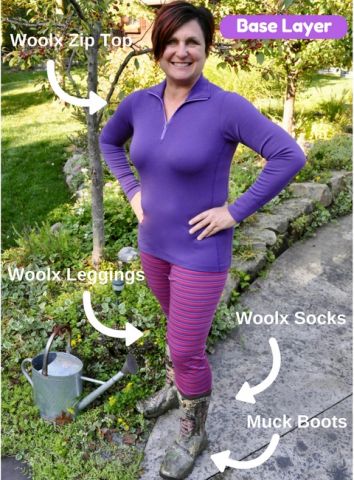 Brooke 1/4 Zip Top
My basement is a sea of black and camo. Because of that, I'm always drawn to gear with color or a pattern. The 1/4 Zip allows me to warm up or cool off as needed and the medium weight is just perfect.
Orchid, MSRP: $89
Explorer Merino Wool Leggings
Did I mention my love of color and patterns? These midweight leggings have flat seams and no elastic in the waistband. And best of all, the contoured back-rise means no breeze down my backside!
Orchid Stripe, MSRP: $79
Woolx Merino Wool Socks
Warm, dry and comfortable feet! My only request … some color options.
Black, MSRP: $19
The Original Muck Boots
Women's Pursuit Stealth. Remember, I like color, so this splash of pink helps me easily find my boots among the boys' footwear. These all-terrain hunting boots, with their warm fleece lining, have a comfort range from -40° to 40°F. Not only do they keep my feet warm and toasty, they are easy to walk in and fit well over my calves.
Realtree Xtra, MSRP: $210
The Outer Layer
I spent years wearing my husband's old hunting clothes. Then, when my boys grew bigger than me, I got their hand-me-downs. It wasn't until a few years ago that I finally purchased my own set of hunting gear: Redhead for Her from Bass Pro Shops and I love it! Since then, they changed their product line and now call it SHE. Although the products in the photo are my original Redhead for Her, the descriptions are found in the SHE brand by Bass Pro Shops. They have pants, jackets, vests and coats in various styles from lightweight to insulated.
TrueTimber and Reatree, MSRP: $27- $119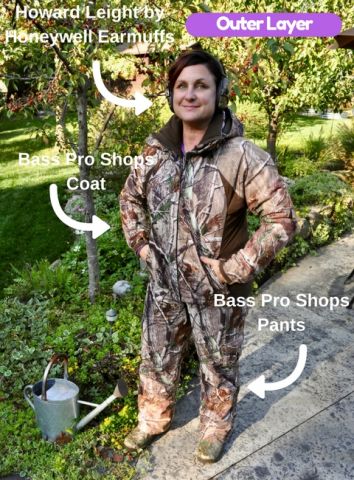 Insulated Waterproof Jacket
Yes, you can stay both warm and dry! You just have to find the right clothing. The SHE Outdoor Insulated Waterproof Jacket appears to be the ticket. Designed to fit the female form, it's 100% waterproof, windproof, and breathable.
Realtree Xtra, MSRP: $130
Insulated Waterproof Pants
Sitting on the damp ground, in the rain or snow is never fun. But at least you can be comfortable if you wear the SHE® Outdoor Insulated Waterproof Pants. Just like the jacket, they are designed to fit the female form — 100% waterproof, windproof, and breathable. The side-leg zippers make them easy to get over my Muck Boots, too.
Realtree Xtra, MSRP: $130
Hearing Protection
Howard Leight by Honeywell Impact Sport Earmuffs
Hearing protection is extremely important to me. Perfect for hunting, these earmuffs amplify ambient sound and automatically compress amplification when ambient impact sound reaches 82dB, and passively blocks out noise at 22dB.
Camo, MSRP: $45
Don't put up with being cold, wet or hungry this hunting season. Purchase the proper clothing and make sure to layer. It wouldn't hurt to stick an extra Snickers bar in your pocket, either!
How are you preparing for your upcoming hunting season?
About Michelle Cerino

Michelle Cerino, aka Princess Gunslinger, first entered the firearms industry in 2011 as co-owner, president and trainer at a national training company. She immediately began competing in both 3-Gun and NRA Action Pistol, becoming a sponsored shooter. Michelle is currently a columnist and Managing Editor of Women's Outdoor News, as well as owner of Pervenio LLC. She also manages social media for Vera Koo and GTM Original. Michelle encourages others to step out of the comforts of home and explore. View all posts by Michelle Cerino →
The Conversation