21 Ways to Keep Your Cool When Everything Hits the Fan
In less than 24 hours we will know the results of the 2016 Presidential Election. Between this and the World Series (I live in Ohio) it's been a little tense in our house. When I saw this post in The Survival Mom's blog, I knew I had to share these 21 ways. ~MC
Stress happens. Whether at work or school, some days you're pushed to the edge, you feel the tension all over your body, and you aren't sure whether to punch something or cry. We've all been there. We've all had bad days. But it's not the end of the world (yet), and there are plenty of wholesome and pleasant ways to center yourself again. Here's a list of 21 ways to keep your cool.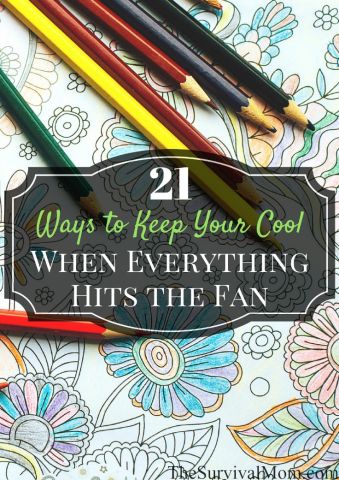 Diffuse a soothing blend of essential oils. Of course you've heard the saying, "Take time to stop and smell the roses," but did you know that Rose essential oil is even more potent for relaxation than Lavender oil? Diffusing a blend of Rose, Lemon, and Lavender oil will chill you out, lift your mood, and make your house smell awesome.
Stick your nose in the coffee pot. Coffee usually gets a bad rap, since the caffeine can cause stress for some people, but simply smelling freshly brewed coffee or warm coffee grounds can reduce stress. I switched to a French press a while back and will never again use a traditional coffee maker. If you're worried how you'll make coffee in a power outage, you need one, too!
Listen to calming music. Whatever genre helps you find your zen, be it country or Celtic harp, listening to about 30-45 minutes of music with a slow tempo can clear your mind and relax your muscles.
Read. Yes, put aside your computer, tablet, or cell phone, and take an hour or so to read something on paper. There is something very stressful and anxiety-triggering about being in front of a screen 24/7, and it is not good for your brain to be constantly switching from app to app, or scrolling through a dozen pictures at a time. Reading requires focus, and patience, and helps your mind to center itself after being stretched a thousand different ways.
Continue reading "21 Ways To Keep Your Cool When Everything Hits The Fan" here and be sure to follow The Survival Mom blog.
About The WON

The Women's Outdoor News, aka The WON, features news, reviews and stories about women who are shooting, hunting, fishing and actively engaging in outdoor adventure. This publication is for women, by women. View all posts by The WON →