#HuntingwithJR: Pass the Buck
According to the National Shooting Sports Foundation, white-tailed deer (aka, whitetail) is the most popular animal species hunted in the US. In fact, up to 83% of US hunters hunt deer. This reason is why I am focusing on this topic of the buck.
There are more than 30 million whitetail deer in this country, and very few predators. Only 5 states do not issue whitetail deer permits, because they do not have a hunting population of this species: California, Nevada, Utah, Alaska and Hawaii.
I love to hunt whitetail, blacktail and "any-tail" deer in season, frankly. I hunt at least 250 days a year, on my own dime and my own time – and it's something that I always equate my Novembers with – deer hunting.
Be sure to follow me as I venture to California this month to hunt blacktail deer, equipped with a Remington Custom 700 North America rifle in .270, and a Trijicon scope.
Pass the Buck Tips
Did you know?
Deer are aged by adding half to each year because they are born 6 months prior to hunting season.
TIP: A mature buck is 5 1-2 years old. The dropping of the belly is the best way to identify a mature buck, along with the headwear he's sporting. You must know your state's regulations as to how many tines are on an antler before you shoot either a bow or a gun.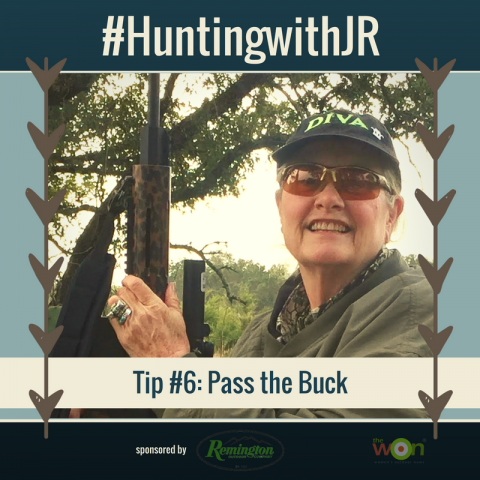 Did you know?
Mule deer are larger bodied, without brow tines, than a whitetail deer.
Tip: Big bucks, mulies and others, come out of the tree lines to feed at last light. You need to be there, waiting for them to appear. Remember. Patience is a virtue when deer hunting.
For more information about deer behavior, check out the Quality Deer Management's informative website, and in particular, this article on "10 Things We Know About mature Buck Movements."
Let us know if you tag a buck this year.
About Judy Rhodes

Judy Rhodes, the Voice of Women in the Outdoors is an outdoor visionary and mentor to women and youth in the outdoors. Judy, Founder of DIVA ... Women Outdoors Worldwide is the largest women's ONLY outdoor organization. DIVA WOW is a non-profit 501(c)3 unique all volunteer sisterhood dedicated to encouraging women to discover their outdoor passion. View all posts by Judy Rhodes →