Sure-Shot Game Calls Hunt/Conference Hits the Mark
It appears that many people envy outdoor writers because we get invited on simply outstanding media trips that involve shooting and hunting. True. Prepare to salivate, as we present Sure-Shot Game Calls 5th Annual Media Hunt/Conference, sponsored by Nissan, Polaris and Remington, along with MOJO, Vortex optics and Buck Knives. Can you imagine a better group of sponsors? Pair that with the setting — the Bucks and Ducks Lodge in Bellevue, Texas — where we had access to thousands of acres of hunting in Texas and Oklahoma, and that is a sure (shot) recipe for success.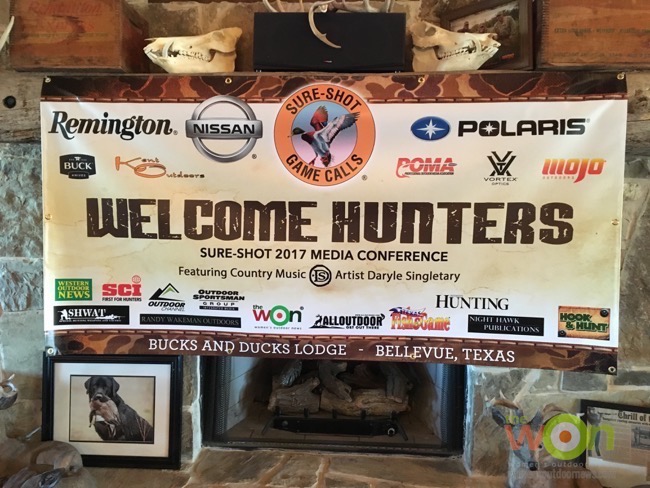 I attended the conference in early January, flew to Dallas and got whisked to the lodge, in a TITAN XD Platinum Reserve with a Cummins Diesel engine, where Kent Outdoors runs the hunting outfit.
I would spend the next 2 days hunting for ducks and hogs. After the hunts — to which we were arrived in style in the aforementioned Nissan trucks, we had opportunities to shoot clays and drive Polaris's new line of off-road vehicles.
In between sleeps (which amounted to very little) and eats (which amounted to very much and amazing food from Donna, the lodge cook and her sister, the supreme pie baker), the experience comes back to me in a rush, with sensory overload of an overwhelming capacity. I am grateful to have been included in the mix.
Ducks and Off-Roading
The first morning, we set up in the darkness on a large pond. Joined by Mike Morgan, host of MOJO Outdoors, and guided by JJ Kent (a character in and out of the blind). We had success and almost got our limit of 6 each. Almost. It figured out to be about 5 each for our crew. One thing I love about this type of access is being privy to behind-the-scenes work of camera crews, and a host such as Mike Morgan — a seasoned pro. For the show, he and JJ discussed the ducks' flight patterns, the decoy set up and with the success of the morning's volleys of our Remington shot, we had a winner of an episode for MOJO in the making. I knew it and am looking forward to watching it get recreated on next season's show.
I own a Polaris ATV, from a few years back. Wouldn't trade it for anything, except maybe a Sportsman XP1000. The writers in my group and a particular ammo guy from Remington might not want to admit this, since we didn't have Polaris babysitters with us, and probably for good reason, but let's just say we got these machines up to about as fast as they could go and this granny also jumped a decent meadow mogul.
And that ammo dude?
He may have popped a wheelie or two.
Back home on the ranch, I use my Polaris to get into difficult places and down into hollers that I wouldn't want to attempt on foot. I live in the Ozarks. I need 4-wheel drive. We also drove the "General," an upscale off-road vehicle. Polaris will be happy to know that we did not attempt jumps with it, but let's say, we did put the pedal to the metal.
Hogs and Dogs
Here's the other thing about outdoor writing. You must be ready to change gears quickly, accept a new challenge and roll with it. When JJ offered me the opportunity to meet Casey and go hog hunting with dogs, as opposed to sitting in a stand at night and waiting for hogs to appear, I knew I wanted to see this method. I also knew I would not wield the knife, but left that for my pal, Jon, of All Outdoor. I am a firm believer in the fact that if you do not have the confidence, it doesn't matter what the weapon is — be it knife or gun. I do not have knife training and frankly, I am not comfortable being in amidst dogs, a wild hog and then, being responsible for ending a hog's life quickly. I did not have the confidence.
A hunt such as this one had been on Jon's bucket list for a long time. He would be the knife-runner. Again, in the wee dark hours of the morning, Jon and crew (Jonathan from Shwat and Mike from Petersen's Hunting) arrived in … Jon's BMW. The Nissans had all been spoken for and had long gone to the duck hunting blinds. We met our guide, Casey, near the town of Bowie, and went to pick up the dogs — 8 of them, including Black Mouth Curs and pit bulls. Fortunately, Casey drove a truck. What happened over the next few hours involved tracking, finding the dogs with a hog, and watching (from a safe distance) as Jon finished 3 feral hogs. Our pal, Jonathan, from Shwat.com, ran a camera. In fact, you can read his account of the trip at his website.
Meanwhile, back at the ranch
Upon our return from the hogs and dogs experience, we picked up Remington V3 and Versamax shotguns (semi-auto loaders) and headed out back to shoot some clays. It got competitive — which meant shooters shot at bits and piece of already broken clays. We ran those guns hot, very hot, with no malfunctions or hiccups. We had access to thousands of rounds of ammunition.
Side note: I've been hunting with a V3 this year during duck season, with no malfunctions. I like its feel and balance, and you can read my review of it here.
One of the highlights of the trip included watching as Curtis Arnold, who is the third generation of the family that is associated with Sure-Shot Game Calls, make a duck call for me. A little history: Sure-Shot built the first double reed call. In fact, Curtis's granddad, James "Cowboy" Fernandez, held a patent on it. That's why it's really cool that Curtis is still making these calls, and I will treasure this one.
The other cool thing about this trip, is that I met Charlie Holder, the CEO of Sure-Shot Game Calls, and who invited me to attend. He sees the future of hunting and sees the important role that women play in that future. Look for a collaboration between Sure-Shot and The WON in the future, because there are a lot of women out there using Sure-Shot products and telling their own stories from duck blinds and fields across this land.
Another Duck Hunt (Just one)
On day #2 of hunting, we headed out to another pond — this time in Oklahoma. Typical of how hunting can sometimes turn out, this day would not rank high on the list of memorable hunts, except for the fact that the one duck we downed came in with a small group after the guide went to get the truck. For some reason, the ducks did not like our pond or were not in full force like they were the day before … other groups did not have very memorable hunts, either.
Fortunately, the good company in the duck blind made up for the early morning and lack of shooting. I haven't laughed that hard in a long time.
Shout-Outs
When I realized that I'd need a good rain jacket for this trip, I asked Bass Pro Shops if they'd supply one. But, in my haste through the vast camo department in the Springfield, Mo., store, I grabbed a men's jacket. I wondered why it fit so large. This is common for me when I get in a hurry. But, the Redhead canvasback shell jacket did not disappoint, and worked perfectly — allowing me to layer it accordingly for the freezing weather on day #1 and the warmer, tropical 40-degree weather on day #2. It cut the wind, and I like the hood. You can find it here. MRSP: $109.99
When hiking around the ranch and for the ATV riding, I wore Danner's new Highground boots for women. I have continued to wear these boots back at home in the Ozarks, and highly recommend. With 400 grams of Thinsulate, these are the perfect winter boots for me. Made of 100% waterproof and breathable, with GORE-TEX® liners, these boot allow sweat to be released, yet do not allow moisture back in. Also, having turned my ankle and suffered a major sprain back in October, I love the 8-inch height of these boots. I'd have to turn my whole leg in order to go over in these boots. MSRP: $190.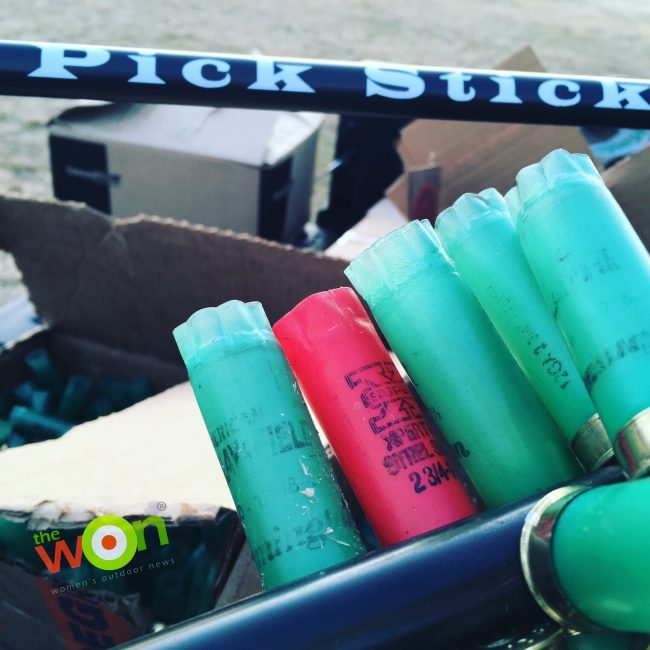 I am going to order one of these gadgets, the MOJO Outdoors Pick Stick. The stick which adjusts from 32-1/2 inches to 55-1/2 inches, comes designed with a magnet at the end and can pick up as many as 25 hulls at a time. MSRP: $34.99
Finally, one of my fav swag items from the trip was this way cool, vintage camo hat from Sure-Shots. I'm wearing it in the pintail photo above. Here it is, below. I am a major fan of old style camo and trucker hats. So it really "fit the bill" for me. Buy it here. MRSP: $20.98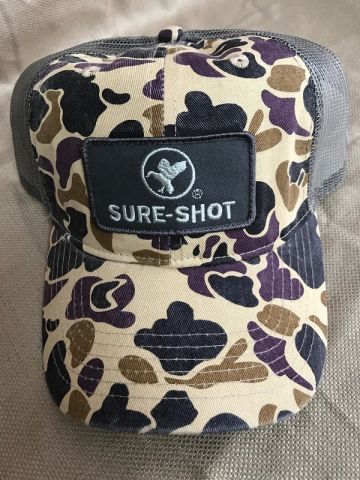 LINKS
Bucks and Ducks Lodge: http://www.kentoutdoors.com
Buck Knives: http://www.buckknives.com
Kent Outdoors: http://www.kentoutdoors.com
MOJO Outdoors: https://www.mojooutdoors.com/index.php/mojo-tv/about
Nissan: https://www.nissanusa.com/trucks/titan-xd
Polaris: http://www.polaris.com/en-us#
Remington High Speed Steel ammo: https://www.remington.com/ammunition/shotshell/waterfowl-loads/sportsman-hi-speed-steel
Remington shotguns: https://www.remington.com/shotguns/autoloading
Sure-Shot Game Calls: http://sureshotgamecalls.com
Vortex Optics: http://vortexoptics.com (Gifted a rangefinder, which I will review in the near future. Thank you!)
I would say the Sure-Shot Game Calls Hunt/Conference hit the mark. Wouldn't you agree?
About Barbara Baird

Publisher/Editor Barbara Baird is a freelance writer in hunting, shooting and outdoor markets. Her bylines are found at several top hunting and shooting publications. She also is a travel writer, and you can follow her at https://www.ozarkian.com. View all posts by Barbara Baird →