Meet Brittany Boddington: Partner of the She Hunts Skills Camp
Part of loving the outdoors is sharing it with the amazing hunting community that I've had the privilege to call family for the last decade. It is no secret that hunting is still a male dominated sport but the tide has begun to shift. There are new females deciding to hunt for the first time all over our nation and a lot of them don't have a dad like mine to show them the ropes. This camp is for them! I've partnered with my good friend Shannon Lansdowne to introduce the She Hunts Skills Camp taking place at the famous 777 Ranch in Hondo, Texas.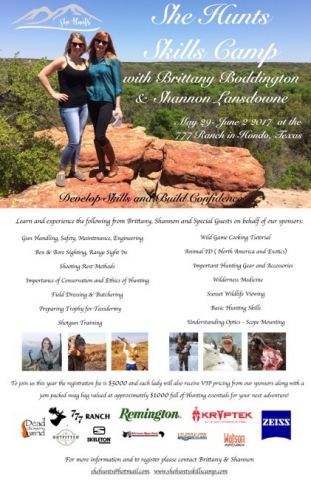 I was fortunate enough to have my father as a resource when I was learning to hunt but many women don't have anyone to guide them. Shannon also grew up in a hunting household. Her dad was an outfitter in British Columbia for many years and he taught her everything about hunting and guiding from an early age. We realize that not all female hunters are lucky enough to grow up with this type of father figure. Some lady hunters start hunting because their spouse or significant other likes to hunt but typically the guy still ends up doing all the set up and prep for the hunt. Our goal with this skills camp is to give ladies all the skills that they need to be successful and independent hunters.
In the last few years I have met several female hunters that had no male hunters to lead them into the sport but rather they had chosen to become hunters on their own. There is a clean eating movement happening in the US that has pushed a lot of women to take up hunting in order to feed their families with clean non GMO meat. I applaud these women for taking action for their families but I know it must be difficult to learn everything they need to know about hunting from the internet and television. Our camp is specifically designed to be a safe, fun and informative way for women that want to get into hunting to take the plunge.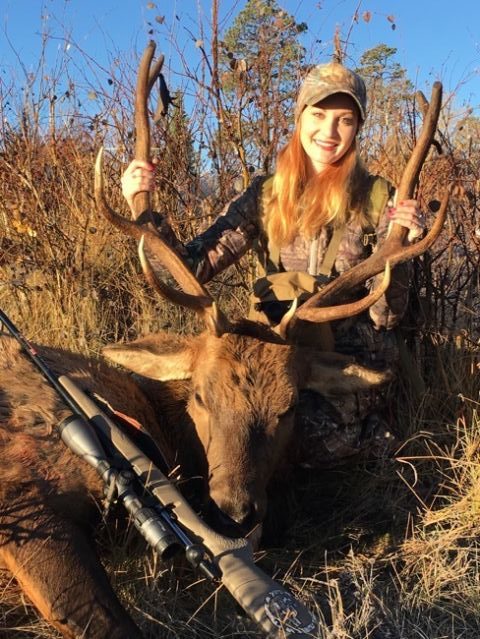 I remember when I first started hunting at age 17. My dad took me to the range for the first time and I was so nervous to pull the trigger on the gun that I would flinch terribly. My dad was very experienced in teaching from his years of work with the different Safari Club youth programs and also from his time in the military so he knew exactly what to do.
He took the gun I was shooting and switched it with my grandfather's old Kimber in .22 caliber. He told me to stop shooting at the target and he went and got a metal target and dug it into the ground about 50 yards away. It was one of those reactive targets with the little animals that swung around when you hit them. He told me to stop thinking about the gun and that this little gun wouldn't hurt me. He told me to focus on making the little animals move.
I started with the biggest one, it was in the shape of a little goat and once I made that one swing around I started working my way across. I hit the pig next and then the turkey but the little chicken at the end was tough. It was then that he taught me about controlling my breathing. I could see the little chicken through my crosshairs but by the time I pulled the trigger I would somehow shift the gun and miss. My dad walked me through how to breathe and when to fire. He also taught me that the trigger is never to be pulled but rather to be squeezed and which part of your finger should be doing the squeezing.
This type of instruction is not something everyone has access to. I am very fortunate to have had my dad as a teacher but now I feel like it is time to share some of that knowledge with the next generation of female hunters. Our courses will cover everything from mounting a scope and sighting in a rifle to shot placement and field dressing. The 777 Ranch is a beautiful ranch with all sorts of domestic and exotic animals for our campers to enjoy as well as an African safari like lodge with a campfire circle that is perfect for telling stories about past adventures over a glass of wine. We want to inspire women to join us in the outdoors and to give them all the tools they need to take on their next hunting adventure with confidence. We would love you to join us!
For more information check out She Hunts Skills Camp or email shehunts@hotmail.com
About The WON

The Women's Outdoor News, aka The WON, features news, reviews and stories about women who are shooting, hunting, fishing and actively engaging in outdoor adventure. This publication is for women, by women. View all posts by The WON →