Thompson/Center Arms™ Celebrates 50th Anniversary With Limited Edition Firearm
SPRINGFIELD, Mass., 28, 2017 – Thompson/Center Arms announced today that 2017 marks fifty years since the creation of the brand and the company is celebrating this achievement with the launch of the "T/C® 50th Anniversary Sweepstakes." To commemorate its golden year, Thompson/Center Arms will design and manufacture a small batch of an exciting new Limited Edition 50th Anniversary Firearm, one of which will be given away to the winner of the T/C 50th Anniversary Sweepstakes.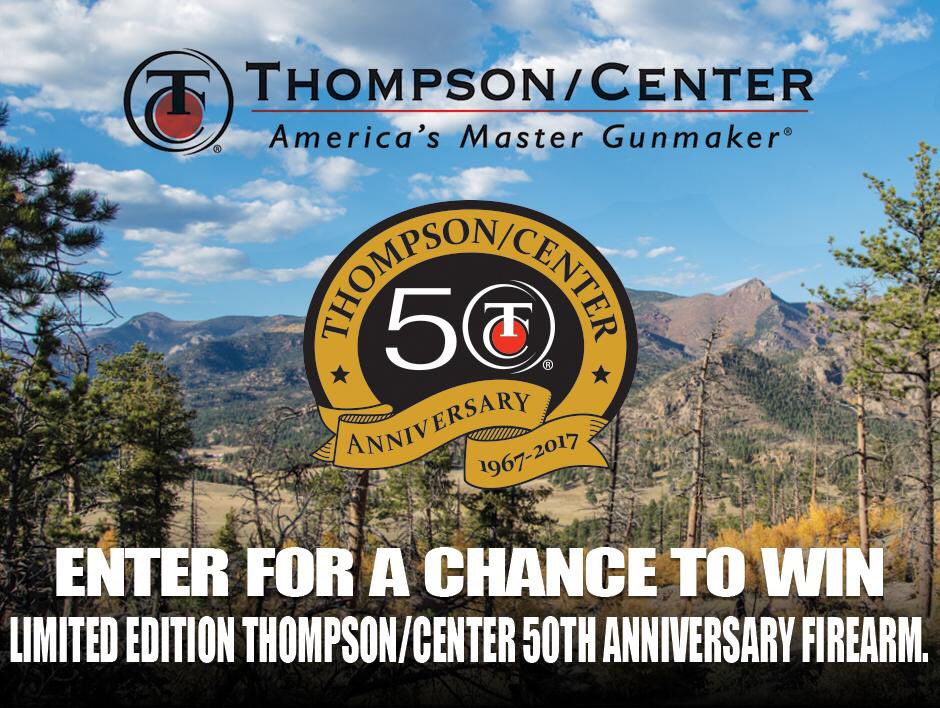 Thompson/Center Arms has a unique history beginning in the 1960s, when Warren Center developed a revolutionary break-action, single-shot pistol, known as the Contender®. In 1965, Center brought his design to the K.W. Thompson Tool Company, and together, they introduced the Contender pistol in 1967. From that point forward, the company has been known as the Thompson/Center Arms Company, and has continued to design and manufacture innovative, purpose-built products ever since.
"We are passionate about the firearms we design and produce for hunting and shooting enthusiasts," said Danielle Sanville, Brand Manager for Thompson/Center Arms. "Since 1967, the Thompson/Center brand has been synonymous with firearms that perform well and stand the test of time. We are proud that Thompson/Center has become known as the brand that delivers value and reliability you won't find anywhere else."
50th Anniversary Sweepstakes
The T/C 50th Anniversary Sweepstakes opens for entry on April 28, 2017 at 12:00 a.m. EST and closes on May 4, 2017 at 11:59 p.m. EST. To enter the sweepstakes, visit Thompson/Center Arms Booth #4042 at the NRA Annual Meetings in Atlanta, GA or log on to tcarms.com for your chance to enter to win.
For more information, follow Thompson/Center Arms on Facebook, Instagram, Twitter, or visit the website at www.tcarms.com.
About Smith & Wesson®
Smith & Wesson Corp. is a provider of quality firearms for personnel protection, target shooting and hunting in the global consumer and professional markets. Smith & Wesson is world famous for its handguns and long guns sold under the Smith & Wesson®, M&P®, and Thompson/Center Arms brands. Through its Manufacturing Services Division, Smith & Wesson Corp. also provides forging, machining, and precision plastic injection molding services to a wide variety of consumer goods companies. For more information on Smith & Wesson, call (800) 331-0852 or log on to www.smith-wesson.com.
About The WON

The Women's Outdoor News, aka The WON, features news, reviews and stories about women who are shooting, hunting, fishing and actively engaging in outdoor adventure. This publication is for women, by women. View all posts by The WON →
The Conversation