Gun Review: Volquartsen Firearms Scorpion
I have long admired the rimfire pistol from Volquartsen Firearms (VQF) that teenage competition shooter Cheyenne Dalton shoots as a Volquartsen-sponsored competitor. So, with great delight and anticipation, I accepted a new Volquartsen Scorpion last year to review. I had a feeling that I would not send this gun back to VQF; no return shipping label would be required.
Sponsored by Liberty Safe
The Scorpion comes in several models. Billing itself as "the ultimate lightweight pistol," its frame is CNC-machined from aluminum alloy. The Scorpion line includes an extended bolt release, a CNC-machined trigger with a crisp 2.25-pound pull, a CNC-machined disconnector and an extended safety. You may choose from several finishes, including the American flag, OD green and Battle Worn. After a consultation with Teri, who handles the loaner/review program there at VQF, I decided to get the Battle Worn finish on a 1911-style target frame with a 4.5-inch barrel. She said it's one of the most popular finishes in the women's side of the market for this gun.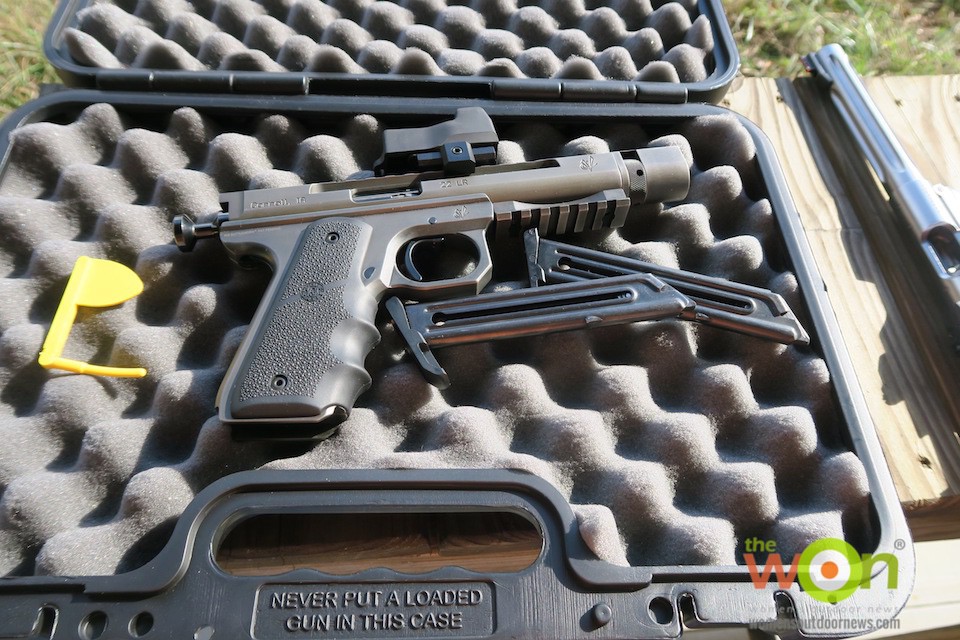 This gun is very well balanced – with its weight being distributed between the grip and the end of the barrel, aided by the addition of a compensator.
Why did I choose a compensator? As competition shooter Kirsten Joy Weiss says in this gun review, "When you're in a competition, jump matters."
The compensator reduces recoil and allows you to get back on target faster, and reduces the jump of a lightweight gun. It also adds weight at the gun's muzzle to offset the weight at the action end of this beauty.
Kirsten's only criticism of the gun is the size of its grip, which may be too big for small hands. If you need a smaller grip, you can have a custom one fitted onto the gun after purchase.
The bolt is coated in diamond lite carbon, which gives it beauty along with durability. The slickness of the coating contributes to the smoothness of the bolt's operation. The gun comes with 2 spring-loaded magazines that hold 10 rounds each.
You may customize the gun even more than just choosing the finish: VQF offers different trigger groups, different color bolts, alternative sights and a bottom-mounted accessory rail.
I ordered the Scorpion with no sights, as I wanted to also see what my new Leupold DeltaPoint Pro could do in combination with this gun.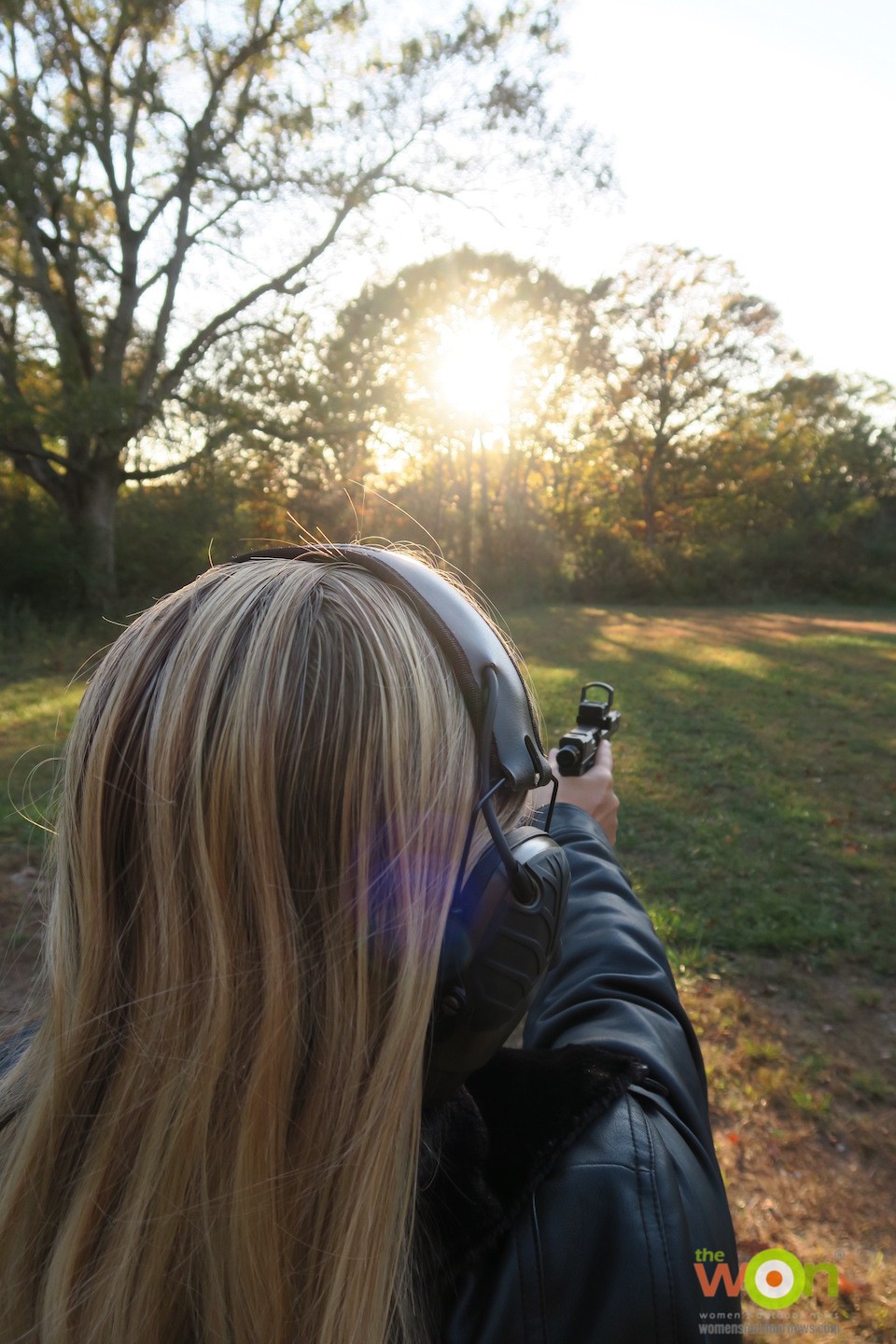 DeltaPoint Pro
The Leupold DeltaPoint Pro, a red-dot reflex optic, complements the Scorpion. Also constructed primarily of lightweight aluminum, the DeltaPoint Pro adds hardly any weight to the gun. I attached it to the Picatinny rail on the gun, using a cross-slot mount available from Leupold. Optional accessories available include the aforementioned cross-slot mount, an all-pistol mount kit, a pro iron sight and a pro riser.
With plinking and competition come scrapes, dings and scratches. DiamondCoat lens coatings on the DeltaPoint Pro's wide viewing windows add extra resistance to grit and dirt from shooting, along with 100% waterproof and fogproof protection. The gunsight is impervious to water down to 33 feet deep.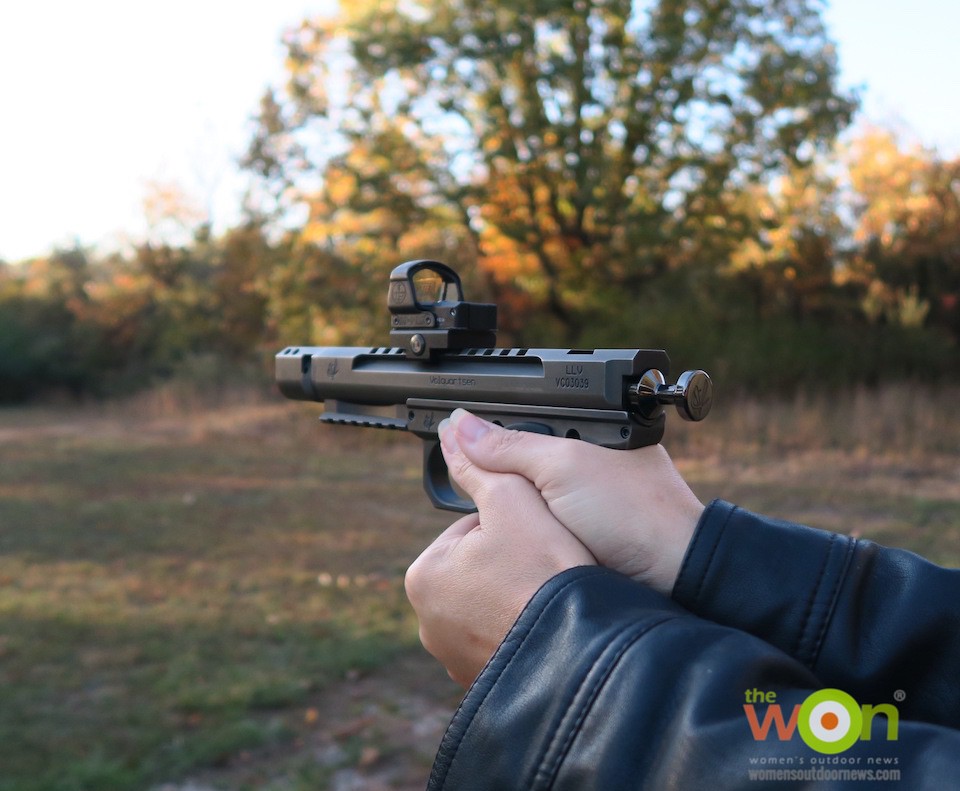 People sometimes complain about changing batteries on red-dot optics, because some optics eat-up batteries, and some have the battery cover located so that the shooter has to remove the sight to replace a battery. The DeltaPoint Pro uses circuitry designed to extend battery life, but if you do have to replace the battery you don't have to remove the optic since the battery cover is on top. You don't have to remember to turn the sight off, either. Proprietary Motion Sensor Technology deactivates the sight, preserving battery life, until you move the gun again.
The red light adjusts from small and bright to bigger and brighter. I also used this site while at Leupold's Optics Academy in Madras, Oregon, and shot small groups on targets out to 100 yards with an AR-15. It's not hard to find the dot in daylight.
MSRP: $519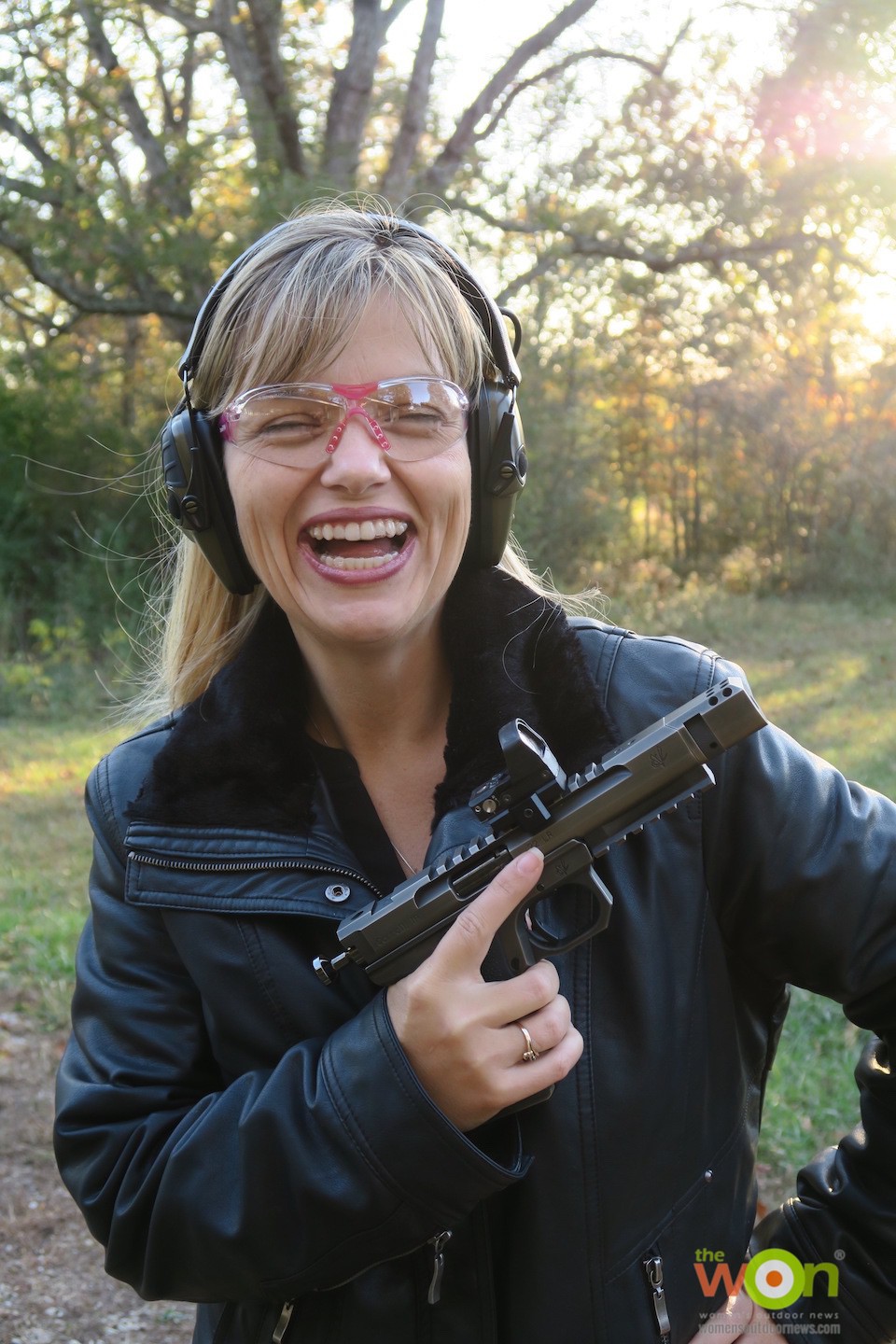 On the range with the Scorpion
I've owned – because I purchased the Scorpion quickly after its first trip to the range – this gun for half a year and shot it consistently with all types of ammo, including Remington .22 Target, Winchester XPERT HV, Aguila Rimfire Standard and Match, and odds and ends floating around in an ammo box or 2. The gun has yet to have a single malfunction, with at least 1,000 rounds downrange. It's shot at pumpkins and ornaments, targets from 25 to 50 yards, and of course, steel targets and steel swingers. Groups ranged from 1 to 2 inches consistently.
The Scorpion reigned supreme at a nearby range during 3 shooting sessions of the local chapter of The Well Armed Woman. Let's just say it's a hit there, too, and most definitely a gun that gets noticed, desired and used. It never spends time lying around, waiting for someone to get interested in shooting it. The women lined up to shoot it. It's like the sportscar of rimfire pistols – the deluxe model.
When you purchase this gun, you purchase a legacy. It will be that gun that you want to pass along to someone special, or treat someone to as a gift.
MSRP: $1,194 (and up, depending on options selected)
About Barbara Baird

Publisher/Editor Barbara Baird is a freelance writer in hunting, shooting and outdoor markets. Her bylines are found at several top hunting and shooting publications. She also is a travel writer, and you can follow her at https://www.ozarkian.com. View all posts by Barbara Baird →