RetroWON: A Fishing Trip with Captain Tom in Lake Charles
Everyone knows the old proverb, "Give a woman a fish, and you feed her for a day. Teach a woman to fish, and she eats for a lifetime." After my fishing trip in Lake Charles, La., I will add, "Take her on a fishing charter to the greatest honey holes on the bayou, and she'll fill her freezer with some tasty dinners."
Yes, it's not everyday I get a chance to fish from a boat. Actually, I haven't been on a charter for many years. But recently, while competing in the NRA's Crawfish Cup Action Pistol match in Lake Charles, my husband, Chris, and I set aside time to fish. We booked a ½-day charter with Capt. Tom Adams, of the Fishing Tom Guide Service, and he took us fishing through the Sabine National Wildlife Refuge near Greens Lake.
Lake Charles, LA., a Fisherwoman's Paradise
The alarm clock went off at the ungodly time of 4:30 a.m. Capt. Tom wanted to be on the water by 5:30, as the fish were biting early because of the outgoing tidal pull. With a pitch black setting, and no time to waste, we boarded the clean 24-foot, 2014 Nautic Star. He started the motor and we roared off on our 30-minute journey to the first honey hole.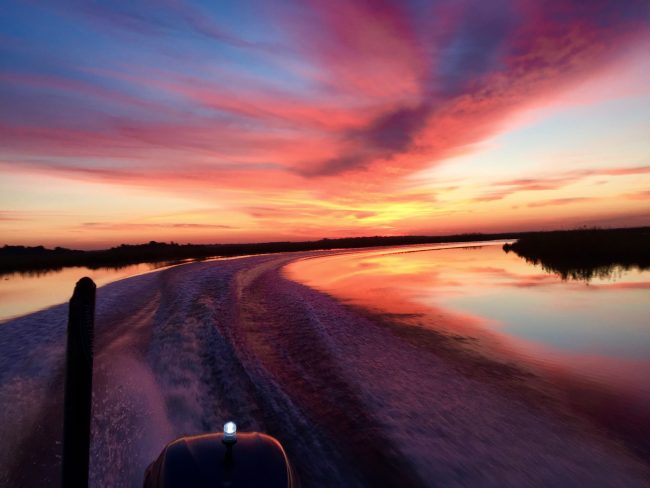 The glorious sunrise over smooth waters made it worth the 4:30 wake up.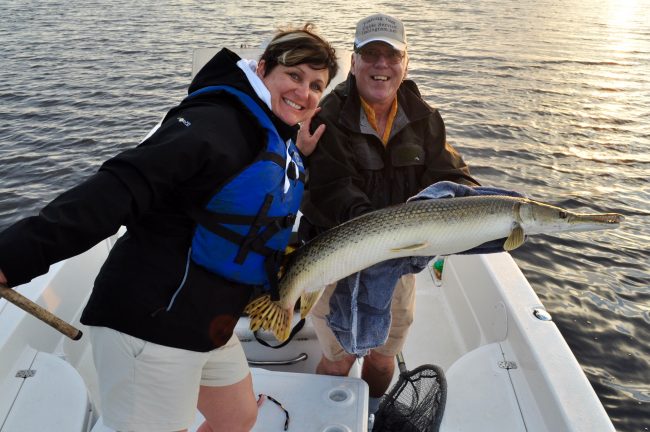 First cast catch! My first catch of the day, a 4-foot, 40-pound, alligator gar. What an exhilarating start.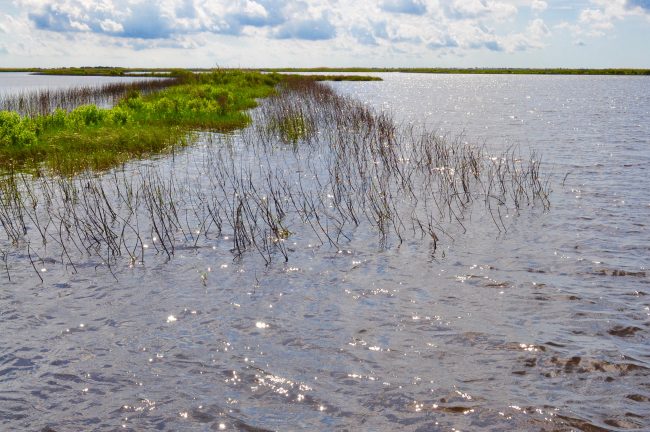 Captain Tom had us casting in the grassy ends along the bayou, which is a perfect place for bait to hide, and big fish to linger.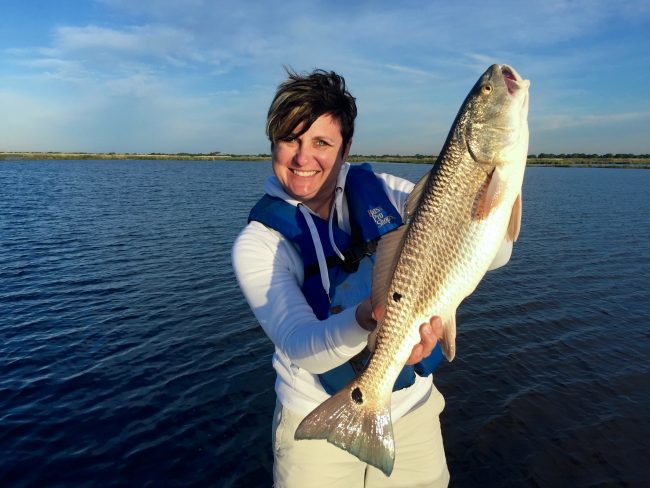 The redfish were plentiful, yet challenging to catch (especially this 29 incher). Capt. Tom chanted over my shoulder, "Pop the cork! Pop the cork!" As the cork (bobber) disappeared, I heard, "SET THE HOOK!!!!"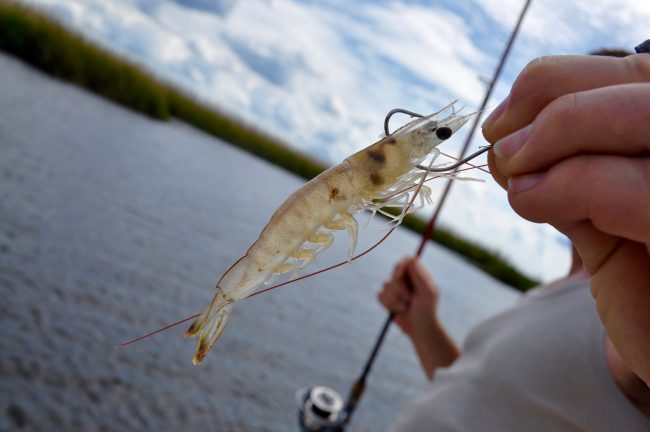 We had live shrimp for bait and some actually jumped on the corks, trying to get away from stalking fish. A sure sign of a bite to come.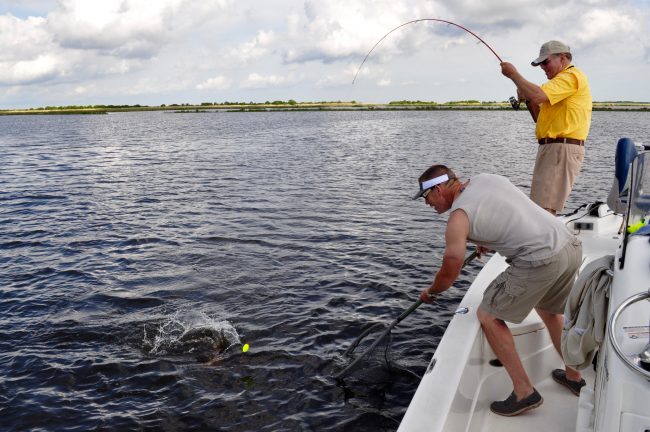 On our insistence, Capt. Tom wet a line. I'm sure his calling to the fish, "C'mon baby," is what helped us reach our limit of 5 redfish each.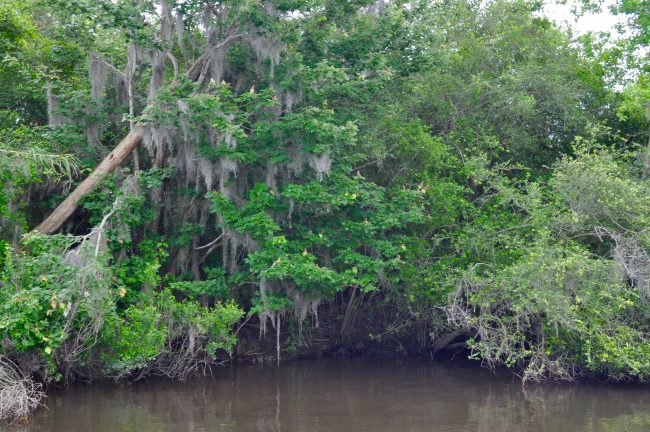 On the return trip, Capt. Tom stopped near a fresh water inlet, where we caught a few largemouth bass among the trees.
Chris caught a "Cajun Grand Slam": a redfish, speckled trout and a flounder. A fishing trip prize!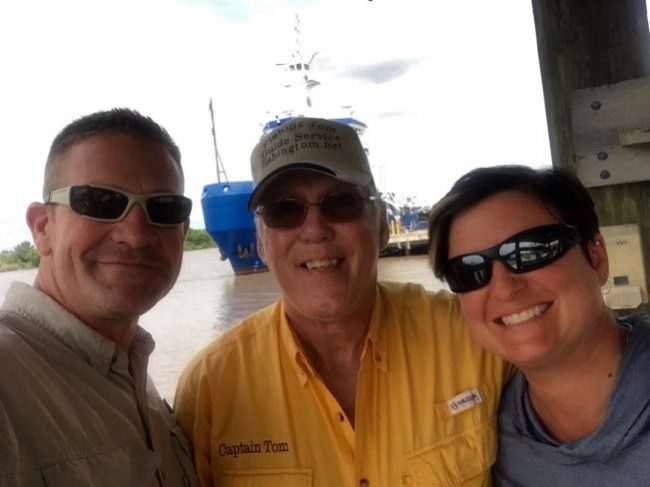 Knowing where and how to fish can only come with time spent on the water. Although I haven't been on many charters, I now have high expectations for my next trip because of the high standards Capt. Tom set.
I created this list of "Charter Captain Must Haves":
Experience. (Tom's been guiding for more than 10 years.)
A passion for fishing (Tom spends 250 days a year on the water, and fishes even when he's not chartered).
Exceptional knowledge of the area. (Tom's GPS with breadcrumb trails was proof of his explorations).
Knowing where to fish for specific fish and how to target them. (Tom explained how to "pop the cork" and when to cast a half-eaten shrimp. He was certain a sheepshead would come back for the rest, and they did.)
An appreciation for quality equipment. (Tom's rods and reels were well maintained, with hooks sharpened after every trip. His boat was in excellent condition and very clean. You could see the he took pride in his equipment.)
For more information about Lake Charles #VisitLakeCharles
This RetroWON first appeared May 3, 2016.
About Michelle Cerino

Michelle Cerino, aka Princess Gunslinger, entered the firearms industry in 2011 when Cerino Training Group was established. She immediately began competing in both 3-Gun and NRA Action Pistol, becoming a sponsored shooter. Michelle is currently a columnist and Managing Editor of Women's Outdoor News, as well as owner of Pervenio LLC. She also manages social media for Vera Koo and GTM Original. Michelle encourages others to step out of the comforts of home and explore. View all posts by Michelle Cerino →