Review: A Snappy RFID Option from Gun Tote'n Mamas CCW Bags
People want to take my purse. They don't want it for its contents inside, they want it for the bag itself. The bag? It's a Gun Tote'n Mamas distressed buffalo leather CCW, cross-body bag with a snap-open front flap, the GTM/CZY-98.
Sponsored by Gun Tote'n Mamas
The RFID thing
Introduced into the "Cinnamon line" last year, this bag features a front flap that is held shut with several rare-earth magnets. Flip down the front flap, and you'll see an organized storage area for credit cards, ID cards and other important items – which comes with RFID protection. "It's our first bag that offers this protection," said Claudia Chisholm, president of Gun Tote'n Mamas.
"The distressed leather is our own development. It took me 3 years to get this right. It's actually not a color," stated Claudia. "We take the crust of the leather, which is like a blank palette once the hides come off the tanning spring. As with any leather, that's when you introduce the color and the treatments. In this case, I challenged the tanner that I wanted to have something that is a dynamic distress – meaning I don't want something that's permanently printed and looking distressed. We added natural wax and oil in a certain ratio. That wax crackles and breaks and that what makes it a dynamic distress. The oils that are infused into the leather keep reconditioning that area. It's a difficult process, but once you got it, it's stunning. The time is right and the look is right."
At first, I wasn't sure about ditching my Kate Spade wallet, to put credit cards, licenses, membership cards and such into the front area of this bag. Now, I'm not sure I ever want to be hunting for my wallet in the dark chasm of any bag again.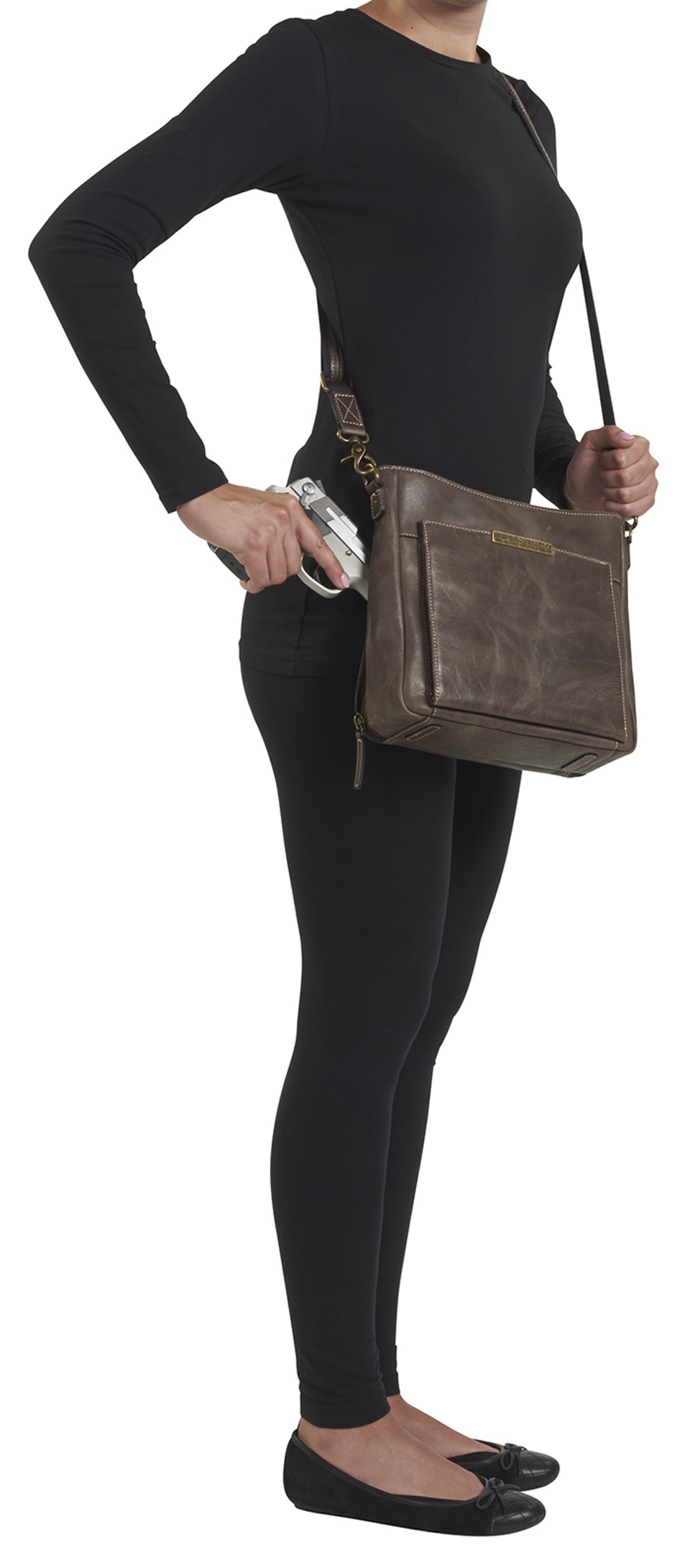 I've listed a few other things that I like about this bag:
Special padding to prevent gun imprinting
Slash resistant shoulder strap, made with 11-ply steel wire, reinforced with leather on top
Cross body length that adjusts
Strap easily clips on and off, with premium antique brass hardware
Includes standard holster (designed by Mernickle Holsters)
Bilateral zippers for either side access to holster area; also can be drawn from the top with magnetic closure
Leather zipper tabs
Nylon coil zippers on all pockets
Gun compartment zippers are nylon coil for safety
Fully lined with Gun Tote'n Mamas logo lining
Inside zipper pocket for lightweight items like receipts, lipstick/balm, make-up

Inside open pockets for Smart phone etc.
Overall bag size: 9.5 inches tall x 11 inches wide x 3 inches deep
Beautiful accent stitching
Gun Tote'n Mamas from NRA 2018
from
Christopher Swainhart
on
Vimeo
.
On the range
Because I am a stickler about performance, I demand that a bag do what it's meant to do – in this case, act like a real holster. This bag does, and the holster will accommodate a pocket pistol or my full-size RP9 from Remington. Granted, the weight is quite a bit more when I carry the larger firearm, but especially this winter when I'm wearing a heavy coat, I should be able to carry a more powerful gun.
On the range, I practiced with both the pocket revolver in .38 special and the 9. I drew from my strong hand side, carrying cross body by adjusting the strap to fit at the right height. I'm 5 feet 7 inches tall, and there is more room to go longer on the strap, so this bag should accommodate a taller person.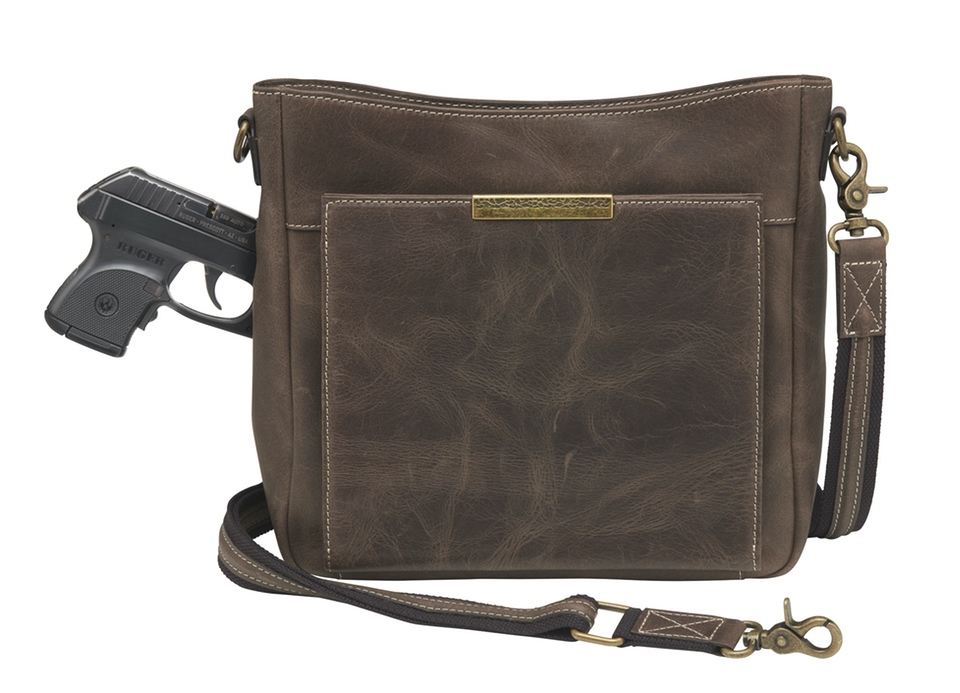 I routinely practice from my CCW holster – whether in a bag or on my body – anywhere from 3 to 7 yards, with double taps, controlled pairs and the 5 shots in 5 seconds at 5 yards drill. Before I even fired a shot downrange, though, I practiced dry firing both guns and drawing them from the bag. I cannot stress enough the importance of these exercises, and you don't need to be on the range to do dry fire.
The bag, of course, will slow down your draw – no doubt about that – but it is still an option, and a viable option, for those people who want to carry. When I am wearing a CCW bag, I rarely take it off. If I do take it off, it's secured and locked up or I will put it on my lap or wrap the strap around a knee under a table in a restaurant. This is serious business, carrying a gun in a bag.
The other important thing about this bag, and several in the line, is that it doesn't scream, "I'm a CCW bag!" It looks like an expensive, well made, thoughtfully chosen bag. I own 4 various bags from this company, and am already pondering my next purchase.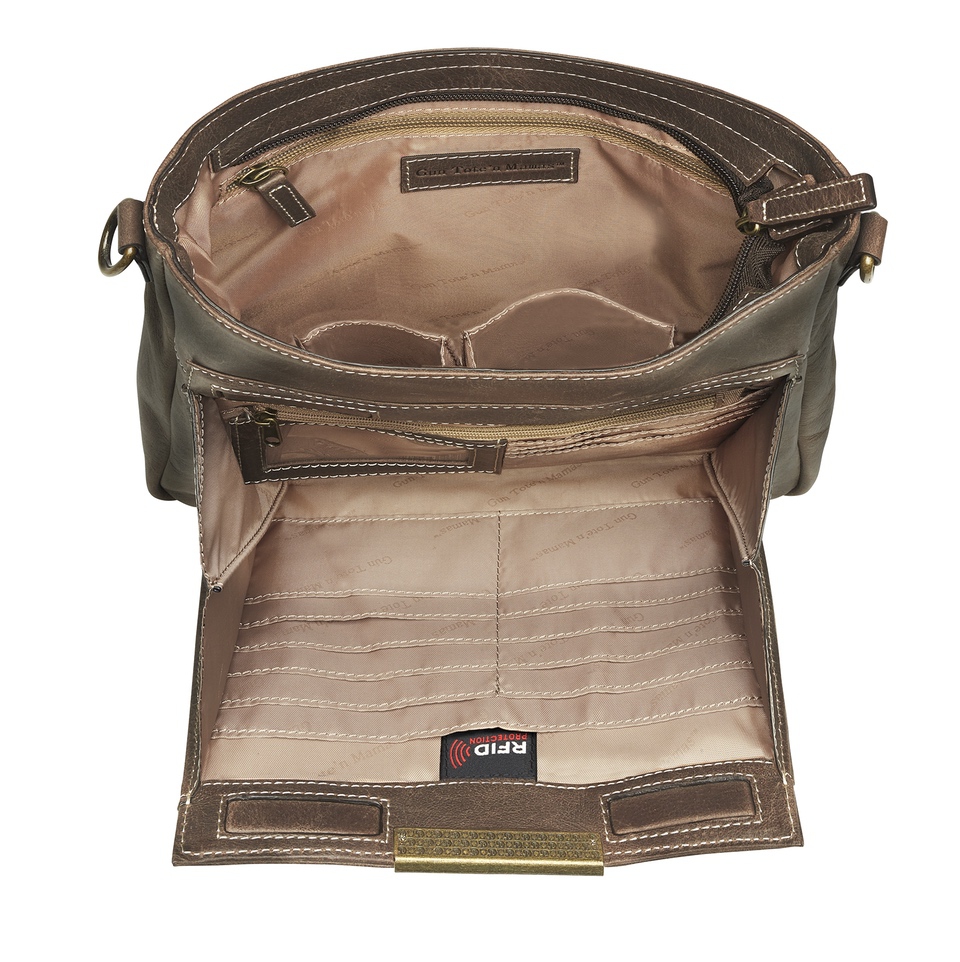 You may order the Gun Tote'n Mamas bags online if you cannot find them at your favorite outdoor retailer. Gun Tote'n Mamas also offers a military discount of 20% off to all active duty military and veterans, which is only available on the website and requires verification.
MSRP: $169.95.
Visit Gun Tote'n Mamas here.
About Barbara Baird

Publisher/Editor Barbara Baird is a freelance writer in hunting, shooting and outdoor markets. Her bylines are found at several top hunting and shooting publications. She also is a travel writer, and you can follow her at https://www.ozarkian.com. View all posts by Barbara Baird →