Girls Who Sell Guns – The Consultant: Kaitlyn Lentz
This is the second in a 3-part series. In each part of the series, you will meet a different "Girl Who Sells Guns," and each one of these ladies is as impressive as the next, and each comes from a unique life-perspective and background. Over the course of the series, you will meet Jacqueline Carrisoza, aka "The Veteran"; Kaitlyn Lentz, aka "The Consultant"; and Tiffany Villalvazo, aka "The Next Generation."
Background
As more women are gaining an interest in the shooting sports, we are finding more female gun-store staff at the retail counters and in management positions within these organizations. I wanted to talk with some of these ladies whose profession is in the retail firearms industry. Since I am the female owner of a firearms store, AZFirearms, along with my husband, Danny, I decided to ask my 3 female staff members about their experience as girls who sell guns.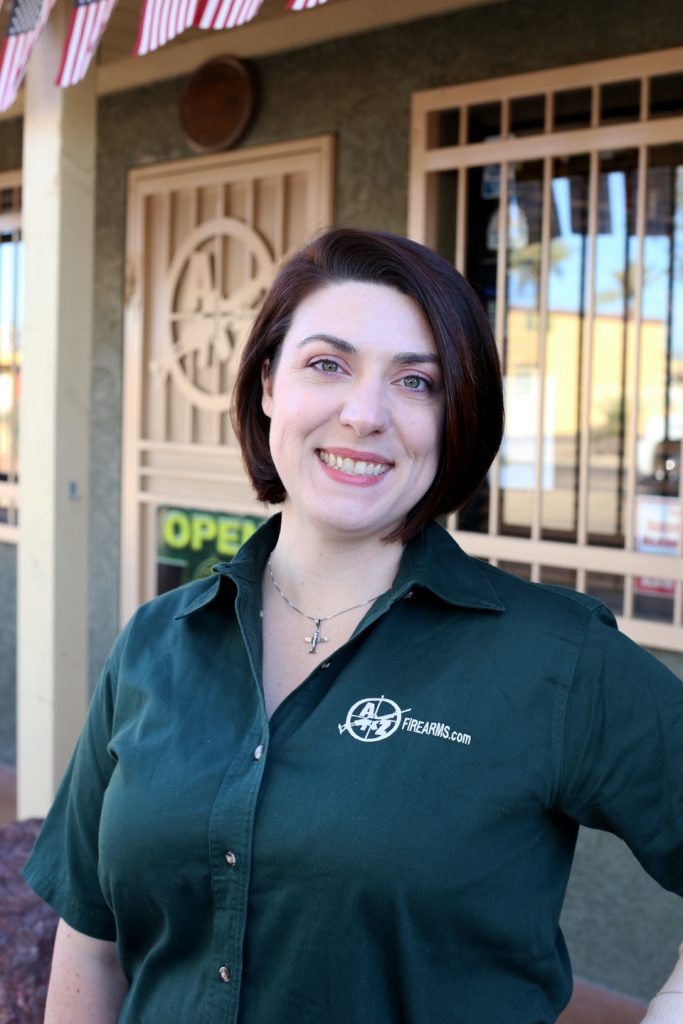 Kaitlyn Lentz
The newest member of our team is Kaitlyn Lentz. Kaitlyn is studying the firearms business from the inside, ground-floor, real-world perspective – with the goal of owning her own retail firearms consulting firm in the future.
Kaitlyn studied Aviation Safety Science at Embry-Riddle Aeronautical University in Prescott, Arizona. For a time, firearms drifted in and out of her life until she took a position with a firearms distributor after college. Since then, she has been heavily involved within the firearms industry and "2A" community. Kaitlyn has worked for firearms manufacturers, distributors and several gun stores in the Phoenix area and specializes in assisting first-time firearms owners and those interested in Class III/NFA purchases. Her favorite firearm is her limited-edition Ruger LC9s Prescott, Arizona 150th anniversary edition and she has recently gained interest in long-range precision shooting.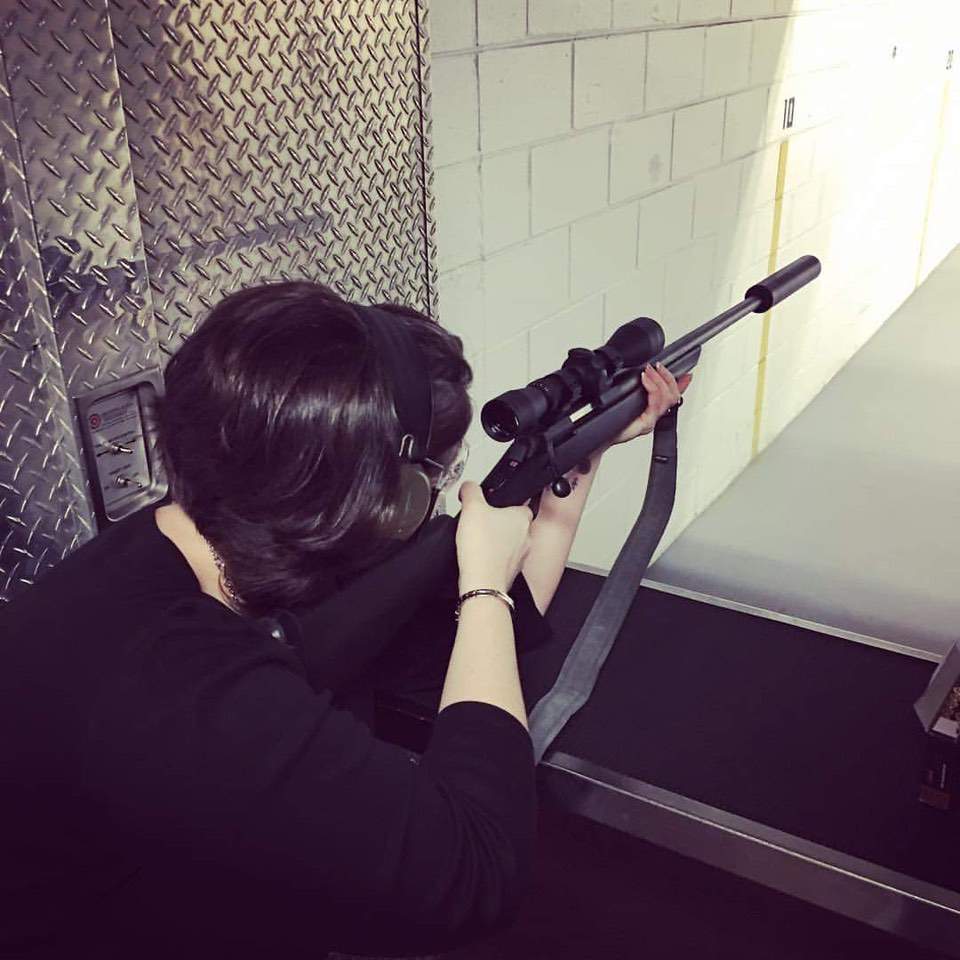 Cheryl: How long have you been interested in firearms and the shooting sports? Were you raised with firearms, or are guns something you decided to be involved in as an adult?
Kaitlyn: My father was a competitive shooter before I was born and my mother is former military/law enforcement. Guns have always been present in our home in small quantities for protection. However, even with her background, my mother has never been very excited about large scale firearm ownership. Firearms drifted in and out of my life as friends would take me shooting occasionally, but I had never thought of pursuing a career in the industry until I took a position with a local distributor. Since then, I have thought of doing nothing else. The best part is watching my mother transition into a firearms lover under my guidance.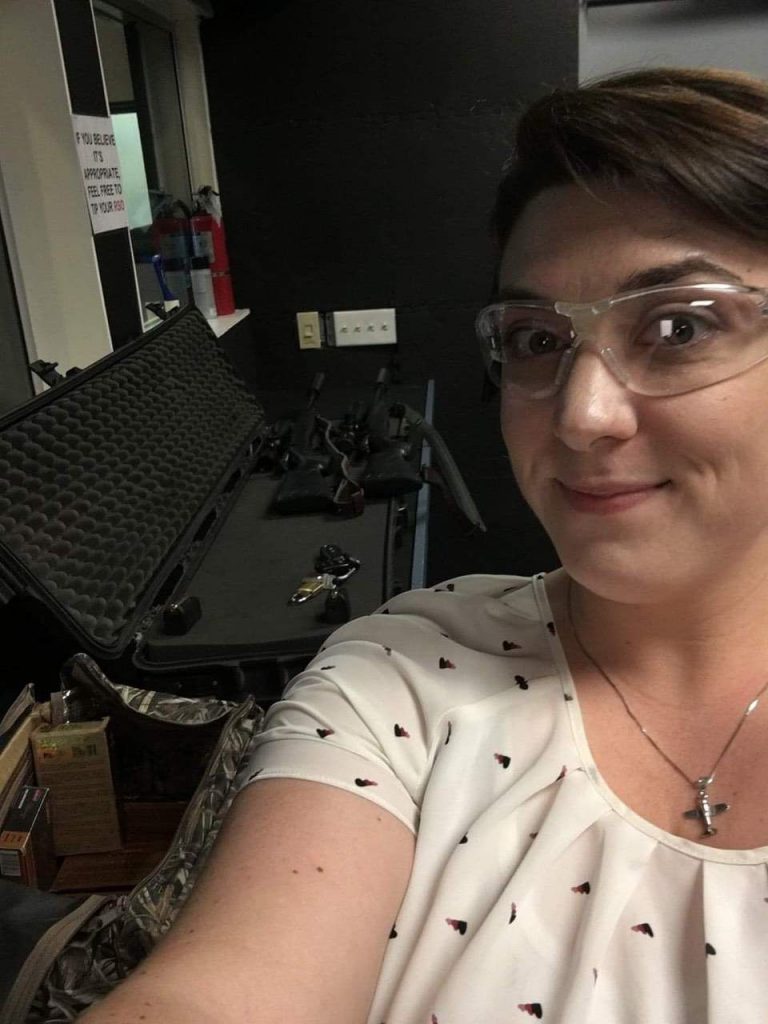 Cheryl: What is your main interest in the firearms industry? The tools themselves? The aspect of self-defense? Hunting or perhaps competition shooting?
Kaitlyn: My main interest is safety. I suppose that intersects closely with self-defense. But, I get a real sense of achievement by helping all interested persons stay safe. Another interest is political. Not in the "protest" sense, but more along the lines of supporting people and organizations that are up and coming in the "2A" world. People Like Yehuda Remer for example, who is a Jewish Second Amendment Advocate, who is the author of children's books focused on gun safety for kids.
Cheryl: The firearms industry has made huge strides in recent years in serving the female market. Can you think of any areas where there is still room for improvement?
Kaitlyn: In regards to retail, I wish more people took women behind the counter seriously. I'm not saying there are many people who pre-judge a woman's knowledge and abilities in the firearms industry, but there are still enough to have a conversation about it and open more minds. I think most men have come to terms with the increased female presence. Oddly enough, I have even had a few women question my abilities in the past, based solely on the fact that I am female.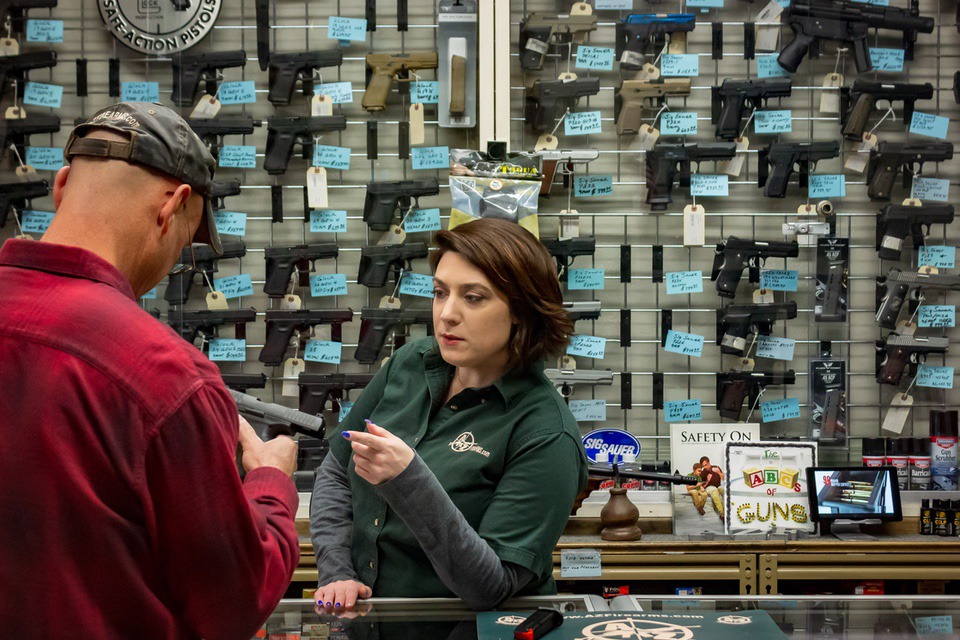 Cheryl:What would you say makes you different in your approach to customers who visit our store? And does being a woman impact your approach?
Kaitlyn: My customer service "claim to fame" is finding something unrelated to firearms to start a personal conversation. For example: I love pointing out funny or interesting t-shirts people wear. I have had great success with "the t-shirt method" to help build rapport! I also love talking with and interacting with customers who bring in their children. Making their child feel comfortable and included reminds me of my childhood. Going to the gun store with my dad was rare and very much a treat. And it also helped me understand that guns don't have to be scary and the people selling them are warm, funny, friendly, and most of all, very normal and approachable.
Cheryl: What are your long-term goals (whether in the firearms industry or elsewhere in life)? Where do you see yourself in 5 years?
Kaitlyn: Ideally owning my own firearms retail consulting business. However, I am also interested in Business Development within the firearms industry. The climate around guns is changing so much, and so quickly, companies may need to start investing in business development teams to keep up with the various retail trends, technology, political and legislative changes.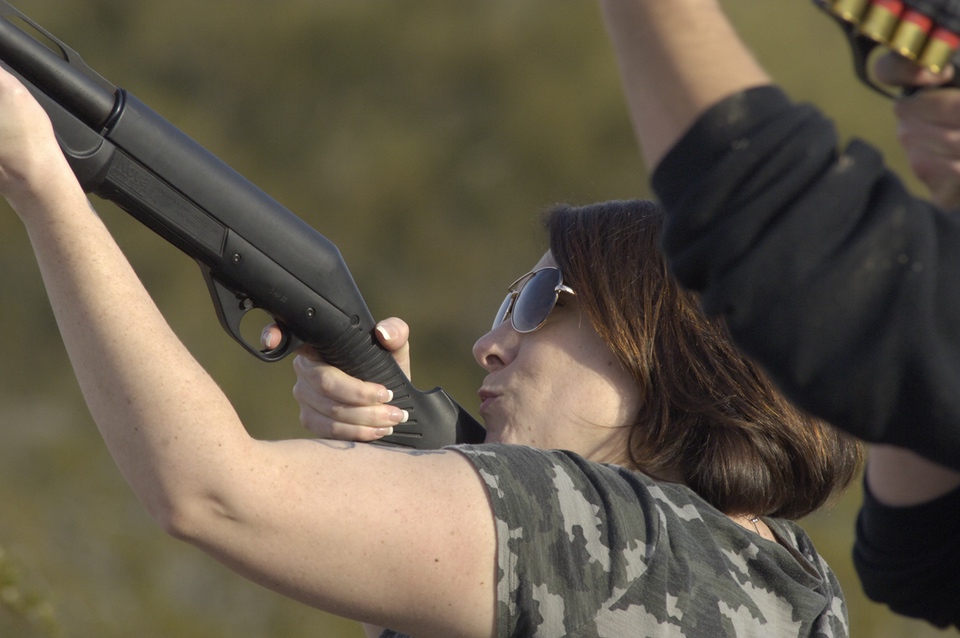 Cheryl: Do you have a favorite gun or 2 and why are those your favorites?
Kaitlyn: It is extremely difficult to pick only a few favorites. Personally, I like to think I have a favorite in each category. My most prized firearm is my limited edition, Prescott 150th anniversary Ruger LC9s. This Ruger has enormous sentimental value: It was my first brand new firearm I purchased for myself, I worked in Prescott for the distributor at the time and they are located next door to the Ruger factory, and Prescott is my favorite place in Arizona.
Cheryl: I am proud to have Kaitlyn working side by side with my husband and me in our family business. She is representative of tens of thousands of other fine young women in the firearms industry. If you ever get in the area of Avondale, Arizona, where our shop is located, please stop in and say hello to Kaitlyn, Jacqueline, Tiffany and the rest of the team!
Be sure to check out part one of this series to meet Jacqeuline Carrisoza "The Veteran," and stay tuned for the next part in this 3-part series, in which you will meet, Tiffany Villalvaso "The Next Generation."
About Cheryl Todd

Cheryl Todd is the executive producer and co-host of "Gun Freedom Radio," owner of AZFirearms Auctions, Pot Of Gold Auctions and founder of the grassroots movement Polka Dots Are My Camo. Cheryl is the Arizona state director for The DC Project and travels the country speaking as a champion for our Second Amendment rights. She is a driving force in preserving the legacy of freedom for generations to come. View all posts by Cheryl Todd →