U.S. National Whitewater Center: Raft Guide School
Become a professional raft guide at the largest man-made whitewater facility in the world. From the classroom to the river, our top-notch instructors teach all of the necessary skills expected of a professional raft guide – no prior experience is necessary.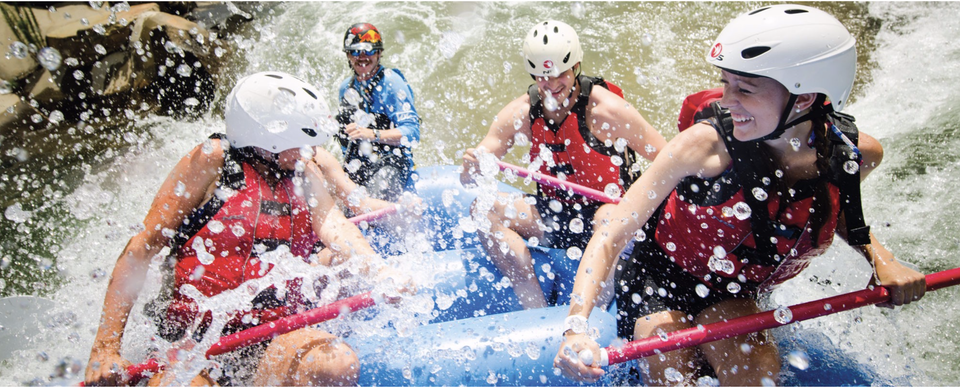 The U.S. National Whitewater Center (USNWC) is seeking full and part-time, seasonal Raft Guides. Top graduates of Guide School will be given the opportunity to advance into the USNWC's qualifying check-out process. Upon qualification, a fun, physical, and customer-interactive job awaits.
Attending guide school does not guarantee a job at the USNWC. For more information, please see the Raft Guide School FAQ.
Course Information:
Duration: 5 days
Hours: 9:00am-6:00pm (Orientation hours are listed in conjunction with course dates)
Price: $175
Tuition reimbursement is available for Guide School graduates who are hired by the USNWC and complete the season in good standing with the USNWC Management.
Prerequisites:
You must be at least 18 years of age or 17 and a graduating senior in high school
Adequate level of physical fitness, swimming capability, and comfort in and around moving water
Please note, a current First Aid, CPR & AED Certification is not a prerequisite for Guide School, but is required for active employment – courses are offered by the USNWC.
Registration:
Guide School has a 1 to 6 instructor to student ratio, ensuring the quality of instruction needed to succeed as a professional raft guide. There are limited spaces available, so be sure to sign up early to secure a spot.
Please use the links below to register online or call Guest Services at 704.391.3900.
2019 Guide School:
Weekend Guide School
Orientations are scheduled on Friday evenings prior to the beginning of each course from 6:00pm-8:00pm. The course will take place on Saturdays and Sundays over a period of three weeks.
Orientation Friday 3/1; Course Saturday 3/2 & Sunday 3/3, Saturday 3/9 & Sunday 3/10, and Saturday 3/16
Orientation Friday 3/29; Course Saturday 3/30 & Sunday 3/31, Saturday 4/6 & Sunday 4/7, and Saturday 4/13
Orientation Friday 5/3; Course Saturday 5/4 & Sunday 5/5, Saturday 5/11 & Sunday 5/12, and Saturday 5/18
Orientation Friday 5/31; Course Saturday 6/1 & Sunday 6/2, Saturday 6/8 & Sunday 6/9, and Saturday 6/15
Orientation Friday 7/12; Course Saturday 7/13 & Sunday 7/14, Saturday 7/20 & Sunday 7/21, and Saturday 7/27
Continue reading about the U.S. National Whitewater Center Raft Guide School here.
About The WON

The Women's Outdoor News, aka The WON, features news, reviews and stories about women who are shooting, hunting, fishing and actively engaging in outdoor adventure. This publication is for women, by women. View all posts by The WON →