Retro WON: Mental Health Benefits of the Outdoors
The mental health benefits of exercise are well documented, known to reduce stress and increase "feel good" hormones like dopamine. But many of us seeking better mind-body health overlook the benefits found in simply spending time outdoors. It turns out the age-old adage is correct: fresh air is good for you! While outdoor physical activities such as jogging, trail running, and hiking combine both physical exercise and the outdoors for a mental health boost jackpot, according to both the National Institutes of Health and Harvard Medical School, simply spending time in nature in any form can improve your mental outlook, in addition to providing physical benefits. How refreshing!

Ways in Which the Outdoors Boosts Mental Health
Getting outside and taking a stroll truly can clear your head while also boosting your immune system and elevating your sense of well-being. If you can get outdoors regularly, you can trade seasonal light therapy boxes and artificial indoor lighting for natural light, which floods your body with vitamin D and immediately improves your mood. Just 15 minutes of natural sunlight per day is known to reduce depression and anxiety levels. Perhaps even more importantly, vitamin D and all that natural sunlight helps you sleep better at night. A study out of the Saint Louis University School of Medicine noted that natural sunlight helps set our body's internal clocks. And the better rested we are, the better our mood and mental state.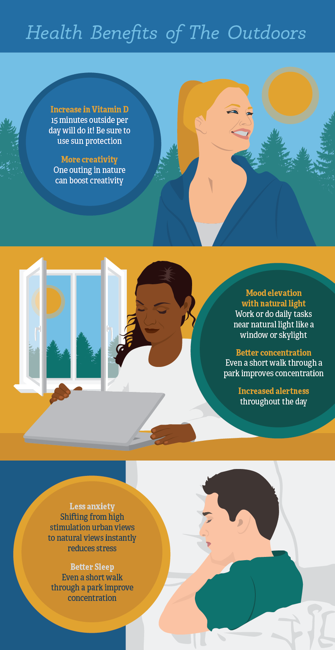 But stepping outside does more than offer sunshine. Studies show that those living in urban environments have to contend with sensory overload on a daily basis, causing what researchers call cognitive fatigue. Finding green space or stepping into a park or garden can give the brain a break from urban stimuli. A recent epidemiological study has shown that people who move to greener urban areas benefit from sustained improvements in their mental health, according to Frontiers in Psychology. In fact, a recent Scandinavian study found that office workers with even views of trees or nature had lower stress levels than those who had city views.
Nature improves concentration as well, helping both children with attention deficit disorders as well as elderly citizens combating dementia or Alzheimer's. Without the rush of man-made stimuli, the human mind is freed up to be more creative, and having lower stress levels allows us to focus on the task at hand better. This is why you might get your best ideas during a day fishing on the lake, or make that breakthrough on a work-related problem while on a walk in the woods.
Continue reading, "Mental Health Benefits of the Outdoors" at FIX.com
This Retro Won first appeared June 2, 2017.
About The WON

The Women's Outdoor News, aka The WON, features news, reviews and stories about women who are shooting, hunting, fishing and actively engaging in outdoor adventure. This publication is for women, by women. View all posts by The WON →