Unleashed Global Adventures with Larysa Switlyk on The Pursuit Channel
Unleashed Global Adventures is a new television show produced and hosted by professional hunters Larysa Switlyk and Jason Soulliere. They have teamed up to help others book their dream hunt or fishing trip. Jason and his father have had a hunting booking agency for over 40 years and Jason has teamed up with Switlyk to rebrand the agency as well as launch a television show of their personal extreme hunting adventures around the world.
This dynamic duo travels the world in pursuit of the best outfitters to send their clients. They are proud to launch this new television show on The Pursuit Channel that follows them on their remote hunts documenting their conservation efforts and impacts around the globe.
Switlyk has produced and hosted the award winning outdoor show, "Larysa Unleashed" for 7 successful seasons and now is excited to launch a new dynamic television show for the outdoor community.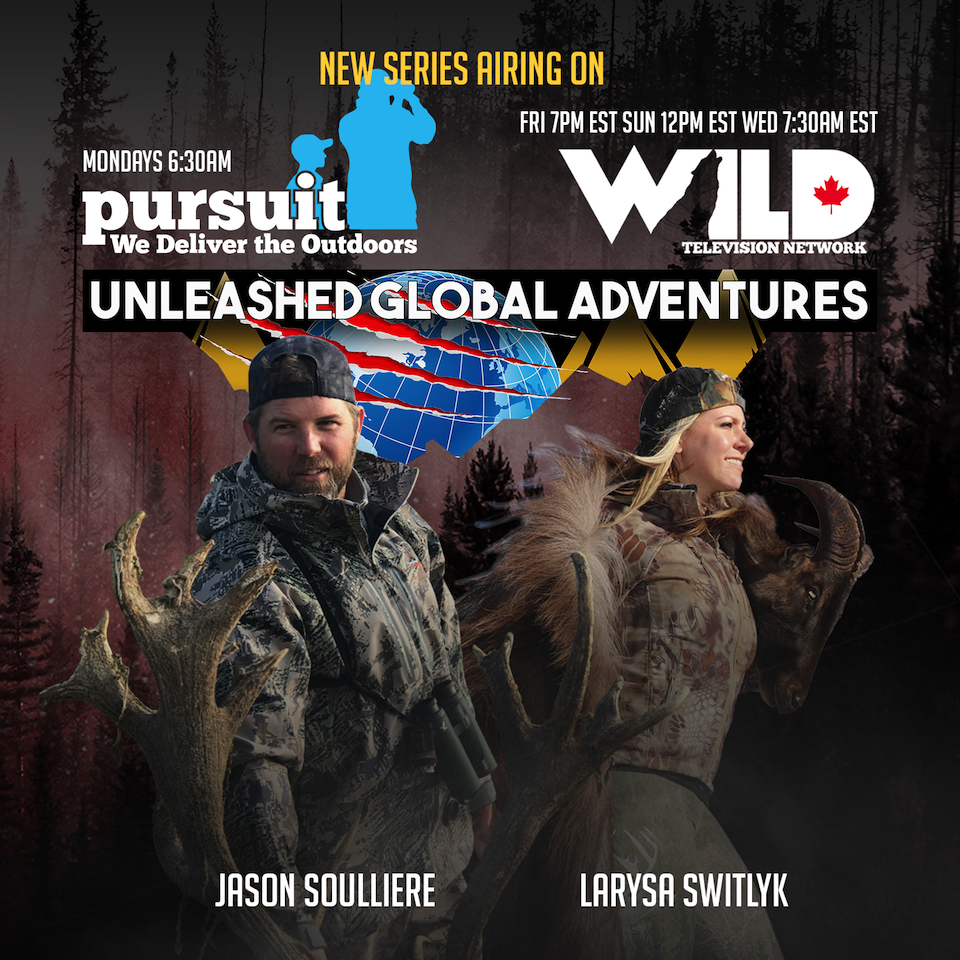 "We are excited to be the Network "Unleashed Global Adventures" chose to premiere their new outdoor television show. Pursuit Channel strives to give their viewers some of the best outdoor content produced and this new show is the perfect fit for our lineup!" – Rusty Faulk C.E.O/Founder of The Pursuit Channel
Tune in this season to watch both the hosts complete their Capra World Slams by hunting in such places as Turkey, Spain, France, Macedonia, Romania, as well as Mauritius, Tanzania and Greenland. Their premiere episode is their favorite which is the "Ladies Shooting School" and hunting event they conducted in Texas teaching new shooters how to shoot long range on custom GunWerks rifles. After being taught the safety of the rifles, they practiced different hunting situational drills to prepare them for the next 2 days of hunting.
"It was extremely rewarding to watch these ladies excel on the range and take those skills and apply them correctly out in the field while on a hunt. They all made perfect shots, one shot kills and they all said they wouldn't have had the confidence to make that shot if it wasn't for the class the day before. I feel great to be able to share my passion of hunting and teach others so they can feel confident to get out there experiencing the outdoors themselves." – Larysa Switlyk
If you are interested in any of the hunts you see on TV or would like more information on a trip for yourself, don't hesitate to contact us at UGABookings@gmail.com to help arrange your bucket list adventure ! "If you want the experience of a lifetime, you need to trust someone who has a lifetime of experience." – Jason Soulliere
Unleashed Global Adventures is premiering on The Pursuit Channel on June, 29th on Mondays at 6:30 am EST airing on DirecTV Channel 604 and Dish Network Channel 393. You can also catch episodes on Wild TV Canada on Friday's at 7pm, Sundays at 12pm, and Wednesday at 7:30 am EST and streaming on Roku on "Women's Outdoor Network". Don't forget to set your DVRs now and be a part of the adventure!
About The WON

The Women's Outdoor News, aka The WON, features news, reviews and stories about women who are shooting, hunting, fishing and actively engaging in outdoor adventure. This publication is for women, by women. View all posts by The WON →