Review: BOG Blood Moon Trail Camera
Designed to document deer movement, the BOG Blood Moon trail camera delivered this past season. I first saw this trail camera shortly after it had been released last summer. I knew we needed to add it to the pack of cameras here in the Ozarks. Here's why.
Sponsored by American Outdoor Brands
BOG Blood Moon Trail Camera Specs
The Blood Moon's premiere feature, in my opinion, is its design. The entire guts of the camera are encased, meaning no more bending down or straining to read in waning sunlight, whether the camera has battery power or is still set on the correct date. You release the case, aka the Dominion, that holds the batteries, camera juju and SD card and you can work with it as you would any handheld device. For playback, it's easy to check the images or videos right from the Dominion, while you hold it. No need to go back to your computer and insert the SD card into a reader or anything.
Secondly, the images recorded are clear – regardless of whether it's night or day. The Blood Moon reaches out to 120 feet with its flash range, and 100 feet for detection during daylight. You can see what it does here in this photo of some does at night. The camera is built with a 22 MP dual sensor.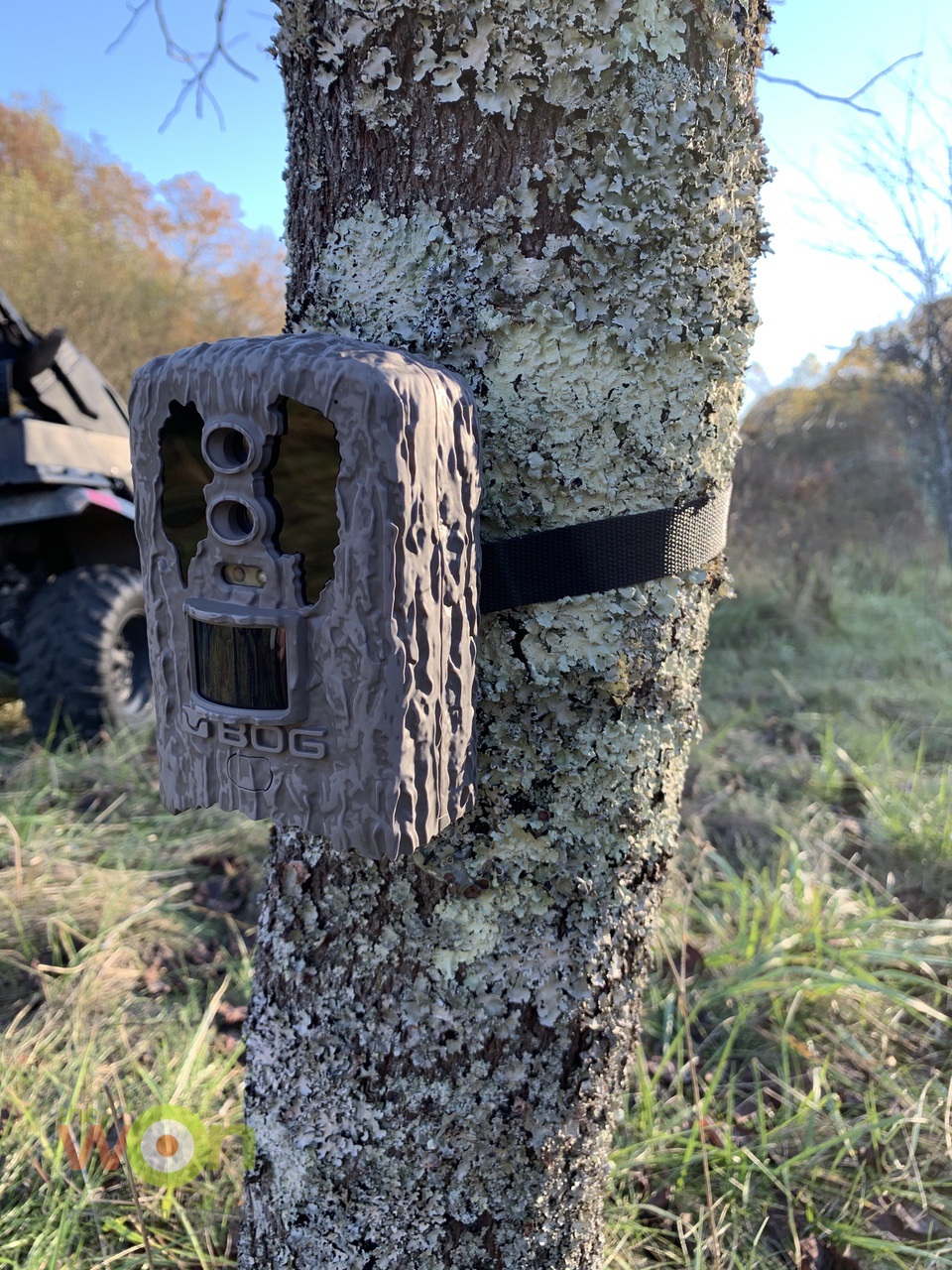 The camera's speed (.2 second) allows it to grab images that might be racing by, and you may choose among 5 capture modes, including photo, video, hybrid, multi-shot and time lapse. In the hybrid mode, it first takes a pic and then, a video. You may configure the length and quality of the video beforehand.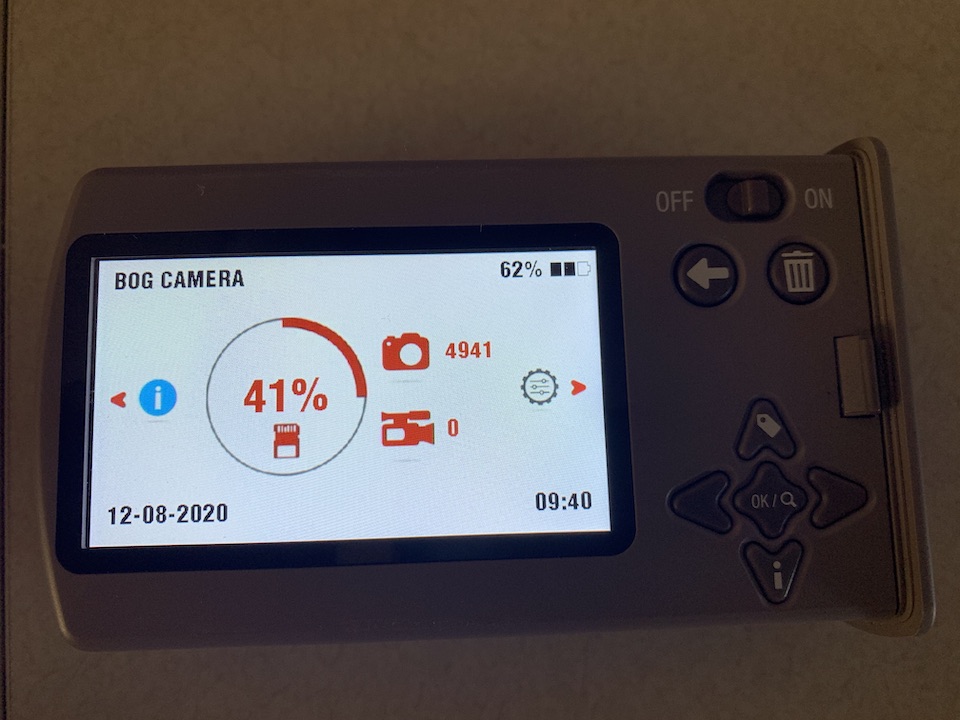 Next, the 3-inch viewer with its full color screen makes it easy on the eyes. It's easy to operate, too, and set video lengths and other adjustments, since it features an icon-based menu.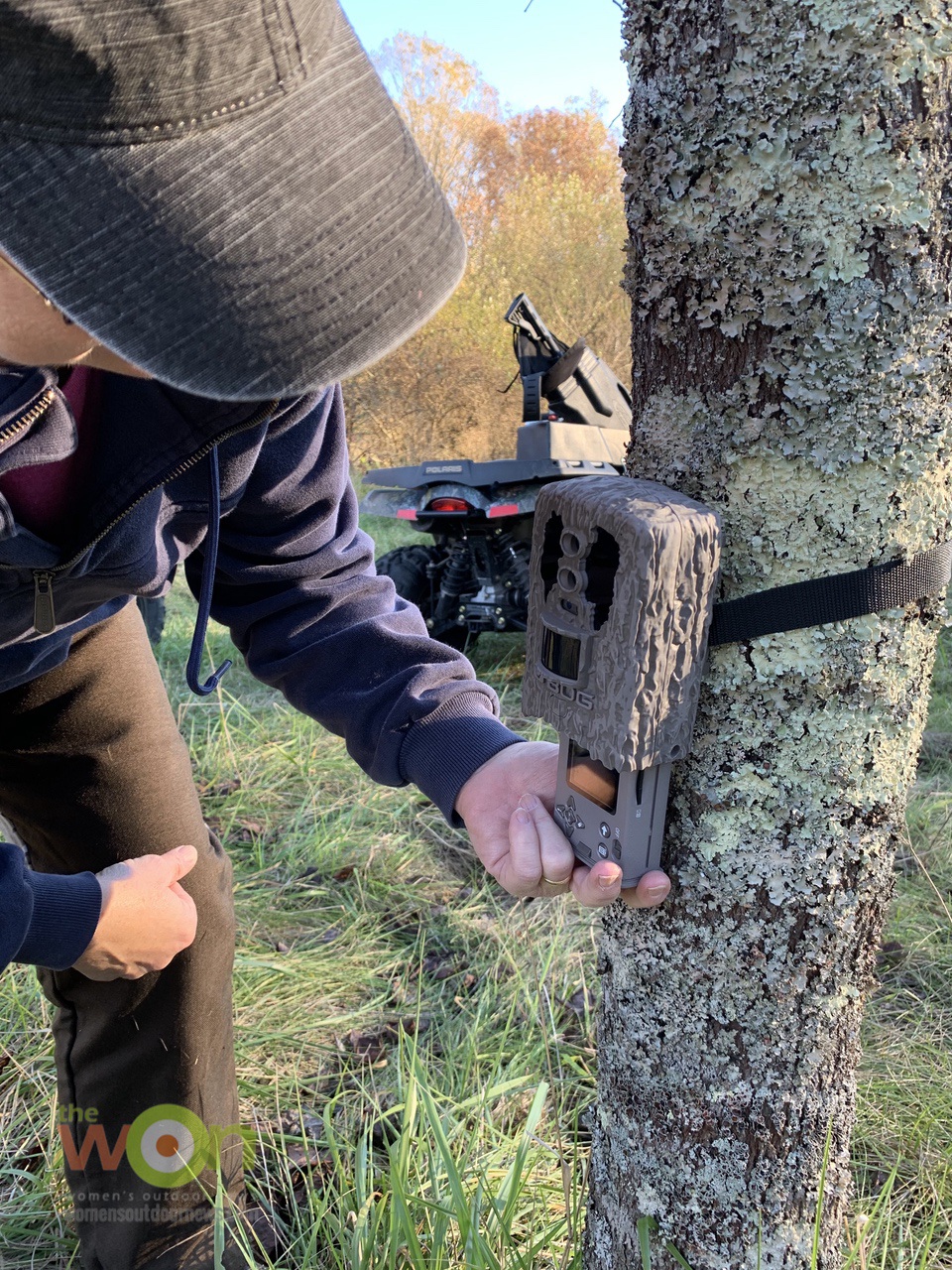 Attaching the Blood Moon
The Blood Moon comes with a long tree strap, or you may purchase a BOG game camera mount and the camera will slide onto that contraption. For extra security, BOG added holes on the back and bottom of the camera so you can run a Python cable lock (Masterlock) through for secure attachment.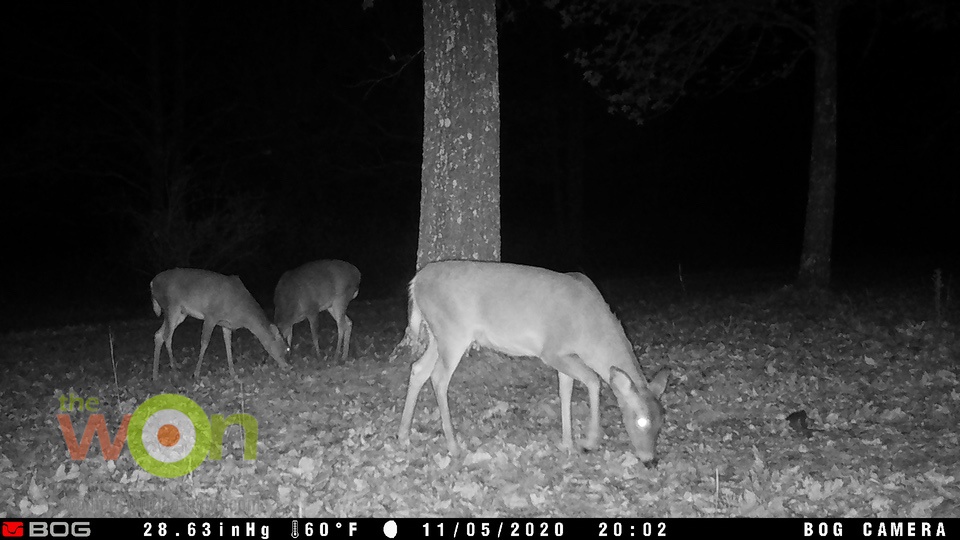 Testing It Out
It's really slick to test out the camera. I don't know about you, but I'd failed a few times to get a game camera set and been disappointed when I return and it wasn't properly turned on. The little slide button didn't make it all the way to the right position. But, if you want to assure that your Blood Moon is on and clicking, there's a test feature that allows you to easily put the camera into the test mode (using the icons again) and then, walk in front of it and watch for the red light – which does not mean stop. You can test the range of the camera this way, too, detecting the farthest distance that it will pick up movement. When you're finished testing, just remove the good old Dominion from the camera and turn on the capture mode.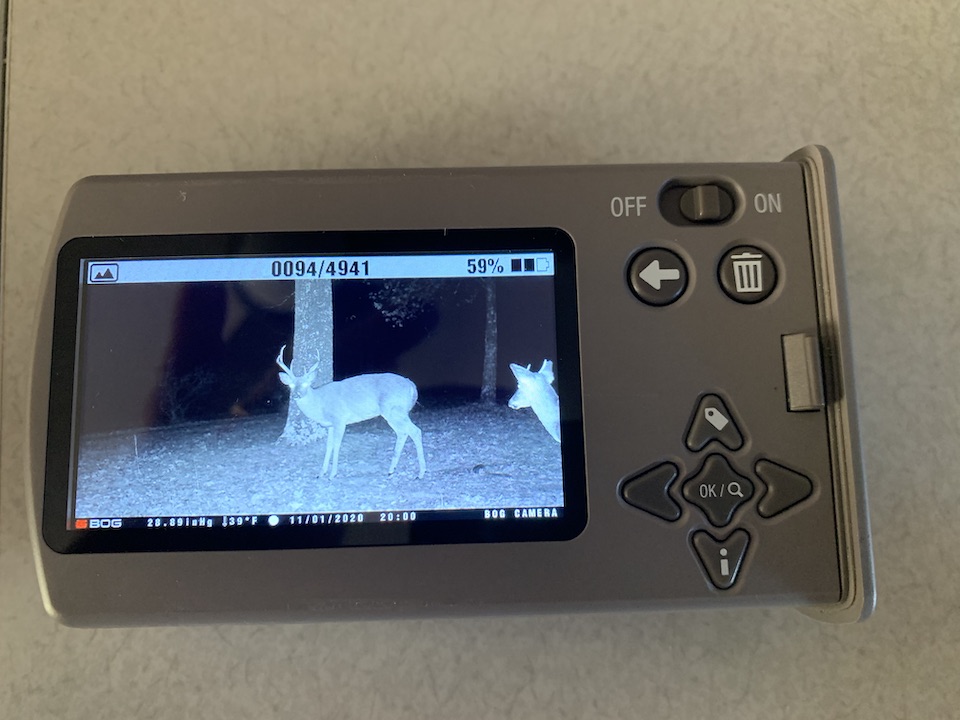 Playback is Easy
My 3-year-old grandson could easily figure out the playback mode on this camera. It's easy to scan through your photos or videos, and each image/video also includes stamps that indicate barometric pressure, moon phase, temperature, date, time and name of your camera. (Since you'll want more than 1 of these cameras, you'll want to name them!) You may also zoom in on photos.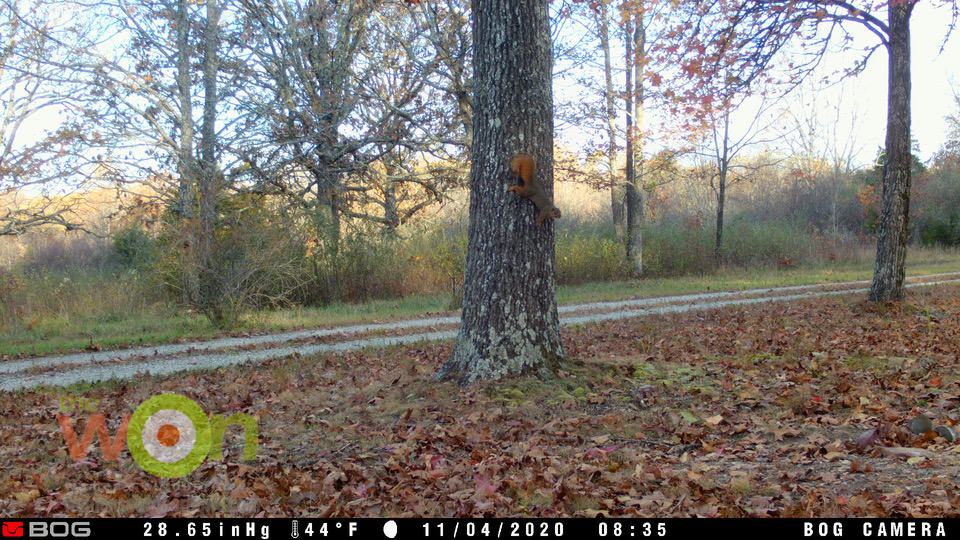 We put this camera to the test in a heavily trafficked area of our property in the run-up to deer season.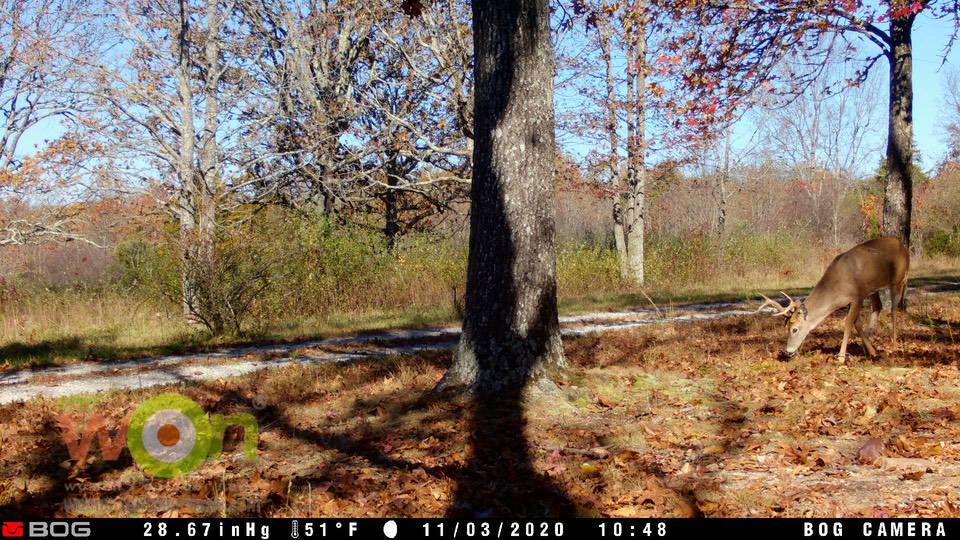 You can see the results. Almost frameable.
The Blood Moon's retail price is $229. Worth every penny and a top-notch gift for the outdoorsman on your list this year and into next. The Blood Moon is compatible with an SD card up to 512 GB.
See the Blood Moon.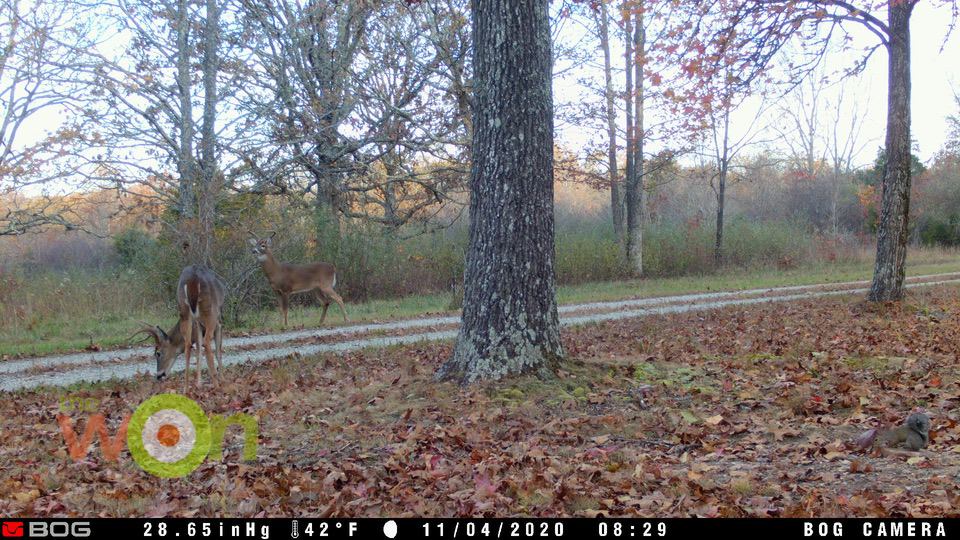 Accessories for the Blood Moon
You may purchase the Omnipotence Blood Moon battery pack, in lieu of using 6 AA lithium batteries. BOG assures up to 11 months of battery life.
Also, you may order a spare https://www.boghunt.com/game-cameras/dominion-removable-menuviewer/1116334.html for $79.99. Swap them out and take the other one back to the blind or home for further viewing.
Or, you may decide to buy a customized attachment for the camera, from BOG's full line, featured here at Midway.
You may attach a Blood Moon to the DeathGrip tripod ($257.99), too. See my review of the DeathGrip here.
About Barbara Baird

Publisher/Editor Barbara Baird is a freelance writer in hunting, shooting and outdoor markets. Her bylines are found at several top hunting and shooting publications. She also is a travel writer, and you can follow her at https://www.ozarkian.com. View all posts by Barbara Baird →