Meet Elle Rueger: Founder and Owner of Soledier Socks
I first met Elle Rueger, founder of Soledier Socks, last year at a pop-up event at the Shooting, Hunting, Outdoor Trade Show in Las Vegas. I am a sock snob, so it seemed natural to gravitate to the colorful booth of some crazy and all comfortable looking socks.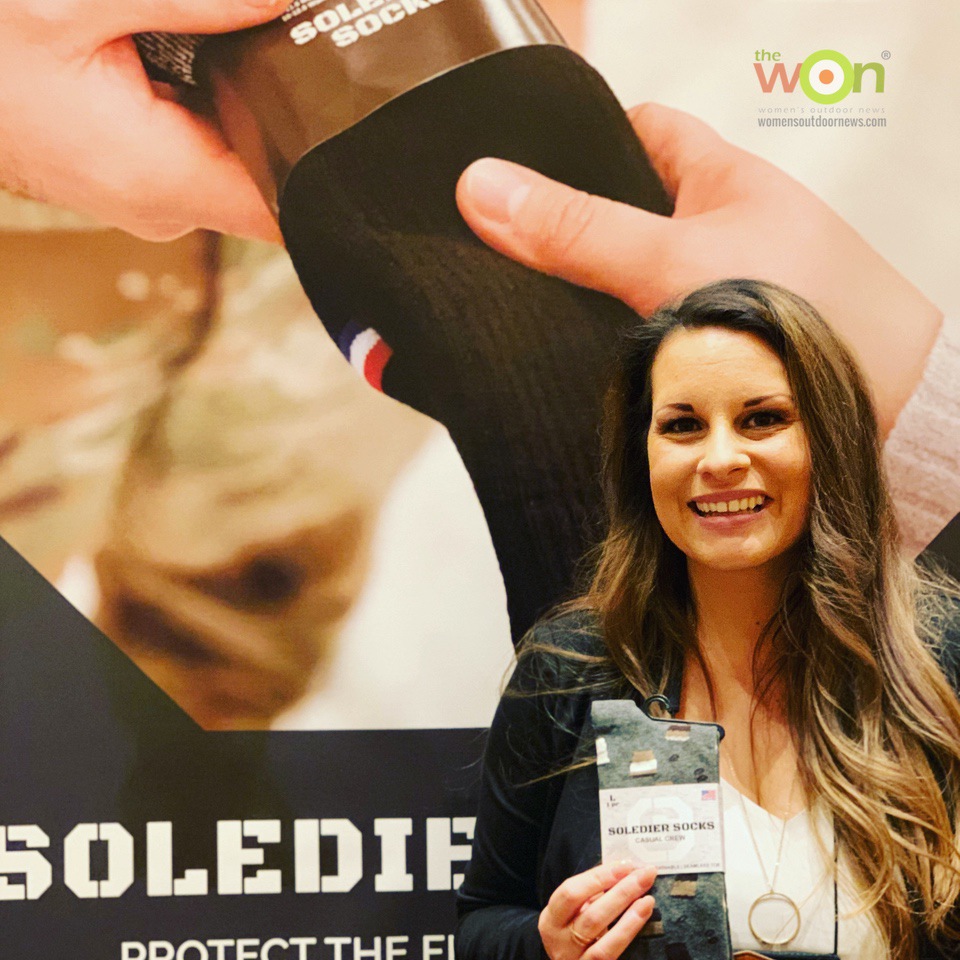 Also, I am an Army mom, so when I found out more about the socks and how the Ruegers give back to our troops and offer discounts to service members and first responders, I quickly became a fan of their business model. Elle found a few minutes to answer our questions about her business, and we think you'll enjoy reading more about this small business, based in North Carolina.
Note: For every pair of socks sold, Soledier Socks donates a pair of socks to an active duty service member. I have purchased several of the socks and find all styles to be highly functional, and do what they're supposed to do for each task. I give them as gifts, because they're easy to slip inside an envelope with a birthday card, too.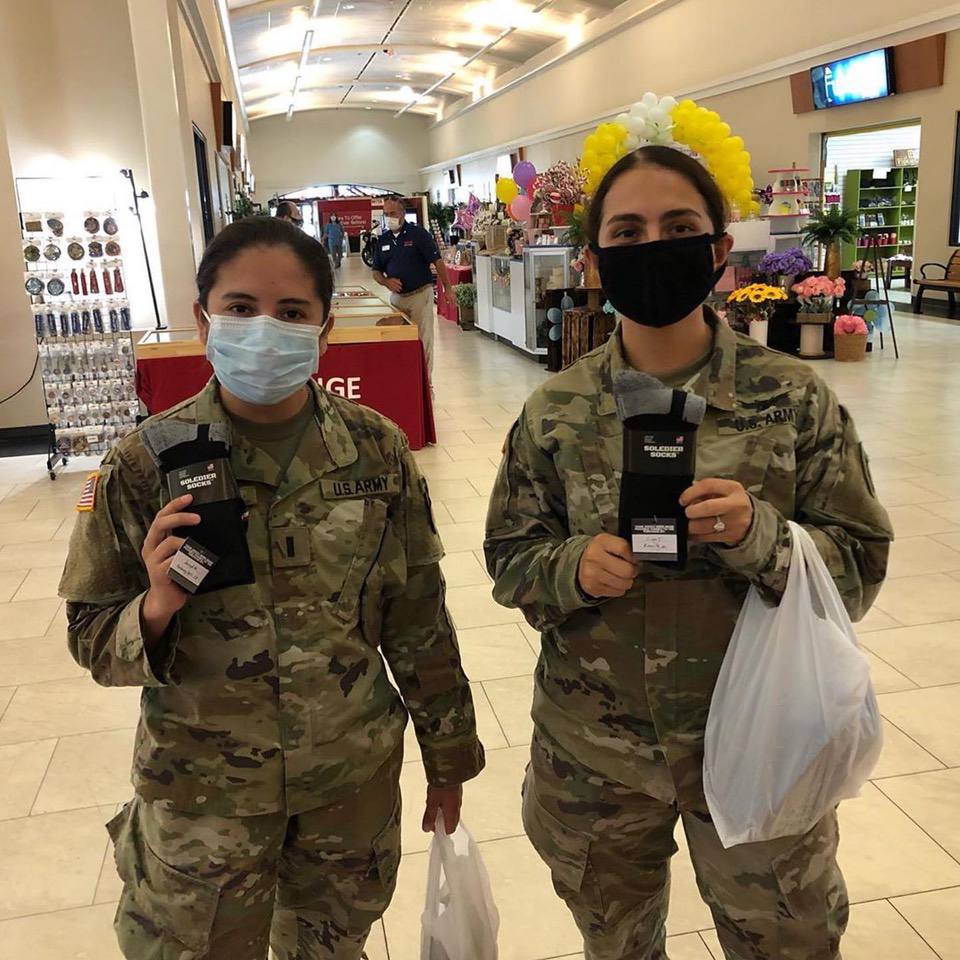 Soledier Socks
The WON: On your website, you write "after 2 years of development" … what did that look like? Where did it happen? How?
Elle Rueger: In 2010 we sent socks in care packages to a friend who was deployed. Upon his return home, he raved about the difference a pair of high quality socks made on his deployment. While I'd like to say it was a quick process from sending socks in care packages to shelves, we made a promise to provide the best quality product for our troops. To get to that point, we worked with multiple factories, played around with different fiber contents, tweaked the needle counts/features and benefits – no detail was overlooked! The promise we made to ourselves culminated in the development of the perfect sock, manufactured right here in the USA!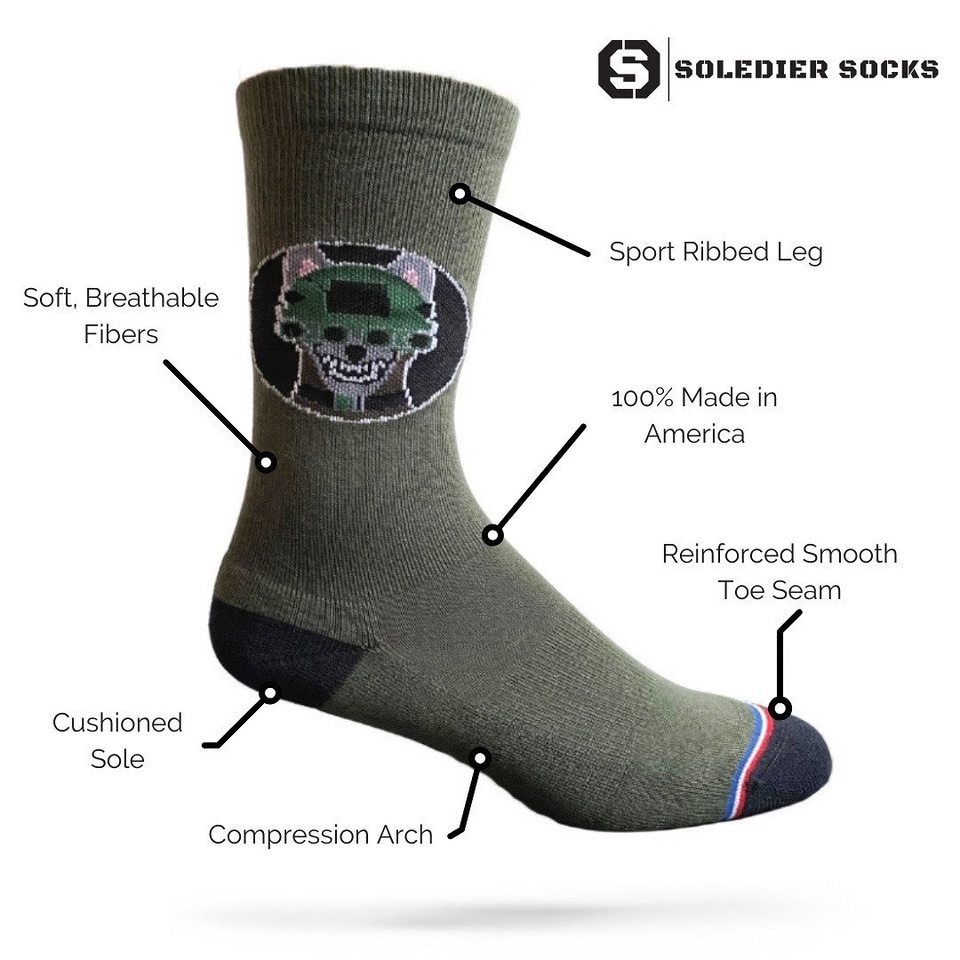 The WON: What have you heard from customers?
Elle Rueger: Here are some of our favorites that we have received from past customers:
"I work roughly around 18 hours a day, with 14 of those hours on the flight deck. Recently, I received a pair of your socks from a care package (Thanks to Nancy from North Carolina). These socks are the most comfortable and breathable socks that I have worn in my life time. The comfort has alleviated a lot of foot and knee pain from working on the flight deck!! I can only say that I have been looking for the comfort of these socks for over 20 years I have been in the Navy!!! You have a customer for life!!!" – Troy M.
"Can't believe how well they hold up. I honestly wear them every day since you sent them. I have one pair per week day I use and they are still thick and comfortable socks. And I live in Scotland where it's cold and they keep my feet nice and warm. Outstanding is too small a word for them. If socks could be a religion I would be at the church of SOLEDIER SOCKS." – Sean P.
"Awesome socks! I have about 10 pairs of these socks and they have replaced all my other boot socks for training in the field. Absolutely love them and well worth it!" – Bruce L.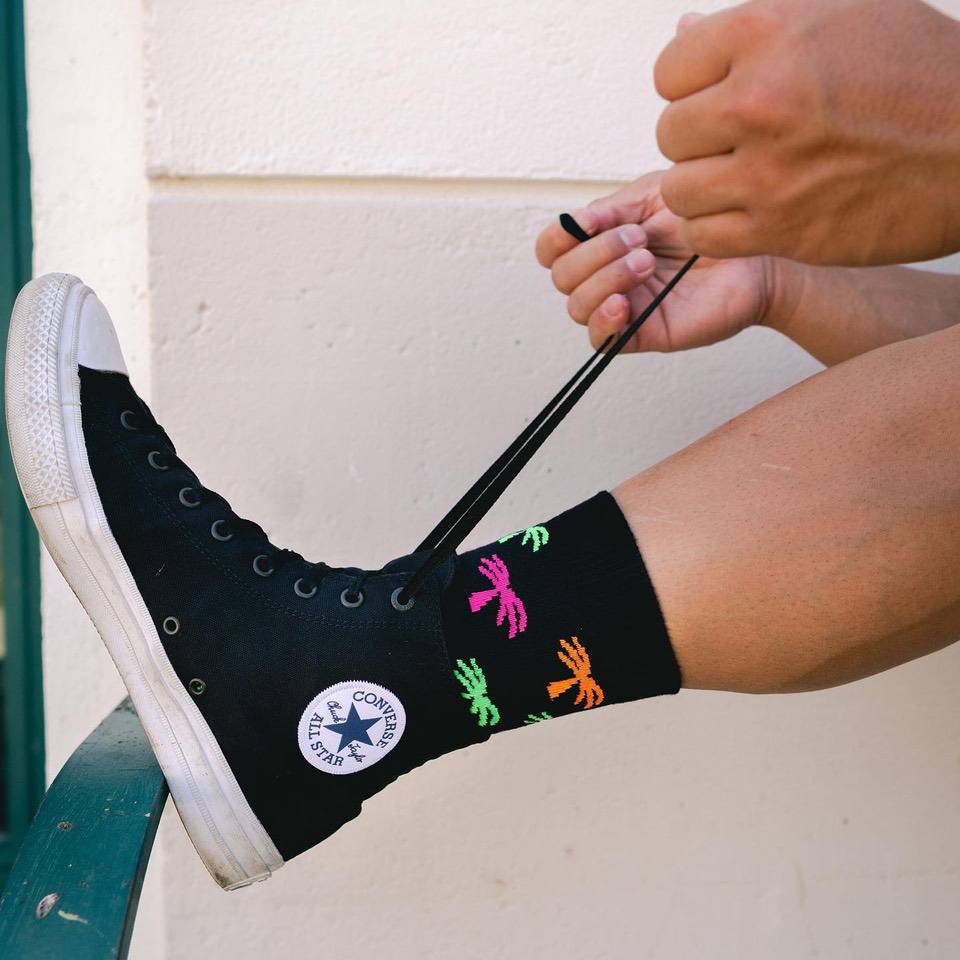 "These socks are by far my favorite in my drawer! They are not only comfortable, but they allow me to display my pride in my country for all to see!" – Ed G.
"I just completed a 3 mile RUN in kit (ACH, plate carrier with plates, OCPs and Boots) while wearing these socks. My feet felt great the entire time. There were no hot spots or blisters. I used to always get blisters between my toes and on the outside of my small toe from friction. I'm happy to report NO blisters at all! Hands down THE BEST SOCKS EVER!" – Jonathan G.
"Prevented blisters, believe it or not! I normally suffer from heel blisters – not a one!" – Kevin S. (while on a hunting expedition in Alaska)
The WON: You said you name your socks after soldiers. How did that happen and who are the lucky people with socks named after them?
Elle Rueger: We do! We knew we wanted to name our donation pair after the friend who inspired our mission: the "Thomas." At our launch we had 2 other styles, and named them after family members who had served in the military. From then on, we decided to name all future styles after service members. Sometimes a sock is designed with a specific service member in mind, and sometimes we ask our supporters to decide on a name for us!
The WON: Donations – you mentioned that you work with various veterans organizations. What have you done recently?
Elle Rueger: Last year we launched our "Stand For A Cause" sock line, which supports nonprofits that give back to the military community. This line was created to further our mission of supporting those that serve us. We carefully select organizations that share our vision of supporting the military and first responder communities. From there, our designers create a custom sock that has a nod to the nonprofit's specific mission. For each pair of Stand for a Cause socks purchased, we not only send a pair of socks to a service member, but we also donate a percentage of the profits to our partner nonprofit organization. We are now up to 8 Stand for a Cause styles and currently partner with Boot Campaign, Military Working Dogs Team Support Association, Chive Charities, American Freedom Fund, Concerns of Police Survivors, 555 Fitness, and Folds of Honor – all organizations that benefit the military and first responder communities.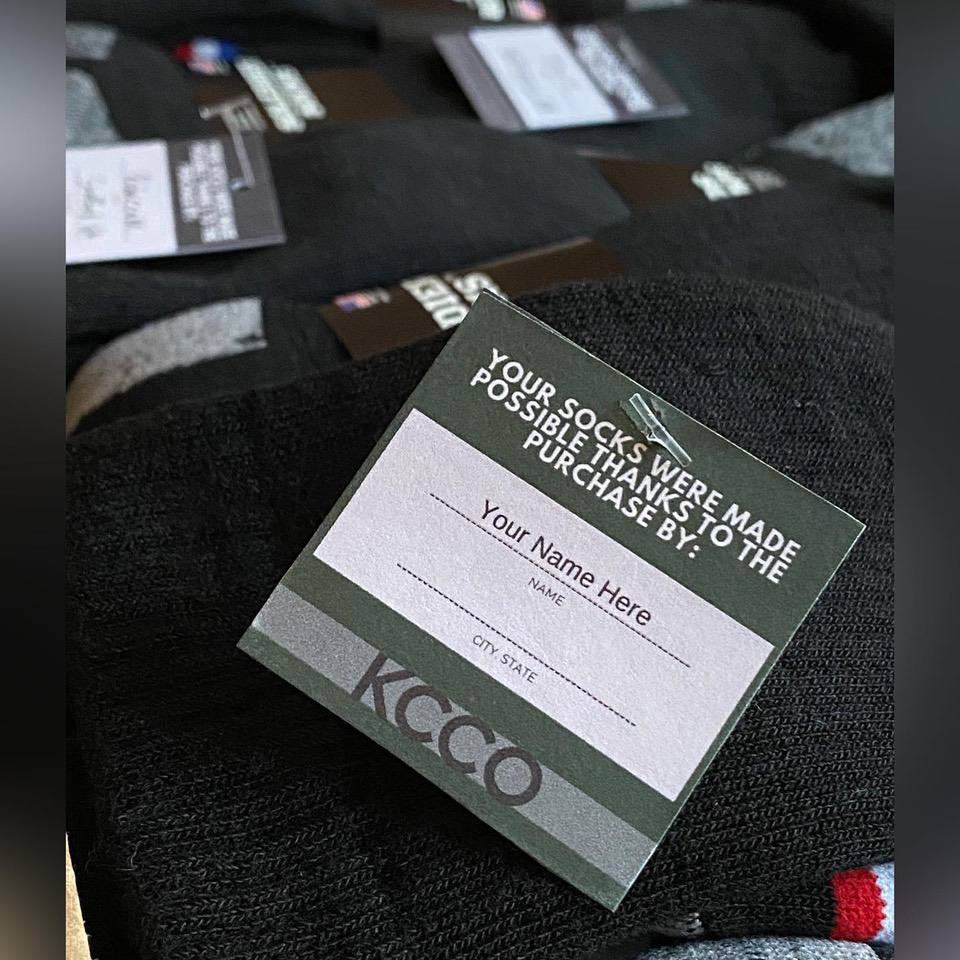 In light of what has been happening with the Coronavirus pandemic, we teamed up with country musician, Ryan Weaver, to donate 250 pairs of socks to the medical personnel on the frontlines of Covid19. They are heroes and we knew we could help keep their feet comfortable when they were on them for long periods of time.
The WON: Who else is in the business of Soledier Socks?
Elle Rueger: Now that my husband, Mike, is officially on board as our VP of Operations – that brings the grand total to 2 full time employees – and 25 sales/design consultants! We are building this company from the ground up – bootstrapping the whole way – and honestly, I wouldn't have it any other way. It has been an incredible learning experience and I'm thankful for all the lessons that have been learned. Mike has 15+ years' experience in hosiery and has worked with every major brand/retailer in the industry. He brings a wealth of knowledge and outside the box thinking, so we are gearing up for a pretty exciting 2021!
The WON: How many products do you offer? Anything new in the works?
Elle Rueger: Currently, we have 28 different styles of socks to choose from as well as shirts, hats and drinkware. Every item on our site has a give back element – and 20 percent of all apparel and gear is being donated to Boot Campaign at this time. We had 4 new sock styles releasing just in time for the holidays, as well as a new performance line/exciting collaborations in early 2021!
Visit Soledier Socks here.
Current and former U.S. military members, along with first responders are eligible for a 20 percent savings on socks. Click here to order socks at a discount.
About Barbara Baird

Publisher/Editor Barbara Baird is a freelance writer in hunting, shooting and outdoor markets. Her bylines are found at several top hunting and shooting publications. She also is a travel writer, and you can follow her at https://www.ozarkian.com. View all posts by Barbara Baird →