Vera Koo: Teaching Her Granddaughter, Mia, How to Shoot
When I learned that my 14-year-old granddaughter, Mia, wanted me to teach her how to shoot, I jumped at the opportunity.
I quickly inquired about when we could do it, and we settled on a date during her school spring break.

As an eight-time Bianchi Cup champion, it's not unusual for people to ask me to teach them to shoot. I don't relish the task.
My persistence, commitment to detail and ability to follow instruction make me a good student, but I do not have the gift for teaching. Also, teaching someone to shoot takes hours of work that extends beyond the time you spend on the gun range. You must prepare the gear, plan an introductory course, travel to the range, set up the range and clean up afterward.
And when people ask me to teach them, usually what they really mean is they want me to take them out to fire a gun. It takes focus to learn about firearm safety and handling. It also takes a lot of time and determination to learn and practice to shoot accurately. 
With Mia, though, I felt differently. For one, she's an excellent student. But it's more than that.
This was an opportunity to pass on to a family member a sliver of the knowledge and skill that I have gained throughout my 30 years of shooting. I want her to have at least a basic understanding on how to safely operate firearms so that she's not afraid of them, like I was before I enrolled in shooting courses.
Even if she does not want to commit to shooting long-term, some knowledge from our lesson should linger. Later in life, she might want to take up shooting, or she might date someone who likes to, and they can enjoy it together.
One regret of my shooting career is that no one in my family ever saw me compete. Competitively speaking, it didn't make sense to have my loved ones present. My shooting competitions were pressure-packed events with top competitors. Any small distraction can disrupt your performance.
My husband, Carlos, knew what I went through in the competitions. He listened to my stories when I returned home, he helped arrange my travel, and he attended awards banquets after the competition. Even though Carlos never saw me compete, it was because he didn't want his presence to negatively affect my performance.
My three other granddaughters learned how to shoot from their father, so this was my opportunity to impart some shooting wisdom to a grandchild.
Mia and my daughter, Shane, joined me at the range. I had told them to bring warm clothes, lunch, water, sunglasses and hats, and I would provide the ear protection for them.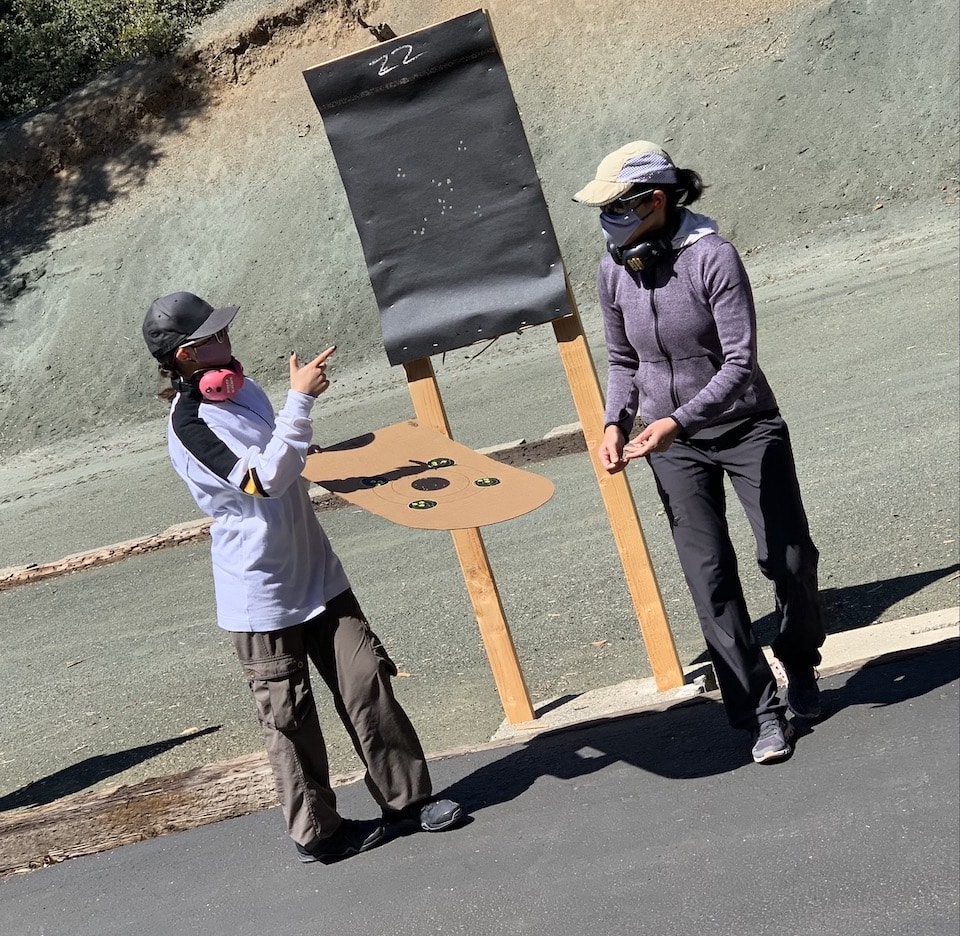 I gave Mia a firearm safety lesson before shooting. I showed her how to safely load and unload a gun, and how to show safe. I made sure she understood the proper sequence of taking the magazine out, pulling back and locking the slide and ensuring that the chamber is clear. We did this multiple times before advancing.
Mia takes things very seriously. When I said the muzzle always must be pointed downrange, I felt confident she would follow my instruction explicitly.
Shane correctly anticipated that I would enjoy teaching Mia.
"Everybody loves teaching her," Shane said afterward. "She gives concrete feedback when you say things to her. You can tell she understands it. She follows instructions. She asks good questions."
Shooting a handgun accurately all stems from proper grip, trigger control and having a good stance.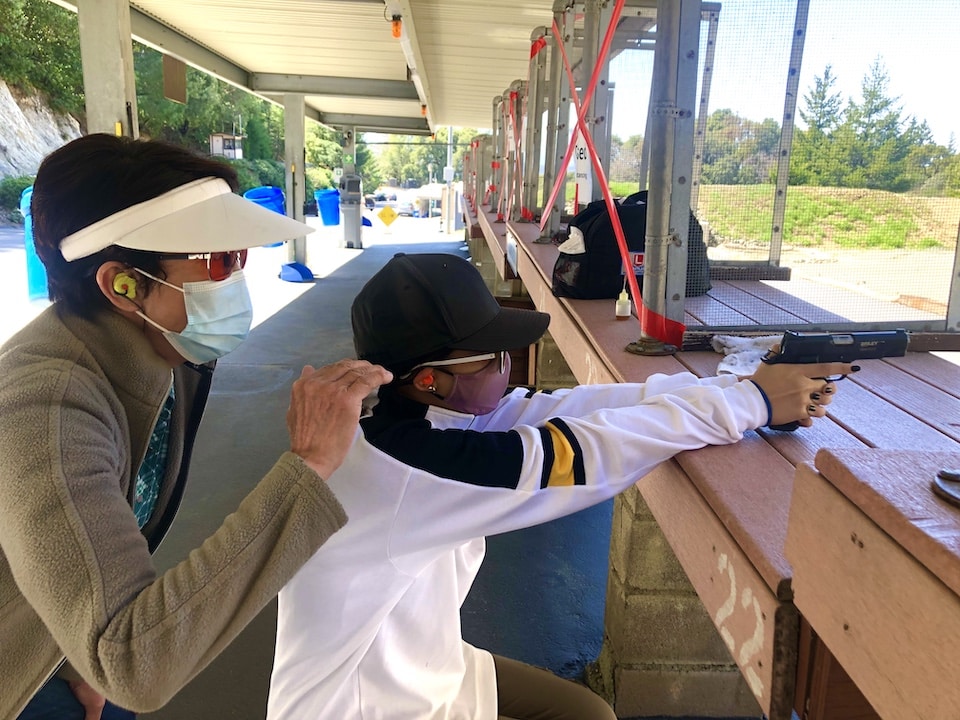 I had Mia shake hands with me, and I demonstrated the proper pressure she needed to use to grip the gun. I showed her how to grip the gun with each hand and how to control recoil. She learned how to slowly pull the trigger straight back until the shot happened, while focusing on maintaining the proper sight alignment. Mia kept her finger out of the trigger until she was ready to shoot.
I wanted to impart on Mia what it takes to make an accurate shot, even at a close range, so I had her begin by shooting at a paper target from seven yards.
As a novice in the shooting sport, for two years while I practiced for accuracy, I never stood up to shoot. I shot bullseye targets from the bench at the range while sitting. That method I used to hone my accuracy as a beginner allowed me to practice the proper grip, trigger control and sight alignment by taking away other elements such as the stance. I only needed to concentrate on squeezing the trigger straight back slowly until the shot broke. I had Mia begin by shooting while sitting, allowing her to focus on her grip, sight alignment and trigger control.
This was Mia's first time shooting a handgun, but she caught on quickly. It wasn't long before she was putting a tight pattern on the target.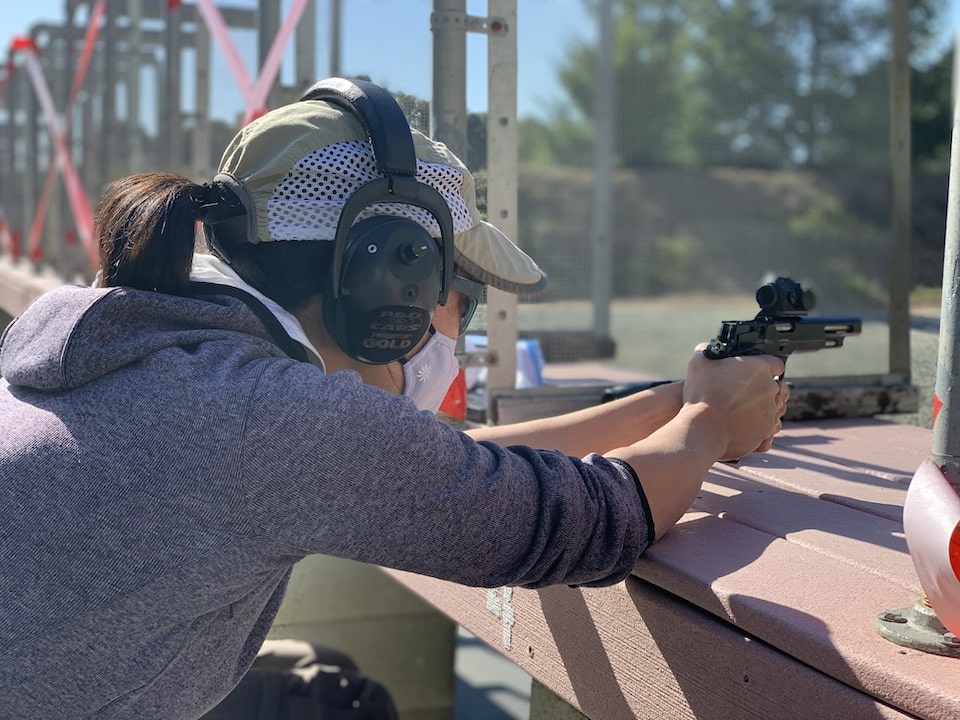 Shane shot, too. She recalled afterward that I had taken her shooting years ago, and she remembered how to use proper gun safety and check the chamber. She remembered how to safely load and unload a semi-auto handgun, on how to show clear and always keep the gun pointing down range.
Shane has strong hands from being a rock climber, and she demonstrated a good grip on the gun. She proved a very good shot.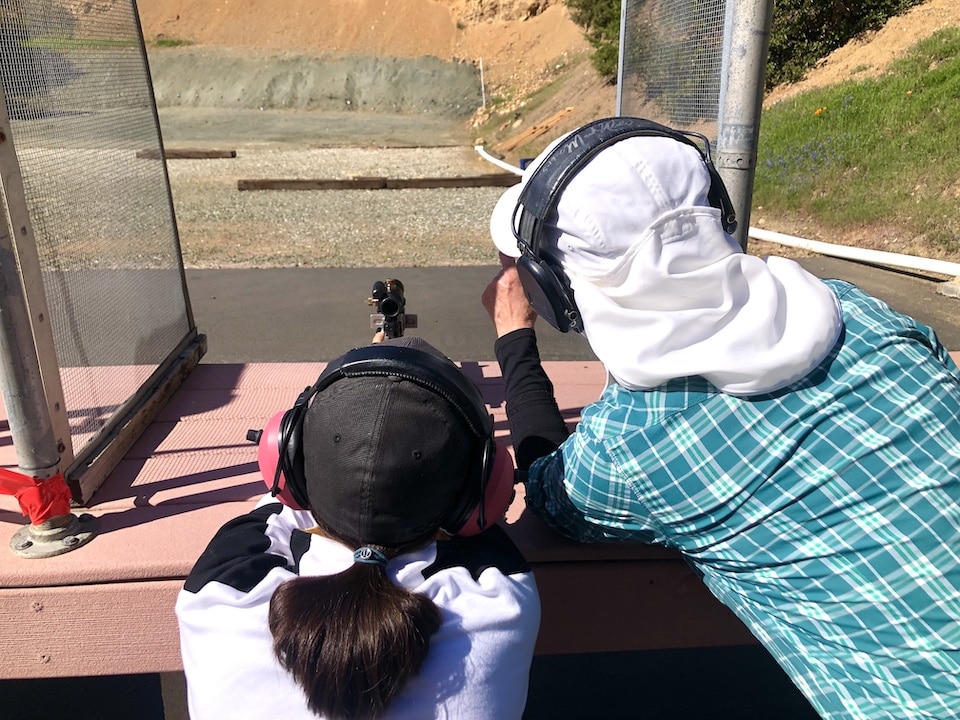 After we finished bullseye shooting, I had them use my Bianchi gun to shoot at soda cans filled with water from 40 yards. This type of marksmanship is visually rewarding. When you hit the can, it explodes from the hydraulic pressure from the water and jumps into the air.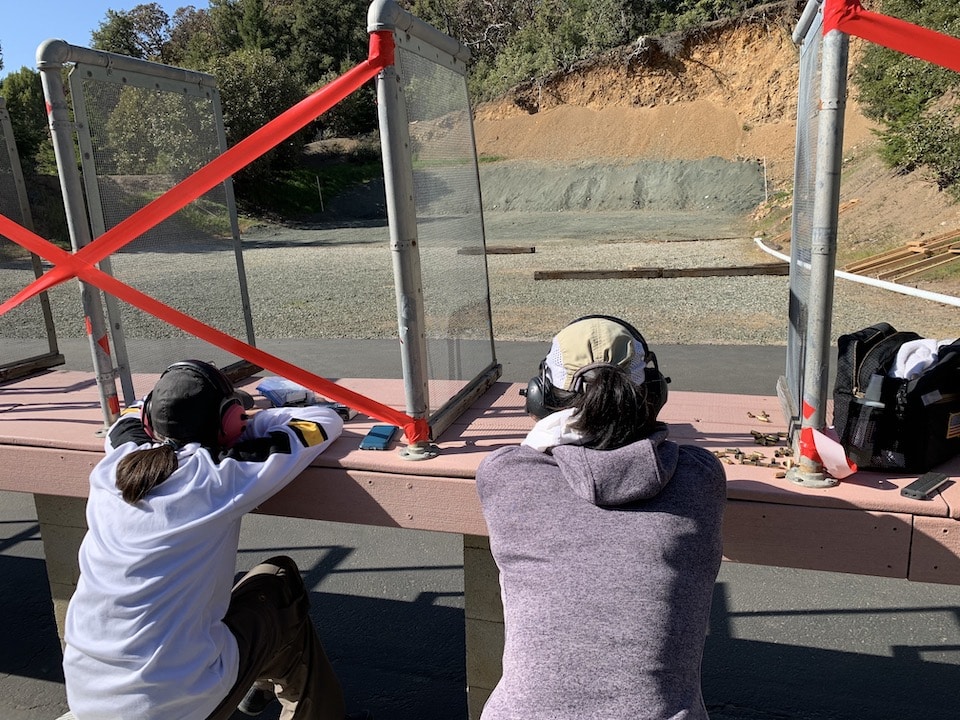 I put out 23 cans, and they had a blast hitting the targets. They sat down to shoot for a while but also practiced shooting from a standing position to see what it feels like standing versus sitting.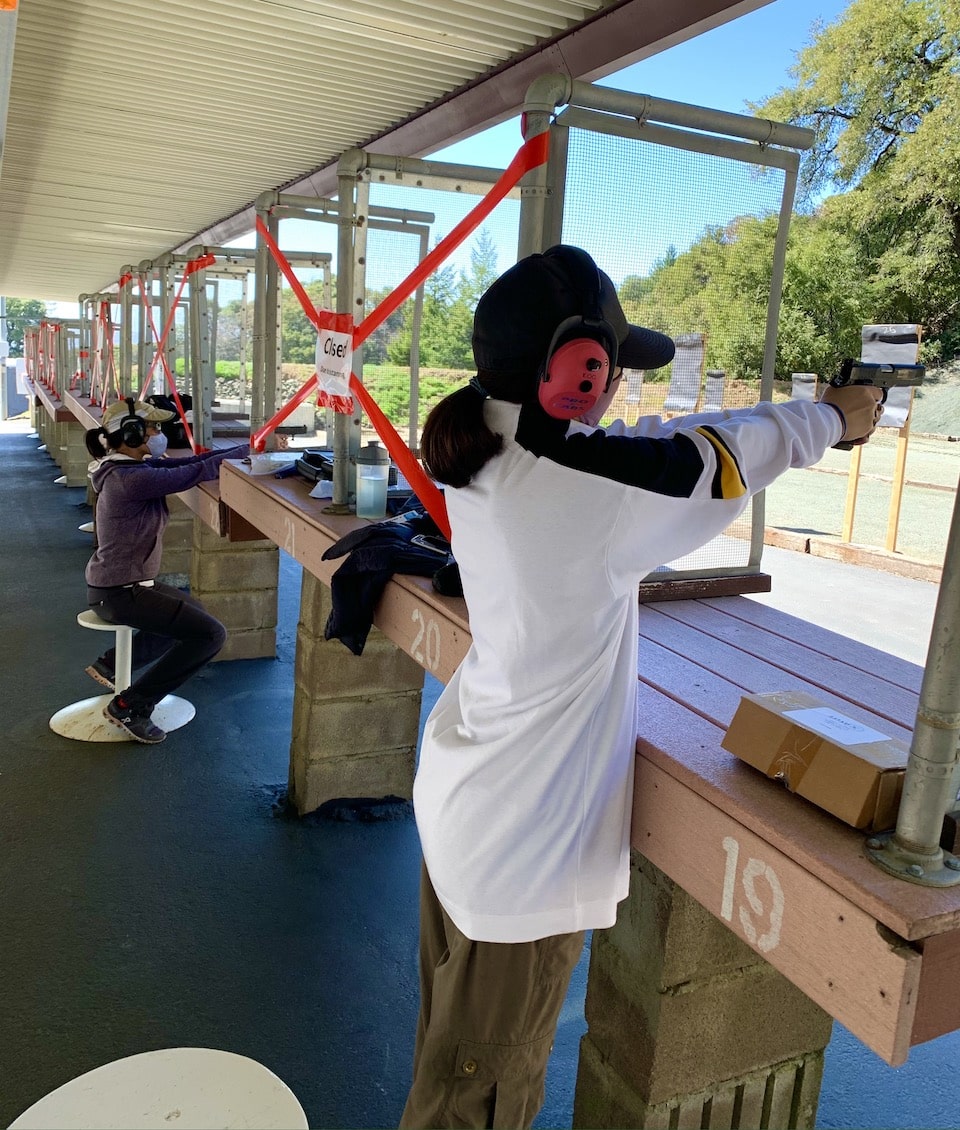 Shane said later that watching me at the range gave her a glimpse of the effort I had to put in throughout my shooting career – from hauling gear, to preparation and cleanup.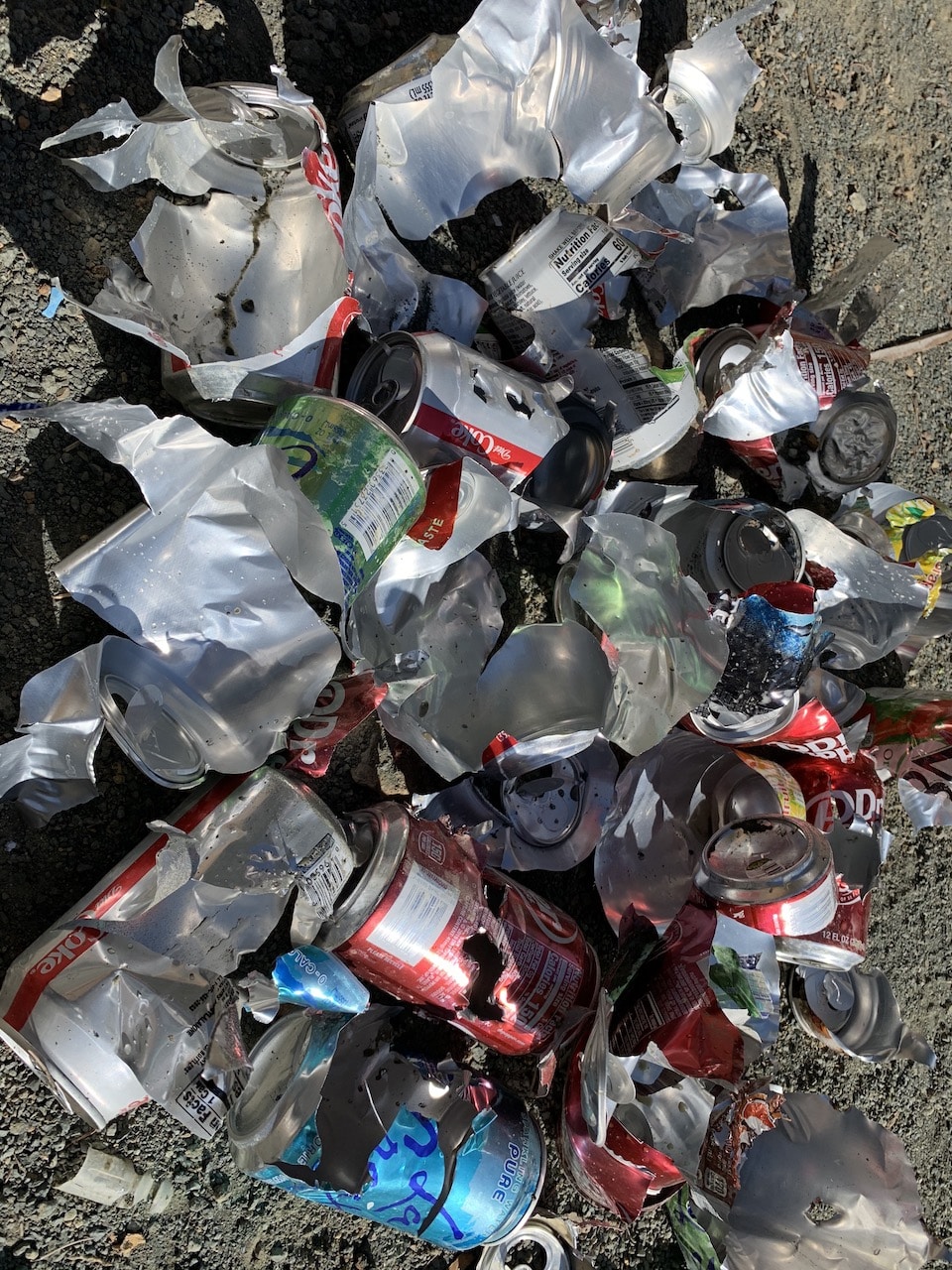 What they saw, though, was elementary compared to what I poured into my career. I gave my full commitment to the shooting sport during my years of competition and only reached the height I did because of my planning, persistence, and determination to improve.
I don't know whether shooting will ever have much place in Mia's life, but I was happy to provide her with a safe and enjoyable environment where she learned how to safely handle a firearm and gained insight into the skills required for accuracy.
"I think she's just amazing," Shane said later, as she reflected on how Mia performed. "I might be overblowing it, but I was very proud."
About Vera Koo

Vera Koo is a first-generation Chinese American woman. She's a wife and mother, author, entrepreneur and retired competition shooter. Along with Vera's fantastic memoir and life story, "The Most Unlikely Champion," she writes her column, Vera Koo, at "Women's Outdoor News." View all posts by Vera Koo →