Theodore Roosevelt Genius Prize Competition
The public now can help reimagine what drives wildlife conservation in the 21st century by participating in the U.S. Fish and Wildlife Service's Theodore Roosevelt Genius Prize Competitions, which open for entries today at https://www.challenge.gov/. The competitions will engage the public to help address six important issues: preventing wildlife poaching and trafficking, promoting wildlife conservation, managing invasive species , protecting endangered species, managing nonlethal human-wildlife conflict, and reducing human-predator conflict.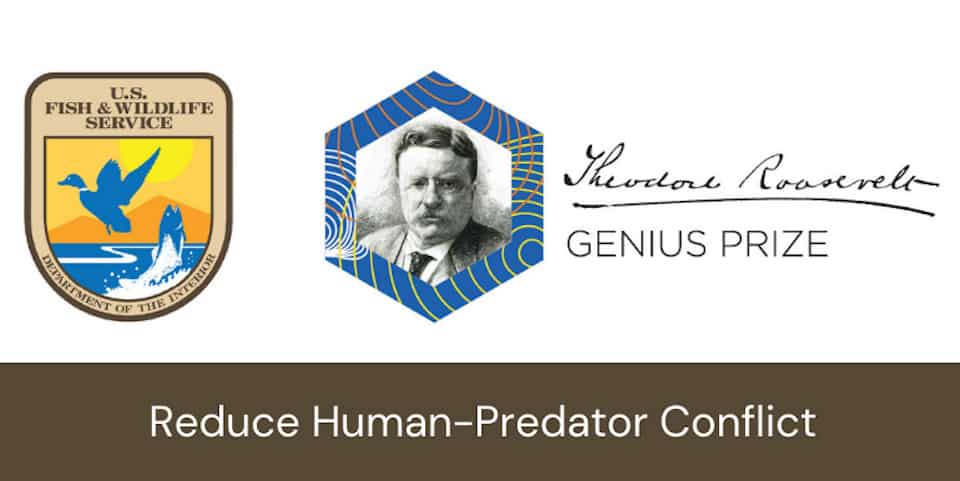 "Looking at wildlife conservation through a new lens will help us find solutions to the most pressing problems facing our cherished wildlife resources and the habitats they – and ultimately we – depend upon," said Service Principal Deputy Director Martha Williams. "Through these exciting competitions, the Service seeks to engage non-traditional partners and provide opportunities for new partners and networks to source diverse solutions, catalyze new markets, and spark interest and imagination from people across the nation."
By promoting innovation and engaging diverse audiences, the competitions support the missions of the Department of the Interior and the U.S. Fish and Wildlife Service and contribute to achieving the Biden-Harris Administration's goals of the America the Beautiful initiative and work being done under the Bipartisan Infrastructure Law. Both efforts underscore the Administration's all-of-government approach to bolstering climate resilience and protecting natural areas for current and future generations.
The Service is partnering with the National Fish and Wildlife Foundation, which will help administer the competition. The competition is guided by the Theodore Roosevelt Genius Prize Advisory Council, a designated Federal Advisory Committee. The council will administer $600,000 in prizes and advise competition winners on opportunities to pilot and implement their nascent technologies, helping them develop partnerships with conservation organizations, federal or state agencies, federally recognized Tribes, private entities and research institutions with relevant expertise or interest.
The submission deadline for the competitions is April 30, 2022, with judging to occur May-July 2022, and winners announced September 2022. The total prize purse for each of the six focus areas is $100,000 for the winning technology innovation. One or more semi-finalists may also be awarded up to $50,000 each at the discretion of the Service. The Service may recognize additional participants with non-monetary, honorable mention awards.
For more information and to apply, please visit https://www.challenge.gov/.
Explore the Theodore Roosevelt Genius Prize Competitions video to learn more.
The U.S. Fish and Wildlife Service works with others to conserve, protect, and enhance fish, wildlife, plants and their habitats for the continuing benefit of the American people. For more information about our work and the people who make it happen, visit https://www.fws.gov or connect with us via Facebook, Twitter, YouTube and Flickr.
About The WON

The Women's Outdoor News, aka The WON, features news, reviews and stories about women who are shooting, hunting, fishing and actively engaging in outdoor adventure. This publication is for women, by women. View all posts by The WON →