Ruger-57: 'Fun to Shoot, Cool to Own' (Still)
Back in 2020 (seems so long ago some days), I reviewed the Ruger-57. Ruger dubs this one "Fun to shoot, cool to own." That still holds true, and even more so after my recent time with it – and its newly threaded barrel plus silencer – on the range.

Sponsored by Ruger
A year after the release of the Ruger-57, the company introduced a threaded barrel kit. The kit comes with instructions and everything you'll need to replace the original factory barrel with one adaptable to a suppressor. Note: Even though it may fit on the adapter, and allow a .22 caliber bullet to pass through, do not use a suppressor that is not specifically rated by its manufacturer for the 5.7 x 28mm cartridge, as the 5.7 ammo has a much higher operating pressure and greater gas volume than a .22 rimfire cartridge.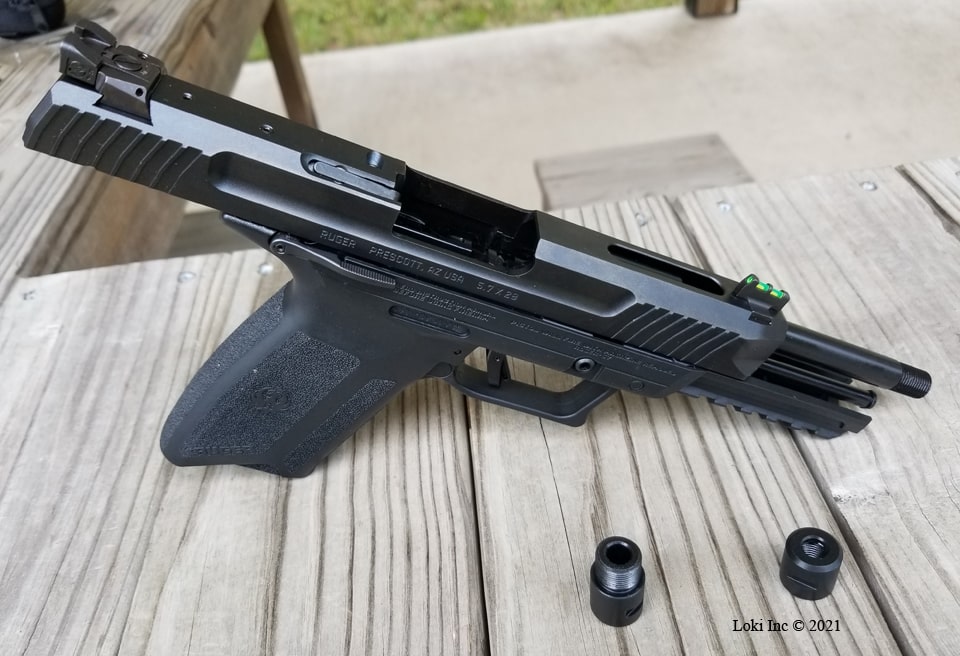 Before heading out to the range with the gun, silencer and ammo, I gathered all the odds of 5.7 x 28mm ammo I could find, thanks to Fiocchi, Federal and FNH. This collection included Fiocchi's new subsonic ammo offered in the company's Range Dynamics series and two Hyperformance Defense 5.7x28mm cartridge models introduced at the 2023 SHOT Show. I also brought along two different brands of ammunition I received from Federal – (Federal American Eagle, 40 grain and FNH High Performance Ammunition, 40 grain).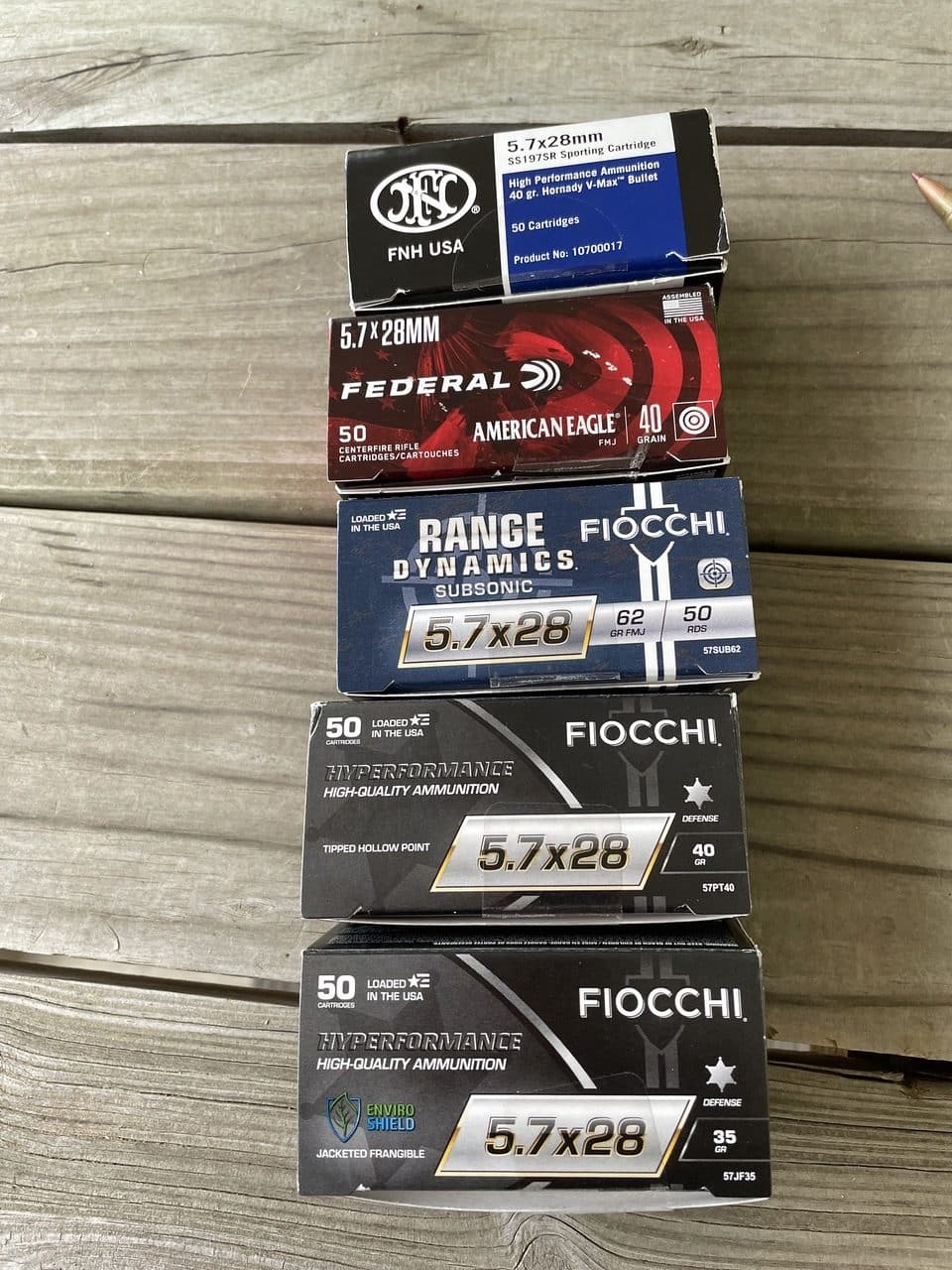 Note: Ruger also recommends using 40-grain 5.7 x 28mm ammunition when using a suppressor, particularly if you have an optic mounted on the slide; otherwise, you may have occasional ammo feeding failures with the gun.
If you're wanting to put it all together and enjoy a day on the range, shooting suppressed with 5.7x28mm ammo, here's some basic advice:
Keep the ammo away from the gun until the silencer is attached properly.
Attach the silencer to the barrel, and remember that, according to Ruger, direct-thread (no booster) centerfire pistol suppressors work best with the Ruger-57 threaded barrel.
Only after you've attached the suppressor, bring out the ammo and load the magazines.
Proceed to fire, and don't forget to occasionally check to make sure the silencer is still on tight.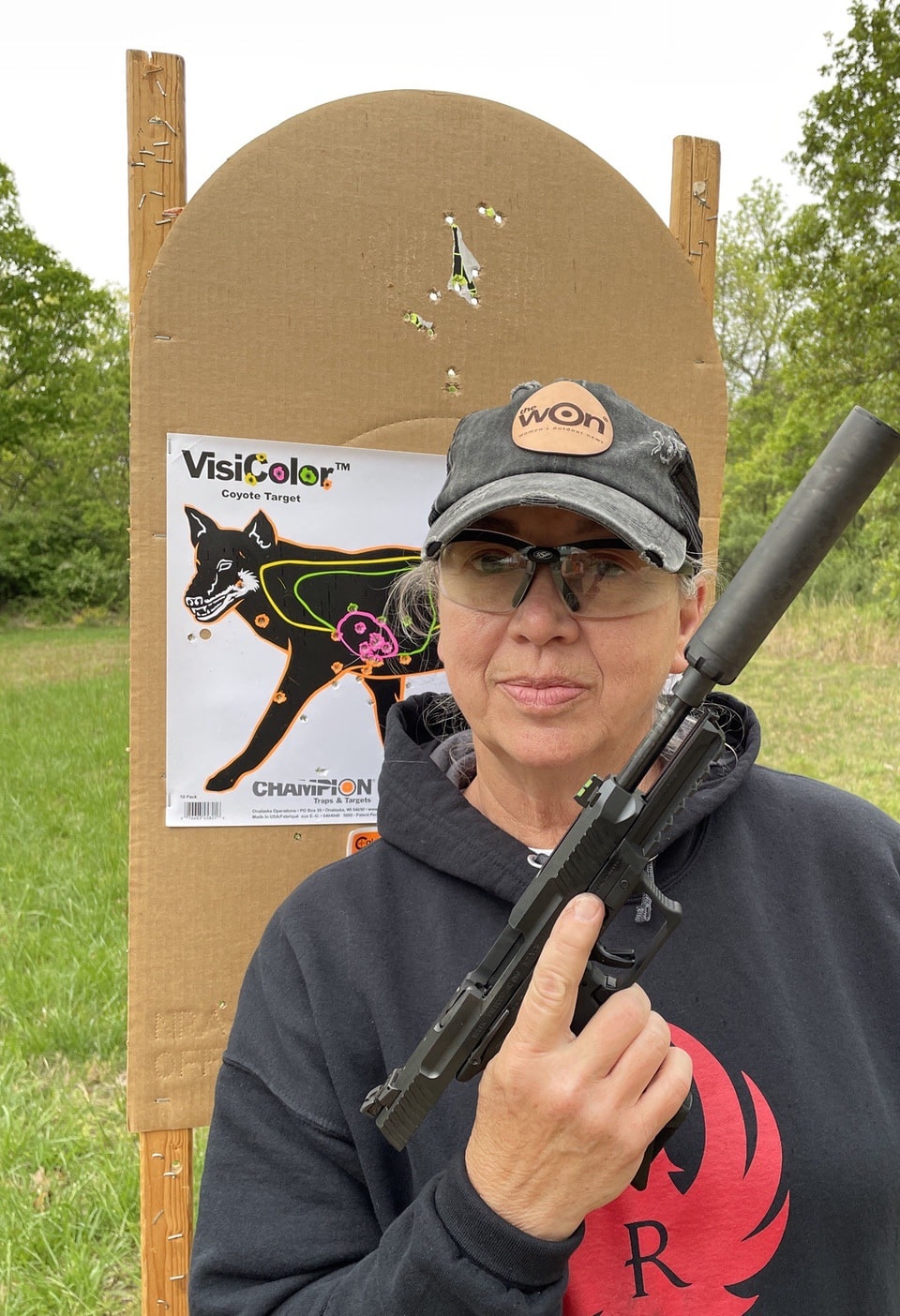 Range Time with the Ruger-57
It had been a while since this gun had been on the range. Fortunately, it had been put away clean and consequently, oiled, for storage.
I attached a SilencerCo Sparrow 22 to the barrel for this outing. Previously, I had attached a SilencerCo Switchback. Of the two, I prefer the Switchback, since it's modular and comes in different lengths. However, the Sparrow worked to bring down the noise levels enough so that I didn't have to wear muffs or plugs.
The Sparrow 22 also didn't affect the overall balance while shooting, or point of impact.
I spent a few hours on the range with my favorite shooting partner, the hubs. Between the two of us, we shot more than 150 rounds and discovered which ammo this combination of firearm and suppressor liked. You can read about it over here, at the suppressor review.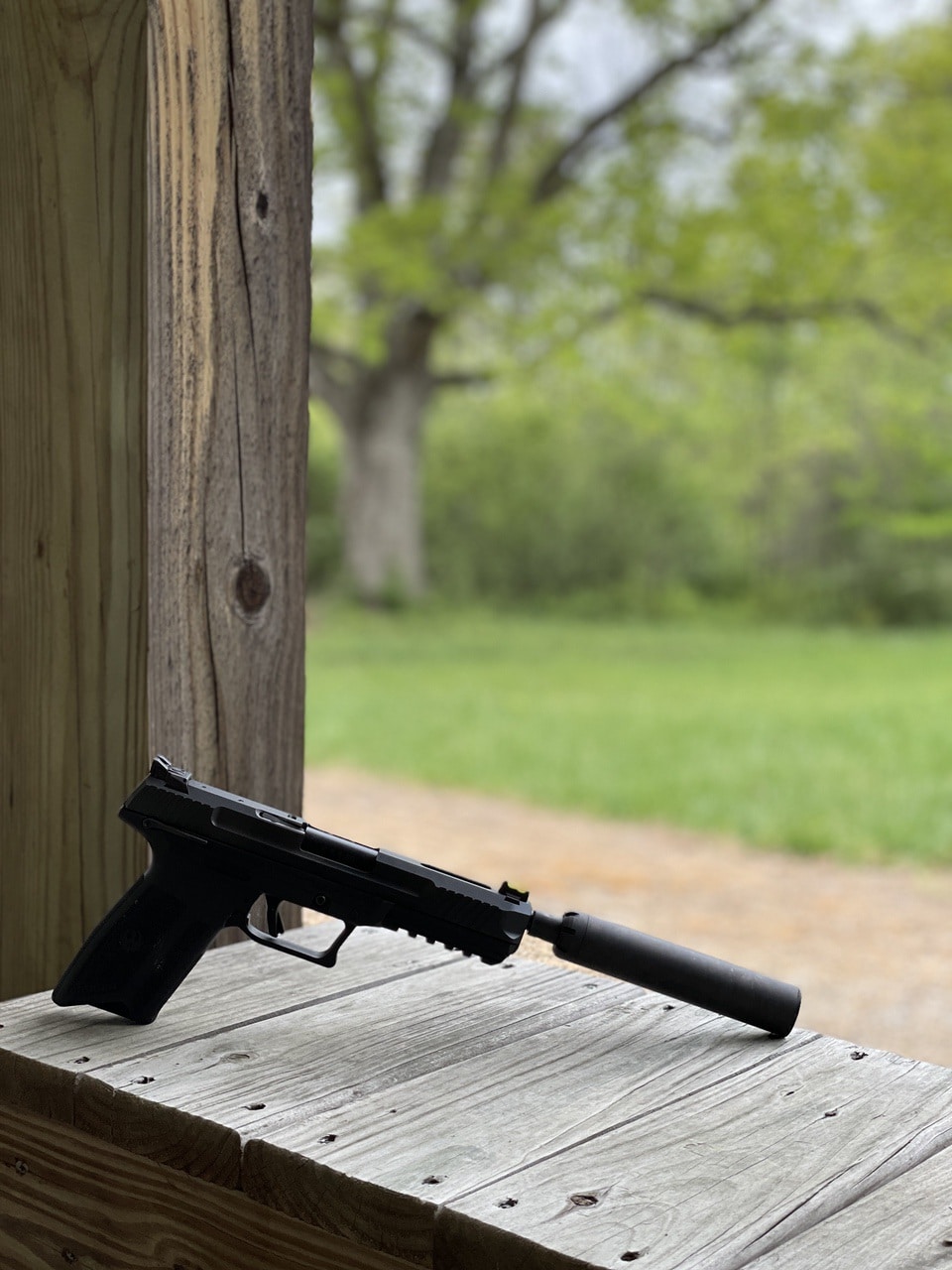 Meanwhile, one of the most important takeaways for me happened when I realized that we could relax and shoot for fun. Usually, I'm training and/or reviewing guns for this publication, and on this day, since all had been reviewed before (except for the new Fiocchi ammo), I focused on fundamentals and groups, along with hitting steel at 40 yards (and truth be told, having a little friendly competition with the hubby).
The Ruger-57, with its slim grip and overall length of 8.65 inches, is a great plinker. It could also work as a varmint gun, carried on the hip.
Ruger-57 MSRP: $899.
About Barbara Baird

Publisher/Editor Barbara Baird is a freelance writer in hunting, shooting and outdoor markets. Her bylines are found at several top hunting and shooting publications. She also is a travel writer, and you can follow her at https://www.ozarkian.com. View all posts by Barbara Baird →