Share the post "Casting for Recovery retreat weekend at Joshua Creek Ranch in the Texas Hill Country"
San Antonio, TX – Casting for Recovery (CFR), a national nonprofit support and educational program for women who have or have had breast cancer, will hold a weekend retreat at Joshua Creek Ranch in the Hill Country outside of Boerne, Texas, April 13-15, 2012. This retreat is open to women of all ages and in all stages of breast cancer treatment and recovery who live in Texas and is offered at no cost to the participants.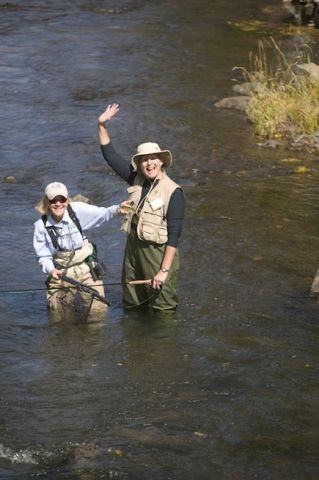 Photo courtesy of Casting for Recovery.
The CFR program is unique in that the curriculum incorporates the elements of fly fishing to promote physical and mental healing. It is an opportunity to experience a true respite from familiar surroundings and everyday routines. The casting motion provides a gentle exercise for joint and soft tissue stretching. Fly fishing provides stress relief and promotes a sense of calm, while the social interactions offer women a chance to share, laugh, and rejuvenate.
Since 1996, CFR has served over 4,500 breast cancer survivors nationwide, with the help of 1,500 medical, psychosocial, fly fishing, and alumni volunteers. The Texas Program of Casting for Recovery has been providing retreats for Texas breast cancer survivors since 2005. Casting for Recovery is a 501(c)3 nonprofit organization. Support for this program is received from Susan G. Komen for the Cure, Trout Unlimited, Texas Women Fly Fishers, and many individuals and organizations. Their leading national sponsor is The Hartford. National sponsors include L.L. Bean, SmartWool, and Under Armour.
Joshua Creek Ranch, located in the beautiful Texas Hill Country, is nestled on an isolated stretch of the pristine Guadalupe River just 40 minutes Northwest of San Antonio International Airport. The ranch's diverse terrain, including Texas prairie grasses, high bluffs that present a dramatic backdrop to crystal clear Joshua Creek, and magnificent, ancient oaks create a perfect environment for fly fishing and the best quail hunting in Texas, with the added bonus of pheasant and partridge. Enthusiasts enjoy fly fishing for trout and gunning on three different automatic, state-of-the art clay-shooting scenarios. There's trophy Axis deer hunting year-round and whitetail and turkey hunting in season. Gourmet dining and lodging with spectacular views top off the ultimate outdoor experience. Joshua Creek Ranch is celebrating 22 years as a superior hunting and wingshooting lodge and is the only Texas recipient of the prestigious Beretta Two Trident Designation for excellence in upland bird hunting.
For more information contact:
Susan Gaetz, 512-940-0246
Disclaimer: The WON • This publication receives payment for advertising. • This publication reviews products and provides editorial copy (like all other major publications) because of advertising sold. It does not guarantee a positive review of such products. • If our freelance writers do not pay a full retail price for a product being reviewed, from Feb. 11, 2015, forward, they will explicitly state that in the review. • Unless explicitly stated, any writers at The WON have no affiliation or relationship with the supplier of a product being reviewed. • We generally follow the "if you can't say something nice, say nothing" rule. If we review a product and don't like it, we will either offer constructive criticism as to how to improve said product in print, or we will refuse to review it.
Our privacy policy: At Women's Outdoor News, The WON, we only collect your email address for newsletter subscription purposes or for giveaway opportunities. You may opt out at any time if you decide you don't want to receive the newsletter any longer. We never sell or give your private information to any other party. Not to our advertisers, friends or family. No one gets it. Ever.
Women's Outdoor News, The WON, contains intellectual property owned by Women's Outdoor News, The WON, including trademarks, trade dress, copyrights, proprietary information and other intellectual property. You may not modify, publish, transmit, participate in the transfer or sale of, create derivative works from, distribute, display, reproduce or perform, or in any way exploit in any format whatsoever any of the Women's Outdoor News, The WON content, in whole or in part without our prior written consent. We reserve the right to immediately remove your account and access to Women's Outdoor News, The WON, including any products or services offered through the site, without refund, if you are caught violating this intellectual property policy.