Share the post "She sings about Vero Vellini bino/camera slings"
Comfortable and durable are the two words that immediately come to mind about the new contoured and hand-crafted neck slings from Vero Vellini. Earlier this year I was generously provided a bounce-absorbing Air-Cushion neoprene Vero Vellini Binocular/Camera Slings to use and review.
Vero Vellini had me at the phrase "bounce absorbing Air – Cushion." As an outdoor photographer, I routinely lug around heavy cameras and lenses and have tried probably a dozen different styles of camera strap to no avail. None of them ever lived up to the manufacturer's claims of comfort or durability.
Not so with the Vero Vellini Binocular/Camera Slings! With the introduction of three new contoured and hand-crafted neck slings from Vero Vellini, the weight of your binocular or camera is effortlessly distributed to reduce tension and fatigue on even the longest and most grueling hikes.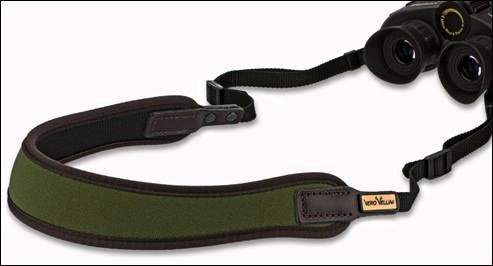 Upon my first inspection of the strap, I was impressed with the quality of workmanship and the ease of attaching to my heaviest camera body.  The contoured pattern of these slings is designed wrap around your shoulders and neck to evenly distribute the weight of your optical cargo, be it binos or heavy professional camera body.
My first use of the strap was at a hectic and busy Hunting Retriever Club hunt test.  In the rain.  Nothing like throwing a product to the wolves right away.
Previously I was resistant to carrying a camera around my neck; not only did it quickly become uncomfortable, the strap would slide, shift, and  often make me more than a little afraid that it just wouldn't hold up and my camera would tumble into a river or over a bluff edge.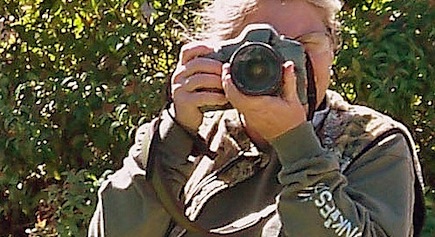 No wonder this outdoor photographer likes the color and fit of this sling!
The Vero Vellini Binocular/Camera Sling felt sturdy, safe and most of all very comfortable.  It did indeed distribute the weight well on my small-sized frame, and had I no fear that it would not be sturdy enough to hold my equipment safely. The dark green color blended in well to the camouflage clothing that is part of my usual "work" attire.
The initial day's heavy rains would have had me scrambling (with other straps) to keep the camera on my shoulder, or around my neck as they became wet and slick. Again, not the case with the Vero Vellini Binocular/Camera Sling.
The neoprene strap stayed dry did not become soggy or saturated and the pebbled anti- slip backing on the strap kept the sling firmly in place, despite the soaking I received and the gymnastics required to photograph hunting dogs in full frenzy mode.
What stood out the most is that at the end of a 12-hour day, my neck and back were not screaming from wearing a heavy camera around my neck all day. The Vero Vellini Binocular/Camera Sling provides outstanding comfort when carrying a heavy camera body. Vero Vellini created the Air Cushion concept, which sandwiches neoprene and other natural and synthetic material to create an almost weightless feeling.
It's safe to say that with such a great initial impression, I was curious as to how well the strap would hold up over a busy, often wet and messy, spring and summer.
The Vero Vellini Binocular/Camera Sling passed every test I put it through with flying colors.
It was indeed comfortable, durable, and non slip. It handled the weight of a heavy Canon 5D and its lenses without problem and without fear of strap failure.
It withstood downpours, flying carp slime, climbs up and over limestone bluffs, and the blowing dust of a summer drought. A quick wipe-down with a damp cloth and any mud, dirt, and general ick was easily removed. During the hot sticky summer months, it did not produce any skin irritation or discomfort while wearing it on bare skin.
The stylish, elegant look of the strap was also a benefit. I no longer had to swap straps on the camera when changing from shooting an outdoor activity to a more formal event or wedding. The clean lines and understated style looked as great when I was wearing a suit photographing a wedding as it did when paired with camouflage clothing.  The strap is also available in black, and I would highly recommend it to wedding photographers – as an elegant and comfortable strap to get you through a long day of photographing the bride and groom!
My final verdict?
A super strap that no outdoor person should be without! Whether you carry a camera or binos, the Vero Vellini Binocular/Camera Sling will provide you with a comfortable day afield free of worries about the security of your prized optics.
The slip-proof neoprene Vero Vellini Binocular/Camera Sling is available in two color combinations: forest green with brown piping or black with black piping. The Napa-leather version is available with two-tone finely finished leather and a soft slip-proof suede backing. The neoprene version is priced at $44.99, and the Napa-leather sling is $99.99. Both can be purchased at fine gun stores around the country or from the convenience of your own home by visiting Gun Slings Direct . Additionally Vero Vellini boasts of producing the most slip-proof gun sling available from the use of a unique, highly durable rubber backing, as well as manufacturing fast-access cartridge cases along with this sling for binoculars and cameras.
Vero Vellini has proven its worth to me with the camera binocular sling/strap. I can't imagine how comfortable the gun slings must be!
For more information on Vero Vellini, contact: Pioneer Research, 97 Foster Road, Moorestown, NJ 08057; call 800-257-7742; or visit Pioneer Research.
Disclaimer: The WON • This publication receives payment for advertising. • This publication reviews products and provides editorial copy (like all other major publications) because of advertising sold. It does not guarantee a positive review of such products. • If our freelance writers do not pay a full retail price for a product being reviewed, from Feb. 11, 2015, forward, they will explicitly state that in the review. • Unless explicitly stated, any writers at The WON have no affiliation or relationship with the supplier of a product being reviewed. • We generally follow the "if you can't say something nice, say nothing" rule. If we review a product and don't like it, we will either offer constructive criticism as to how to improve said product in print, or we will refuse to review it.
Our privacy policy: At Women's Outdoor News, The WON, we only collect your email address for newsletter subscription purposes or for giveaway opportunities. You may opt out at any time if you decide you don't want to receive the newsletter any longer. We never sell or give your private information to any other party. Not to our advertisers, friends or family. No one gets it. Ever.
Women's Outdoor News, The WON, contains intellectual property owned by Women's Outdoor News, The WON, including trademarks, trade dress, copyrights, proprietary information and other intellectual property. You may not modify, publish, transmit, participate in the transfer or sale of, create derivative works from, distribute, display, reproduce or perform, or in any way exploit in any format whatsoever any of the Women's Outdoor News, The WON content, in whole or in part without our prior written consent. We reserve the right to immediately remove your account and access to Women's Outdoor News, The WON, including any products or services offered through the site, without refund, if you are caught violating this intellectual property policy.