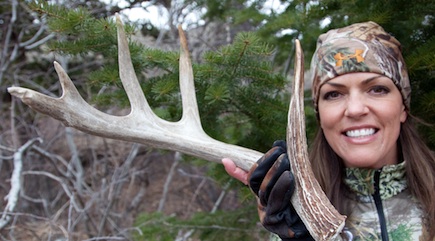 Jana Waller. Photo courtesy of Jim Kinsey
From our pal Jana Waller, one of the best woman hunters out there and host of Skull Bound TV,
I am trying to spread the word about The Sportsman Channel Choice Awards! There are a few days left for open voting where you can vote everyday until Sunday, Nov. 18. SKULL BOUND TV is up for Best Combination Show, Best New Show, Best Educational and Best Host. If you feel we're deserving, we'd sincerely appreciate your votes. Here's the link: Sportsman Choice Awards 2012. Thank you so much for your help!
Read more about Jana Waller and her ability to find enormous sheds!
Disclaimer: The WON • This publication receives payment for advertising. • This publication reviews products and provides editorial copy (like all other major publications) because of advertising sold. It does not guarantee a positive review of such products. • If our freelance writers do not pay a full retail price for a product being reviewed, from Feb. 11, 2015, forward, they will explicitly state that in the review. • Unless explicitly stated, any writers at The WON have no affiliation or relationship with the supplier of a product being reviewed. • We generally follow the "if you can't say something nice, say nothing" rule. If we review a product and don't like it, we will either offer constructive criticism as to how to improve said product in print, or we will refuse to review it.