Share the post "Trout Unlimited offers free first-time membership to female anglers"
Trout Unlimited is offering a free one-year membership to first-time members who are females. Sign up today.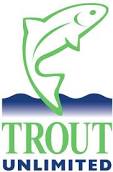 For the next year, you'll receive all the benefits of a paid membership:
• 1-year subscription to TROUT magazine
• 16-month TU calendar (mailed in the fall)
• official TU membership card
• car rental & hotel discounts
• TU decal
• Local chapter membership
And another, less tangible benefit as well: the pleasure of knowing you're part of a growing community of women who enjoy angling and want to keep America's rivers cold, clean and fishable.
Together, we can make our trout and salmon fisheries healthier, for us and the next generation. Join us in this important work.
Note: This offer is available to new members only. Not applicable for existing members.Thank you for taking advantage of our free, introductory membership to Trout Unlimited. We are pleased to make you a part of our community of anglers working to conserve, protect and restore America's coldwater waters. We hope you'll take a minute to find out more about what your fellow TU members are doing around the country by visiting tu.org or by joining our "Women in TU" group on Facebook. Visit Trout Unlimited to sign up for your free membership.
Disclaimer: The WON • This publication receives payment for advertising. • This publication reviews products and provides editorial copy (like all other major publications) because of advertising sold. It does not guarantee a positive review of such products. • If our freelance writers do not pay a full retail price for a product being reviewed, from Feb. 11, 2015, forward, they will explicitly state that in the review. • Unless explicitly stated, any writers at The WON have no affiliation or relationship with the supplier of a product being reviewed. • We generally follow the "if you can't say something nice, say nothing" rule. If we review a product and don't like it, we will either offer constructive criticism as to how to improve said product in print, or we will refuse to review it.
Our privacy policy: At Women's Outdoor News, The WON, we only collect your email address for newsletter subscription purposes or for giveaway opportunities. You may opt out at any time if you decide you don't want to receive the newsletter any longer. We never sell or give your private information to any other party. Not to our advertisers, friends or family. No one gets it. Ever.
Women's Outdoor News, The WON, contains intellectual property owned by Women's Outdoor News, The WON, including trademarks, trade dress, copyrights, proprietary information and other intellectual property. You may not modify, publish, transmit, participate in the transfer or sale of, create derivative works from, distribute, display, reproduce or perform, or in any way exploit in any format whatsoever any of the Women's Outdoor News, The WON content, in whole or in part without our prior written consent. We reserve the right to immediately remove your account and access to Women's Outdoor News, The WON, including any products or services offered through the site, without refund, if you are caught violating this intellectual property policy.