The Springfield Armory Writer Shoot: Check Out the New Firearm They Introduced
One of the benefits of being a writer in the firearms industry is getting invited to writers-only events. Usually a company brings us in to introduce a new "top secret" product. As I boarded the plane on my way to Las Vegas for the Springfield Armory Writer Shoot, I didn't know what to expect. Sure, I had a schedule for the next day—a full day of range time. But shooting what? Heck, they even kept it a secret to our group of 22 writers throughout dinner at the Hexx Kitchen and Bar (we all had rooms at the Paris, on the Strip). Our instructions were to meet in front of the hotel the next morning to head to the Clark County Education Center and Range.
Promptly at 8 a.m., we all piled into 2 huge white vans with our cameras, notepads, and, of course, eye and ear protection. During the 45-minute drive, I heard whispered conversations of what product Springfield Armory might be introducing to us. The guesses varied, and were often amusing and bizarre, including all the different firearm platforms. But none of us had any idea.
The Springfield Armory XD-E
Finally, the time came. In the classroom at the range, over a continental breakfast, Drew Herbst, the Promotions and Event Manager of Springfield Armory, introduced us to the new XD-E. This 9mm SA/DA hammer-driven pistol offers options for those who may not feel comfortable with a striker-fired pistol for concealed carry.
After an overview of the XD-E, which included the hows and whys of its development, the Springfield team handed out goody bags…or rather, backpacks. Besides Springfield shirts and a hat, Crossbreed gave us each a belt and a holster that fit the XD-E, perfect for our time on the range. Which is where we headed next.
Time on the Range
Rob and Kippi Leatham, two of the Springfield Armory pro staff, had a fantastic course set up for us to shoot. On one side of the range the stages allowed us to use the XD-E as a self-defense gun. We engaged targets by drawing from a gun safe, a glove compartment and even a kitchen drawer. We rode in a Ford truck, engaging targets from the passenger side window. On another stage we drew from a backpack and shot at steel through a doorway.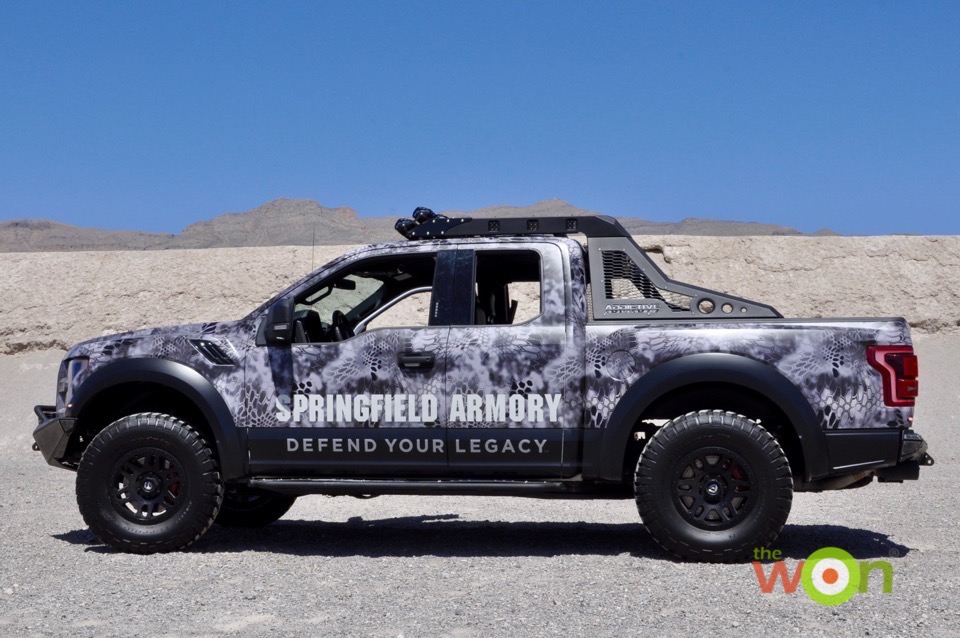 On the other side of the range were stations with static steel plates, a plate rack and a dueling tree. Action targets also set up a display of 5 targets that forced the shooter to make good hits until they fell…and then they popped up again to reengage. These were all great ways for us to get trigger time with the new pistol.
Having never spent time on a range shooting a hammer-driven SA/DA handgun, I asked Rob Leatham to over the features of the XD-E with me. He explained why someone may choose this style of handgun, and the different ways it can be carried.
SA/DA
After we talked, I spent quite a bit of time shooting the plate rack in double-action only. I wanted to get a good feel for how the trigger felt. I also practiced decocking before reholstering, and then left the XD-E in single-action and used the safety like a 1911. After shooting more than 350 rounds through the gun, I feel like I have a pretty good grasp of how it functions. And speaking of functioning: With 22 writers shooting at least 300 rounds apiece, the guns had no malfunctions—not even shooter-induced ones. The Springfield Team was quite proud of that, as they should be.
A Difficult Job
Well, I bet you all feel sorry for me, having to travel to "work" at this event for just one day. Don't worry, I had some fun when I first arrived. Doing double duty while in Vegas, I also spent time on a GunVenture for Gun Talk TV. Yep, a visit to Fremont Street and even some indoor skydiving took place. But you'll have to wait to find out more about that. (Did I mention I love what I do?)
About Michelle Cerino

Michelle Cerino, aka Princess Gunslinger, first entered the firearms industry in 2011 as co-owner, president and trainer at a national training company. She immediately began competing in both 3-Gun and NRA Action Pistol, becoming a sponsored shooter. Michelle is currently a columnist and Managing Editor of Women's Outdoor News, as well as owner of Pervenio LLC. She also manages social media for Vera Koo and GTM Original. Michelle encourages others to step out of the comforts of home and explore. View all posts by Michelle Cerino →