TeamWON
---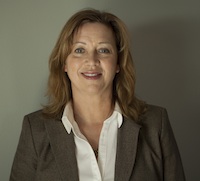 Publisher/Editor Barbara Baird is a freelance writer in travel and outdoor markets. She also contributes as a news blogger for Realtree.com
Before launching The WON in 2008, she worked as a newspaper and then magazine editor. She pens a column "Out West" for Turkey Country magazine and "What's In Your Range Bag?" for Shooting Sports USA. Her byline, along with other Women's Outdoor News' columnists, regularly appears at The Daily Caller, Guns and Gear section.
Barbara writes "Babbs in the Woods" at The WON and is a contributing editor at Shot Business magazine. Her bylines have appeared in America's 1st Freedom, Fly Fisherman,  American Hunter, AAA publications, St. Louis Post-Dispatch, Columbia (Mo.) Tribune, Springfield (Mo.) News-Leader, SHOT Business, SHOT Daily, National Shooting Sports Foundation publications and a host of other magazines and newspapers.
When not looking for the next story, she can be found fishing, hunting, hiking, kayaking, shooting or whomping up a wild game meal. Barbara and her husband, Jason, teach NRA handgun courses at their local range near Rolla, Mo.
Barbara is available as a speaker or to conduct workshops on the following topics: women in the outdoors, the women's outdoor market, traveling Missouri and blogging. Contact her here at The WON.
A southpaw from Michigan's "North Woods," Britney Starr is a freelance writer and editor in the outdoor and shooting markets. She received a Bachelor's degree in journalism in 2008 from Western Michigan University, and is currently the managing editor at The WON. Along with editorial copy, she also pens the column "ShootingStarr," sponsored by Galco Gunleather. Her bylines have appeared in American Hunter, Turkey Country, GunUP, Outdoor Hub, The Daily Caller and African Hunting Gazette.
She is part owner, client services representative and social media manager of Starr & Bodill African Safaris, and enjoys working side-by-side with her father and licensed Professional Hunter Dwaine Starr, to provide their clients with a worry-free safari.
Along with big game hunting in Africa, Britney also hunts turkey, whitetail deer, waterfowl and upland birds. In the fall, you will most likely find her in an aspen cutting with her German Shorthair Pointer, Wesson, hunting ruffed grouse and woodcock. She would prefer a beautiful over-and-under shotgun to jewelry, any day.
Along with being a field-staff member for Próis Hunting & Field Apparel, a member of The Association of Great Lakes Outdoor Writers, Safari Club International and a life member of the NRA, Britney is the founder of the Women's Outdoor & Shooting Industry Dinner, held annually during SHOT Show in Las Vegas, Nev. Britney truly has an affinity for all things outdoors and strives to connect with and empower other women who share her love of hunting and shooting, or are interested in becoming more involved in those activities.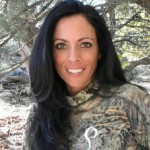 Mia Anstine claims the title of social media editor at The WON, managing and updating Facebook, Twitter, Pinterest and Instagram accounts on an almost daily basis.
She also works as a guide and co-owner at Wolf CreekOutfitters, Inc. She spends nearly 150 days per year in the field, hunting, fishing, shooting and learning. She is a certified archery and firearms instructor, and sits on the board of her local Safari Club International chapter, and is a member of the Colorado Sportsman's Round-Table committee. Mia aspires to make the world a better place through education, mentoring and sharing her passions.
As a child, she spent her time near the river in front of her home and hiking in the hills behind. It is there that she began her adventures and learned to respect the outdoors. Her father hunted to provide for her family, taught her firearm safety and how to field dress and process animals. Her mother taught her how to prepare wild game, garden, sew and live off the land. In her teen years her parents divorced and she moved to the city. It was there that she learned to truly appreciate the outdoors and all the fantastic experiences she had as a child. Now, she hopes to share all of that that with you through writing about experiences while raising her daughter to love and respect the outdoors and shooting.
Mia pens the column "Mia & the Little Gal" (sponsored by Girls with Guns Clothing) at The WON. Mia is proud to be sponsored by, write for and represent Girls with Guns Clothing, Beretta USA blog, Western Whitetail magazine, Prois Hunting, HerCamoShop.com and TenPoint Crossbows.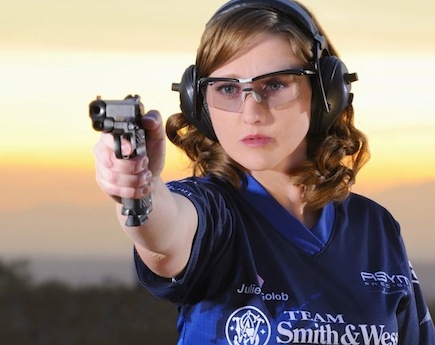 A self-proclaimed "daddy's girl," Julie Golob found her love for shooting at a young age. What began as a father/daughter weekend hobby, turned into an accomplished career. Indeed, Julie's resume is filled with firsts: first woman recruited for the US Army Action Shooting Team, first action shooter in history to be named US Army Athlete of the Year and the first and only person to have won national titles in all 6 divisions in practical shooting, just to name a few.
After claiming more than 50 world and national titles, champion is not her only accolade. Julie is also the captain of Smith & Wesson's highly successful shooting team. She is the author of SHOOT: Your Guide to Shooting and Competition and is featured on outdoor television programming, offering tips and insight into the shooting sports. She can be seen pushing the envelope in exhibition style shooting as a member of the talented Shooting USA's Impossible Shots team on the Outdoor Channel, as well. Julie also creates her own podcast, JulieG Radio and is the co-host of Gun Girl Radio.
An avid hunter, this Pròis Hunting and Field Apparel's pro-staffer has a passion for the outdoors and cooking wild game. She loves sharing her hunting experiences and venison recipes on her blog JulieGolob.com.
Last, but certainly not least, Julie is a loving wife, and a mother to 2 beautiful little girls. She is committed to her role as an ambassador to the shooting sports and balances her passion for competition with her dedication to her family.
Julie writes a column titled "Julie G." at The WON. Follow Julie at Juliegolob.com.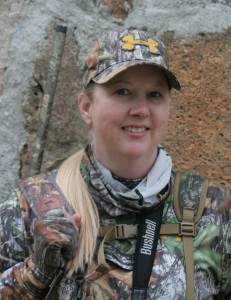 Marti Davis started hunting 16 years ago in southwest Missouri. She currently lives in Willard with her husband, Jimmy, and their mini daschund, Maggie.
Hunting and the outdoors isn't just a past time for Marti, it's her lifestyle. She enjoys hunting, trapping, fishing, scouting, working on food plots, riding an ATV and even brush hogging; although it's not at the top of her "favorites" list.
Besides her home state of Missouri, Marti has traveled to hunt in Tennessee, Idaho, Kansas, Arkansas, Illinois, Montana, Colorado and New Mexico. She has taken whitetail deer, turkey, black bear, elk and antelope. She also hunts small game, traps and hunt predators and occasionally hunts waterfowl. Whatever season is open, she's up for it.
Marti pens the column "Marti Davis Afield" at The WON, sponsored by CrossBreed Holsters.
She is on the pro-staff for Mossy Oak camouflage, Moultrie Products and Knight & Hale game calls. Marti enjoys working with these companies and representing them at trade shows and outdoor stores.
She also loves sharing her passion and introducing new hunters to the sport. Marti truly believes we must pass on our great hunting heritage.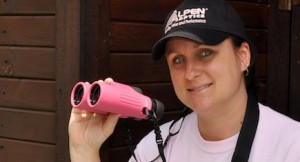 A girlie girl who grew up in Ohio, happy playing with her dolls and barbies, Michelle Cerino, author of the column "She Shoots 2," sponsored by Vertx, never thought she would lead the life she does now. A mother of 2 teenage boys, Michelle has been right there beside them hunting youth deer seasons, plinking pop cans with .22s and being involved in Boy Scouts since 2004.
Michelle is the president of Chris Cerino Training Group, LLC, a firearms training company she built with her husband Chris in 2011. She manages the business, keeps the website and Facebook updated and assists in instructing civilians and law enforcement. Her path in the firearms and outdoors industries is ever progressing. She is writing, hunting, competing and doing contract work for major manufacturers.
In 2013 Michelle traveled to Missouri to compete in the Bianchi Cup, and Kentucky for both the AR15.com Rockcastle Pro-Am 3-Gun Championship and the Blue Ridge Mountain 3-Gun Match. She hunted hogs in both Louisiana and Texas as well as whitetail deer in Ohio and North Carolina.
Michelle is a proud Life Member of the NRA, and also belongs to NSSF, ILEETA, SEOPA and WOMA. Michelle can be contacted at michelle@cerinotraininggroup.com or on Facebook.
The Writing Huntress hunts, writes, and wears more camouflage face paint than is even remotely necessary. She currently calls Texas home, but was raised in Western New York. Her household is run by three unruly rescue dogs, as well as her husband who is a self-proclaimed waterfowl fanatic. Her hobbies include biking the desert, shooting skeet, photography and jackalope stalking.
She pens the column "Ask Writing Huntress," sponsored by Burris Optics.
An experienced huntress, Michelle Bodenheimer has pursued big game, upland birds and waterfowl throughout North America and Africa. Although Michelle loves to hunt and shoot (both rifle and bow), her biggest passion in life is sharing her love for the outdoors with others. She is the official gear reviewer and usually is in the process of testing yet another batch of gear for her column, "Her Gear."
Michelle is an active volunteer for the Oregon Department of Fish and Wildlife (ODFW) Outdoor Skills Program. Her primary responsibilities with ODFW are serving as a shotgunning coach and dog handler/guide for ODFW's upland bird hunting clinics. She is a current member of a number of national conservation organizations, a life member of the National Rifle Association, and is a past director for the Southwest Washington chapter of Safari Club International. Additionally, Michelle is on staff with several outdoor companies promoting women's hunting, including Próis Hunting & Field Apparel and HerCamoShop.
Michelle's writings and photography have been published in a number of outdoor journals including On Target, The Gun Dog Journal, The Shooting Channel and African Hunting Gazette. Michelle has also been a repeat contributing guest on "Outdoor GPS," a live hunting and fishing television program broadcast on Comcast SportsNet NW.
Michelle's contributions to the hunting industry have led to nominations as a finalist for the 2011, and 2012 Próis Award, as well as the 2013 Extreme Huntress Award. Take caution, however, if Michelle invites you along on a hunt. Having been stalked by a cougar and attacked by a cheetah, she tends to live life a bit on the wild side.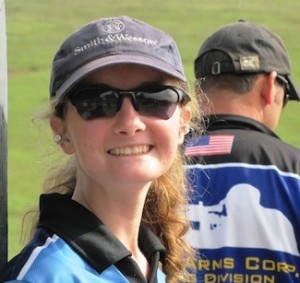 Born and raised in California, teen shooter Molly Smith moved from the busy city to the close-to-countryside at the age of 10. Her dad took his family to a shooting range so that they could get used to the concept of firearms. Molly was spurred on by the Range Officer telling her, "Oh, I bet you shoot like a girl!" and with one shot she was hooked. In fact, she wanted to "shoot like a girl!" She started with .22 rifles, then .22 pistols, and now shoots her favorite – .38 revolvers in competitions.
At 11, Molly shot her first major match – Steel Challenge. She now shoots for Team Smith & Wesson, and prefers a 627 Smith & Wesson iron-sighted revolver. She attends several matches each year, and loves to write about them The WON, in her column titled "Millisecond Molly." Molly also has a personal blog, "The Molly Minute."
She also loves to talk to veterans of the sport because they have so much experience to learn from. One of the highlights for her in competitive shooting world is getting to women and juniors who are interested in shooting. Molly says, "I'm familiar with the height and strength differences among men, women, and juniors, so I can understand the issues faced by women and junior shooters wanting to take part in the fun of this sport! At four-foot 10, I pretty much consider myself an expert on shooting for shorties!"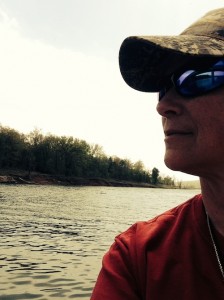 Tammy Ballew's  passion for the outdoors has grown until it has become who she is. A wife, mother and grandmother, she's outdoors every spare minute and shares her love for the outdoors with anyone who wishes to know more about hunting, fishing or shooting.
Known as "Camo Mom" at The WON, Tammy authored a poem, "I Was Camo When Camo Wasn't Cool". She's a Field Staffer for Próis Hunting & Field Apparel, HerCamoShop and Commando Hunting Products, and has hunted big game in several states.  Wild turkeys are one of her specialties, and she's working toward a "Grand Slam." Fishing is another way Tammy enjoys the outdoors, and she has cast a lure into many lakes, rivers and streams throughout the Midwest.
Tammy's parallel passion is our Second Amendment. A staunch supporter of gun rights, freedom and personal protection, she's a long-time member of the NRA.
Professionally, in addition to being a court reporter, Tammy is a writer who has contributed to West Tennessee Outdoor Magazine, Women Hunters, Hunting Life and for the NRA Blog.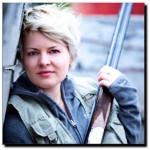 Christine Cunningham is a lifelong Alaskan, author and outdoor columnist known for her contributions to outdoor magazines and her commitment to creating opportunities for women to connect and share their stories. Her first book, "Women Hunting Alaska," profiles some of Alaska's most outstanding female hunters.
Christine began her writing career shortly after her first duck hunt in 2006, when Alaska Magazine published her story, and she earned the title "Case-a-duck-Cunningham" – it took her a case of shells to land a single duck. She has since improved her shotgunning skills and expanded her hunting family to include 6 sporting dogs (3 Chocolate labradors, 2 English setters, and 1 Irish setter). In her outdoor humor columns, and later in dozens of feature articles, Christine writes about her outdoor pursuits and the relationship bird hunters share with their hunting dogs.
Her column, "The Edge," sponsored by EvoOutdoors, explores the expanding perspectives on hunting and the outdoors offered by a growing community of women hunters.
Christine is a hunter education instructor for the Alaska Department of Fish and Game and volunteers as an instructor for Delta Waterfowl educational workshops and Safari Club International annual upland and youth hunts. She serves on the board of WomenHunters and is honored to represent quality outdoor apparel for women as Pro Staff for EvoOutdoors.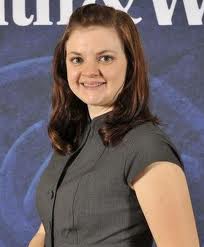 Randi Rogers is a world and nationally ranked competitive shooter and an outdoors industry professional. Randi began shooting with her grandfather when she was just 11-years-old, in the sport of Cowboy Action Shooting. Randi is currently a member of Team Smith and Wesson, the sales and marketing manager for Comp-Tac Victory Gear and a member of HERCAMOSHOP pro staff. Randi has more than 40 World and National Titles in 7 different shooting disciplines including the 2011 IPSC Ladies Standard World Title. In 2013 Randi made headway into the sport of 3 Gun, where she gained a spot in the 2014 Pro Series Ladies Shoot Off. Randi is a true professional with a desire to train and inspire new shooters and continue to bring awareness to the competitive shooting sports and the outdoor industry.
Randi writes "The Rogers Report" at The WON.
Long before Anietra Hamper dedicated nearly 2 decades to a successful career in television news as top-rated anchor, she was digging up night crawlers and fishing at her grandparents' cottage. Now, a published travel writer/photographer, member of the Society of American Travel Writers and host of "Road Trippin-USA," a travel television show, Anietra uses her world travels to fish wherever she goes. She has a penchant for seeking out the world's largest, most unusual fish and currently holds the female record at Bungsamran Lake in Thailand for the Giant Mekong catfish. Her authentic approach to uncovering unique and spectacular places to fish enables her to make sure readers have the information necessary to duplicate that experience. She appears regularly in her column, "Reeling the Globe."
Anietra and her sidekick, Sunny (a "hot mess" dog that she literally rescued from the street), live in Columbus, Ohio. Visit Anietra's website at www.Threewordpress.com.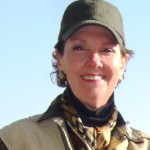 Rita Schimpff is an artist and designer who grew up hunting, fishing and enjoying outdoor life in Oklahoma and Texas, thus developing an early love and respect for wildlife and their habitat.  She has carried this love to her art and her long involvement with many local and national conservation associations. As a member of the first Junior League San Antonio Mitchell Lake Wetlands Project, she created its logo and illustrated Mitchell Lake Wildlife Refuge: an Illustrated History. 
A graduate of Texas Christian University with a BFA in Commercial Art and Textile Design, Rita retired after more than 30 years in an interior design field. She launched her Texas based company, Heritage Game Mounts.  She creates elegant, Old-World-inspired panels to display domestic and exotic game. She pens a blog called "Bring The Wild Inside" at the site, and at The WON, that offers ways to bring beauty and balance to the shared hunter/non-hunter home.
Rita and her husband, Skip, have made hunting and fishing a large priority with their children. Along with two Boykin Spaniels and numerous adopted rescues, all aspects of hunting are very much a family affair.
All of Heritage Game Mounts' products are American made.
Vera Koo is an 8 time National Action Pistol Woman Champion who holds 2 World individual titles. Her most recent win was a Gold for Team Women (2-persons team) at the NRA World Action Pistol Championship in Germany in September 2012. And Vera is proud to be part of the United States Action Pistol Shooting Team since 1999.She is passionate about sharing her love of the shooting sport and the pressures of being a competitive athlete while challenging cultural expectations.Vera is a 67-year-old, first-generation American Chinese woman and has been married to her husband for 45 years. She has 3 grown children and 4 granddaughters. She holds a Bachelor of Arts degree in graphic design. An avid sportswoman, she has mastered downhill skiing, windsurfing, equestrian jumping, water-skiing, backpacking and hiking. She loves gardening, sewing and enjoys movies and hanging out with friends.Writing her column "Vera Koo" at The WON is both a challenging feat and an exciting adventure for Vera. She is looking forward to learning a new craft and will be looking for feedback from her readers. Visit Vera Koo online.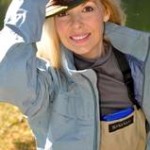 Kathryn Maroun pens the column "WhataCatch!" at The WON.
Kathryn is one of a few Canadian women to be certified as an FFF casting instructor. She is the award- winning executive producer of What A Catch Productions. The 52-show series highlights Kathryn's fishing adventures around the world. Kathryn exposes never talked about hazards of the sport, conservation, culture, as well as showcasing exotic game fish in her series. Her show first aired in the US before being internationally distributed.
Kathryn is featured in the collection of two prominent museums for her significant contribution to the sport of fly fishing.
She is the president and founder of Casting for Recovery Canada, past director of Trout Unlimited Canada and past member of the Canadian World Fly Fishing team. Along with creating a line of clothing for women at work in the outdoors, Kathryn has fished around the world and has a number of world record fish to her name.
Today she dedicates her time to writing about her miss-adventures and enjoys telling her stories through keynote speaking opportunities. Kathryn is campaigning to create a more balanced playing field for women in the sport.