Family fun part of Pheasants Forever's biggest event in February
Pheasants Forever's National Pheasant Fest 2010 is coming to Iowa next month, and adults don't get to have all the fun. With "Rudy's Youth Village" full of exciting outdoor activities for kids, the event is one for the entire family. National Pheasant Fest will be held February 26, 27 & 28 at the Iowa Events Center in Des Moines.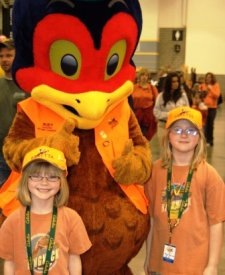 Pheasants Forever is also making it easy for members of youth organizations to see the show. Scouts (boy, cub, girl, brownies, etc.), 4-H and FFA members all earn free admission to the show on Sunday, February 28th simply by wearing their uniform or providing proof of membership.
Rudy's Youth Village, named after Pheasants Forever's youth mascot, is one of the many great reasons for families to attend National Pheasant Fest 2010 and will feature an exciting mix of new activities and some familiar favorites, including: • Live Animals – Wolf Pups, Coyote Pups and Fox Kits • Mock Pheasant Hunts • Laser Shot • Archery and Air Rifle Ranges • Fly Tying Seminars • Casting Booth • Fantastic River Run Interactive Game
At Rudy's Youth Village, families will also have the chance to explore the Ringneck Activity Center. To make sure there is something for every age group, the Ringneck Activity Center offers: o Nature Crafts – Complete an outdoor craft made from natural materials. o Wildlife Tracks – Make a plaster cast of your favorite animal track- a pheasant of course! o Button Making- Create your own "Rudy the Rooster" Button and wear it proudly! o Rollin' with Rudy – Meet the mascot behind the Village, Rudy the Rooster!
"The Youth Village is what makes Pheasant Fest a great family event," said Rich Wissink, Pheasants Forever's Youth Program Specialist, "This is a great place for families, youth, and all age groups to explore the outdoors through the numerous activities that we have to offer. I hope everyone has a chance to engage with the Youth Village and help to leave a lasting impression of conservation with the youth of today."
Attend National Pheasant Fest 2010 Adults – $10 Daily * Ages 6-16 – $5 Daily * Ages 5 and Under – FREE Weekend Special – $30 (Includes Pheasants Forever membership & hat, over $80 value) Find out more at www.PheasantFest.org
Anthony Hauck (651) 209-4972 AHauck at pheasantsforever.org
About The WON

The Women's Outdoor News, aka The WON, features news, reviews and stories about women who are shooting, hunting, fishing and actively engaging in outdoor adventure. This publication is for women, by women. View all posts by The WON →