Heat Factory continues to heat up the outdoor marketplace with its new-for-2010 Great Outdoors Warmer Pack
The warmer a hunter is when sitting tight in a treestand, the longer he or she can patiently wait for the chance to tow home a trophy. That's why Heat Factory® has conveniently prepared hunters for the frosty mornings and clear, cold nights at camp with its new-for-2010 Heat Factory Great Outdoors Warmer Pack™. This 'hot' new box of heat-activated warmers packs in more than 460 hours of total heat — allowing hunters to continue to enjoy the great outdoors in warmth and comfort, on any hunt in any situation.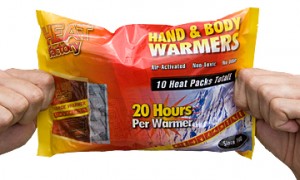 This conveniently packaged, three-day supply of heat warmers contains 46 individual warmers each distinctively designed for a specific body part. Twelve pairs of Heat Factory Hand Warmers™ are perfect for keeping trigger fingers warm and steady for up to ten hours each. Six large versatile Heat Factory Body Warmers™ will keep any body part warm by generating a whopping twenty hours of heat each. These body warmers can also be tossed into your sleeping bag for a warm nights rest or slipped into clothing pockets for all-day warmth in the field. And, since frost-bitten feet tend to take the brunt of the pain when the body is cold, six pairs of Heat Factory Toe Warmers™ and two pairs of Heat Factory Footwarmer Insoles™ are also included, ensuring your feet stay frost-bite free — even when strapped into oxygen-deprived environments such as heavy-duty hunting boots.
The Heat Factory Great Outdoors Warmer Pack will melt away any concerns about packing enough warmers for the duration of your hunt. This innovative boxed-set is perfect for any hunting trip — from bow to rifle — and can easily be thrown into your gear bag on the way out the door. Great outdoor enthusiasts (and their chattering teeth) will be relieved with this box of 'security' in their gear bag — knowing that their focus in the treestand will once again be on their prey, and not on keeping warm. The pack will be available the 2010 fall season.
To learn more about the Heat Factory Great Outdoors Warmer Pack, or any of the company's other innovative products designed to keep hunter's hands, feet and other body parts warm in the field, contact Heat Factory at 2390 Oak Ridge Way, Vista, CA 92081 • Telephone: (760) 734-5300 • Or visit www.heatfactory.com.
Editor's Note: For hi-res images and releases, please visit our online Press Room at www.full-throttlecommunications.com.
About The WON

The Women's Outdoor News, aka The WON, features news, reviews and stories about women who are shooting, hunting, fishing and actively engaging in outdoor adventure. This publication is for women, by women. View all posts by The WON →