New M-Pro 7 Gun Oil LPX – combat ready lubricant protectant with cleaner
Overland Park, KS – M-Pro7 unveils its next generation technology in the new M-Pro7 Gun Oil LPX. More than just a gun oil, this product replaces all gun oils, cleaner-lubricant-protectants (commonly known as "CLPs") and dry lubes. M-Pro7 Gun Oil LPX provides the benefits of current lubricants while mitigating typical drawbacks such as evaporation, separation, gumming and toxic odor.
Most gun lubricants on the shelf today are formulated from decade-old technology. M-Pro7 conducted extensive cross-industry research of recent lubrication advancements which led to a breakthrough: an innovation in blending synthetic oils, liquid molybdenum and polymers. The new LPX additive contains a component with the lowest known friction coefficient which means that it is slick as physically possible.
M-Pro7 Gun Oil LPX also contains a non-solvent based cleaning agent. This new technology repels dust and dirt and can be used as a "cleaner" to remove surface carbon in the field.M-Pro7 Gun Cleaner should be used for periodic deep cleaning and removal of embedded fouling.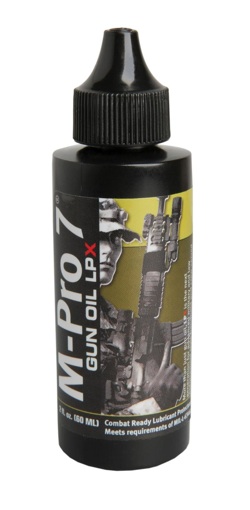 M-Pro7 Gun Oil LPX is the only commercial product to pass the initial testing for the recently updated military weapons specification (MILSPEC) including the 900 hour humidity cabinet corrosion and 100 hour salt spray corrosion testing.
Unlike most military "CLPs" that are commercially available, consumers who buy M-Pro7 Gun Oil LPX get the same formula that is sold to the military. M-Pro7 Gun Oil LPX provides unparalleled protection against wear, humidity, moisture, (including salt water) and leaves a long-lasting film that repels dust and dirt. This film will not evaporate and is excellent for long-term storage.
Testing by the Environmental Protection Agency details that this oil technology biodegrades and demonstrated no ill health effects including inhalation, oral ingestion or skin.
M-Pro7 Gun Oil LPX is the next generation of lubricant-protectant with cleaner for advanced military and law enforcement style handheld and crew-served weaponry used in extreme environments.
For more information visit www.mpro7.com.
Bushnell Outdoor Products is a global manufacturer and marketer of branded consumer products based in Overland Park, Kansas. Bushnell Outdoor Products sells its products worldwide under the Bushnell®, Tasco®, Serengeti®, Bollé®, Cébé®, Uncle Mike's Law Enforcement®, Stoney Point®, Hoppe's®, Butler Creek®, Millett®, Uncle Mike's®, Final Approach® and Simmons® brand names. For information about any of these brands or products, please contact Bushnell Public Relations at (913) 752-6105.
M-Pro 7 Weapons Maintenance products were designed for the military, law enforcement and high use weapons. M-Pro 7 technology reduces weapon maintenance time up to 80%, exceeds MILSPEC cleaning system requirements and is commercially transportable world-wide. In line with Pantheon Enterprise's standards for safe technology, all M-Pro 7 products are odorless, non-toxic, non-hazardous, biodegradable, non-flammable and environmentally friendly.
# # #
INQUIRIES:
Jen Messelt
Bushnell Outdoor Products
913-752-6105
jmesselt@bushnell.com
Mike Capps
573-898-3422
mcapps@howardcommunications.com
Media Website: www.howardcommunications.com
About The WON

The Women's Outdoor News, aka The WON, features news, reviews and stories about women who are shooting, hunting, fishing and actively engaging in outdoor adventure. This publication is for women, by women. View all posts by The WON →