Reach new heights with Darkwoods Tower System
Take your hunting to the next level with the Darkwoods Tower System. The 5′ or 10′ Tower models will increase your vantage point and improve your odds for success all within the comfort of your favorite Darkwoods Blind.
After fabrication and completion of the client's Darkwoods Hunting Blind, each tower is built to fit the blind perfectly. The blind is then installed onto the tower platform and each hole for each leg and cross brace is properly aligned. All brackets and accessories are made to fit with the necessary hardware.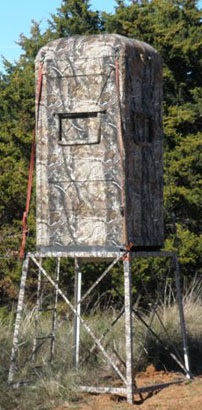 After the customer's blind is fastened to the tower system, each piece is marked for the client's easy assembly. Tie-down brackets (4 to 6) at the top and bottom of each blind and custom-made brackets and/or J-Bolts through the floor section finish the assembly.
The Blind is then removed and the tower components are all disassembled. Each component section is powder coated in a flat black finish to help prevent rust. The flat finish is also ideal for hunting, as there is no shine anywhere on the Darkwoods Tower System™.
Stay high and dry with the Darkwoods Blind Tower System
The standard powder coat color is black.
(Also available in beige, gray, green or water-transfer camo finish)
Platform Heights available: 5′ or 10′
Single Man Models: (5′ or 10′)
(Standard Gun Model – Crossbow/Gun Model – Bow/Gun Model)
Double FF Models: (5′ or 10′)
(Base Model – Deluxe Model)
For more info, call 405-520-6754, or check out www.darkwoodsblind.com.
About The WON

The Women's Outdoor News, aka The WON, features news, reviews and stories about women who are shooting, hunting, fishing and actively engaging in outdoor adventure. This publication is for women, by women. View all posts by The WON →