Arrowdynamic Solutions® introduces new Radian™ broadhead
Arrowdynamic Solutions® has quickly earned its reputation for unique, innovative and lethal broadhead solutions with the introduction of its Atom™ and Guillotine™ broadheads. And in 2010, the company has embarked on its latest adventure in broadhead excellence with its
all-new Radian™ broadhead — an industry first to feature scalpel sharp blades with independent compressibility.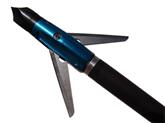 The concept of compressible cutting width technology was first born with the engineering and design of the Atom broadhead — turning the most basic elements of physics into a bowhunter's incredibly accurate and lethal shot. And now, the company has taken this successful technology and blended it with a razor sharp, super strong cutting width broadhead that delivers superior penetration no fixed blade design or mechanical broadhead can match.
No matter how big the animal or thick the hide, the Radian broadhead will make a clean pass through without picking up tissue along the way. It features two blades which pivot around a center axis as well as hind springs that hold the blades in. Each blade boasts a cutting width of 1 ½" and has the ability to independently compress the broadhead (reducing the length to width ratio) as it enters heavy bone. Then, after passing thru, the blades spring back into place in order to cut through soft tissue vitals.
Each incredibly strong blade is .039" thick, so you are essentially shooting butcher knives! Plus, adding to the Radian broadhead's stealth and precision is its unique fluted tip, which ensures maximum damage and bone-crushing penetration upon impact. The broadhead also features incredible structural durabily via its 7075 T6 aluminum body and its case hardened steel tip (for the 125 grain), and a solid titanium tip (for the 100 grain).
Like many Arrowdynamic Solutions' unique broadheads (and unlike any fixed or mechanical blade on the market), the Radian is field point accurate! Thus, when in flight at any speed it will retain an identical impact point to that of your field point. A claim that many broadhead manufacturers make, but don't deliver.
For more information on the company's full line of advanced, premium quality products, contact the Arrowdynamic Solutions at P.O. Box 806, Liberty Hill, TX 78643.
Telephone 512-515-6229 or visit www.arrowds.com.
Editor's Note: For hi-res images and releases, please visit our online Press Room at www.full-throttlecommunications.com
About The WON

The Women's Outdoor News, aka The WON, features news, reviews and stories about women who are shooting, hunting, fishing and actively engaging in outdoor adventure. This publication is for women, by women. View all posts by The WON →