Muzzy Gator Getter Strobe: Water-activated LED strobe light
When tracking down big game and lost gear in the darkness, the Muzzy Gator Getter Strobe takes the guesswork out of the search. This floating locator system features a water-activated strobe light that can be spotted up to one mile away.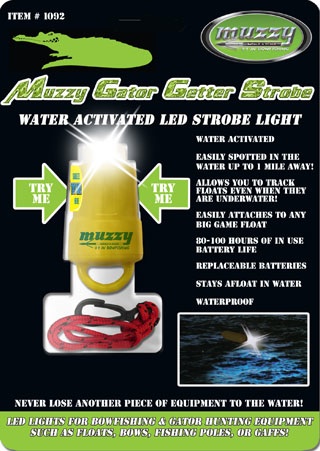 The Gator Getter Strobe attaches to Muzzy's Big Game Floats to allow for easy tracking of gators or other large game such as sharks, alligator gar and sting rays. The light remains visible allowing you to monitor its position at all times, even if the fish or reptile pulls the float below the water.
When you attach the strobe to your bowfishing and gator-hunting equipment, such as rods, gaffs, keys, life jackets, etc., you can rest assured that you'll be able to recover it in the darkness if it falls overboard.
Measuring 2 1/4″ long x 1″ wide and weighing less than 1 oz., the Gator Getter Strobe features 80-100 hours of battery life and has replaceable batteries.
For more information on Muzzy products, call 1-866-387-9307, or check out www.muzzy.com
About The WON

The Women's Outdoor News, aka The WON, features news, reviews and stories about women who are shooting, hunting, fishing and actively engaging in outdoor adventure. This publication is for women, by women. View all posts by The WON →