She just ain't buying the whole pink gun thing
Laura Burgess at her new blog called "The LBM Blogger" gives her personal reasons for not choosing a pink gun. Points taken. We like how Laura incorporates social networking into her marketing program at Laura Burgess Marketing, and tying a blog into the operation makes sense and frankly, cents. Laura Burgess Marketing provides public relations and marketing communications to companies within the law enforcement, tactical, military, shooting sports, home building, boating and recreational fishing markets. With over 17 years of experience in marketing, corporate management, and public relations, Laura Burgess Marketing helps companies to build better brand awareness to the media and their customers through traditional and the new social media methods.
We're looking forward to following her blogs. After all, she is a success story in the field of women in the outdoors.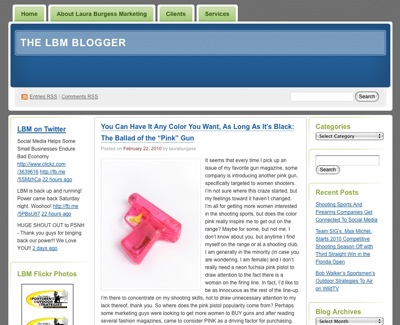 About The WON

The Women's Outdoor News, aka The WON, features news, reviews and stories about women who are shooting, hunting, fishing and actively engaging in outdoor adventure. This publication is for women, by women. View all posts by The WON →