Soar to greater heights in performance and comfort with the new Fieldline Eagle Backpack
Fieldline® has engineered a sleek new pack sure to soar to the top of every serious hunter's wish list — the all-
new Fieldline Eagle Backpack™. With its incredibly lightweight design and revolutionary hunter-friendly features, you'll transport your vital gear with ease from camp to the high country.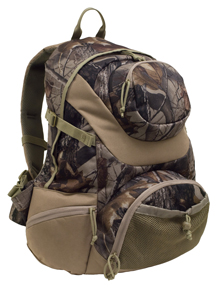 The new Fieldline Eagle BackpackTM is brimming with specially engineered components that meet — and
exceed — the needs of any well-equipped big game hunter. Its fully padded back panel with breathable 3D mesh,
ergonomic shoulder straps with foam padding, and convenient compression straps are all designed to keep you
cool and comfortable as you tackle a long day in the field.
Whether you're scouting before the season opener or aggressively pursuing game, you may find you need to grab
a grunt call, your GPS unit or a trail marker quickly and easily. Simply tuck these and other essential items in the
convenient bottom mesh pocket, tighten with sturdy cinch cord, and your gear is where you want it, safe and
secure until called into action. Its smartly designed SBS hardware adds to the pack's durability — keeps items
protected even when trekking through dense brush and over rough terrain.
If you're on the hunt for space and organization, the Fieldline Eagle Backpack is for you. Measuring
13"W x 18"H x 8"D, this indispensible pack with spacious main compartment will eat up bulky items, while an
assortment of pockets keeps smaller gear items such as your cell phone, tags and scents from getting lost in the
shuffle. The new Fieldline Eagle Backpack is available in Mossy Oak® Infinity and Realtree® All Purpose camo,
perfect for making you virtually invisible no matter the terrain or the season.
To learn more about Fieldline's Eagle Backpack or any of the company's rugged hunting gear and accessories,
contact Fieldline at 1919 Vineburn Avenue, Los Angeles, CA 90032 92390 • Telephone: (800) 438-3353.
www.fieldline.com.
Editor's Note: For hi-res images and releases, please visit our online Press Room at www.full-throttlecommunications.com
About The WON

The Women's Outdoor News, aka The WON, features news, reviews and stories about women who are shooting, hunting, fishing and actively engaging in outdoor adventure. This publication is for women, by women. View all posts by The WON →