The Versatile DragBuddy™ Game Drag Device now offered by Bullet Weights
ALDA, Neb. (March 2010) – Bullet Weights®, a leading manufacturer of fishing sinkers, is now offering hunters a game drag tool that can be used to easily and safely drag, tow and hang game. DragBuddy™ is designed to be versatile and durable when hauling field-dressed game from the field.
Bullet Weights acquired the production and marketing rights for DragBuddy last fall from Peitz Industries of Pierce, Neb. The product was introduced into the marketplace in 2008.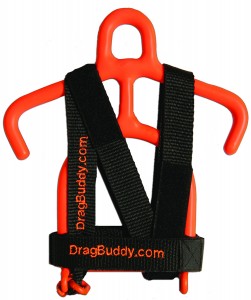 "The DragBuddy is a good fit into our marketing and production operations," said Bullet Weights President Joe Crumrine. "We are continuing efforts to expand distribution and look forward to the 2010 hunting season."
A video demonstrating how to easily use DragBuddy can be viewed at dragbuddy.com. Designed to be compact and lightweight, DragBuddy is constructed of high-tensile steel for excellent durability. It is covered with a rubberized "hunter-orange" coating to provide a firm grip even when wet.
DragBuddy has been used to transport whitetail deer, antelope, wild boar and even bear. It is designed to install in the animals mouth so it can pull from the skeleton and not the hide, thus preventing damage to the cape. The handle is designed so that it can be pulled by one or two people.
An ideal use of DragBuddy, is to attach it to an ATV for further transportation and to keep the head up to avoid damage to the antlers. Once the game reaches its destination, it can be hung for curing using the DragBuddy as an attachment.
The suggested retail price of the DragBuddy is $29.99.
About Bullet Weights
Headquartered in Alda, Neb., Bullet Weights is a leading manufacturer of fishing sinkers and accessories. They offer fishing sinkers made of lead, steel (Ultra SteelÒ), tin (Ultra TinÔ), tungsten and brass. Bullet Weights products are available in fishing tackle retailers, sporting goods stores and sporting goods departments of mass merchants. For more information visit bulletweights.com
Steve Roth
steveroth@swansonrussell.com
(402) 437-6400
About The WON

The Women's Outdoor News, aka The WON, features news, reviews and stories about women who are shooting, hunting, fishing and actively engaging in outdoor adventure. This publication is for women, by women. View all posts by The WON →