'Pass It On' joins outdoor mentoring alliance
Woodbury, MN– Pass It On – Outdoor Mentors has teamed up with School of Outdoor Sports and Tips Outdoors Foundation, creating a triad that leaves no gaps in a maturing new system for turning beginners into anglers, hunters, and shooters.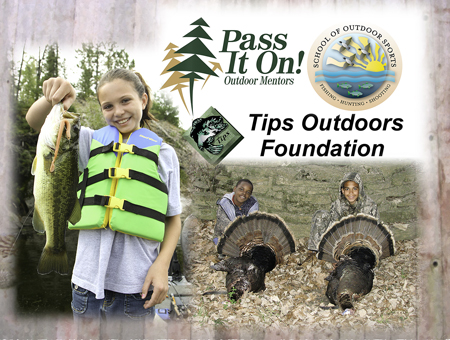 "We're all working toward the same thing," said Mike Christensen, President of Pass It On, the recognized leader in matching youngsters interested in the outdoors, with mentors willing to take them on regular outings. "We need to get more people outdoors, and help them discover how fulfilling the outdoor traditions are."
How the Alliance Works
The full-spectrum alliance brings together every element needed to ensure that interested beginners are helped every step of the way, as they pass through the gates of fishing, hunting, and shooting sports. Beginners are never left to fend for themselves, and are encouraged to sample any outdoor pursuit that sounds fun, freely choosing their favorites.
* Tips Outdoors Foundation (Tips) specializes in fun, hands-on events for kids and families, introducing newcomers to the skills they will need to be successful in the field. An expanding roster of events will reach all corners of America as funding allows.
* Pass It On – Outdoor Mentors (PIO) also conducts hands-on events, and matches up young beginners with mentors, so that youngsters "without someone to take them" are taken on regular outings. Begun in Kansas in 1999, PIO has grown to include activities in many states.
Through PIO, outdoor introductions are given a chance to become an outdoor lifestyle, especially for at-risk youngsters.
* School of Outdoor Sports (SOS) provides free lessons in basic skills and knowledge necessary to overcome the learning curve, so beginners find success and have a foundation on which to choose favorite activities. The School, using video-based online classrooms, also trains more mentors, including parents and guardians who don't feel qualified to lead outings. The School welcomes newcomers of any age, providing a service to older beginners, a segment that's often overlooked. Instructors are available at all times to answer questions, so beginners are never left to struggle on their own.
Together, the alliance forms a seamless system that leaves no beginner behind.
A Name for Outdoor Mentoring
The three organizations have banded together under the name Team Great Outdoors, and are working together to shepherd beginners "all the way to the point they think of themselves as anglers, hunters, and shooters," said Mark Tipler, Executive Director of Tips. "Nobody slips through the cracks anymore."
There are no holes left in this new system, said Mark Strand, SOS President.
"Every piece of this alliance is necessary, and dependent on the others," he said. "This is the blueprint for the future of outdoor mentoring. The impact will be immediate, but the real effect will be enduring, as a steady flow of beginners goes through the system. We'll be creating actual, active participants."
In addition to working directly with beginners and mentors, the group will be assisting state agencies in executing plans for getting more people into fishing, hunting, and the shooting sports.
The real legacy, said Christensen, "comes when these new participants grow up and become the next generation of mentors. We are already seeing that happen in Kansas, where the program began, and look forward to seeing it across the country."
Notes: Team Great Outdoors needs significant funding to serve this important mission. Please consider supporting the cause by using the online donation feature at www.learnoutdoorsports.org , or by calling Tips at 651-779-8216, or Pass It On at 316-290-8883.
About Pass It On – Outdoor Mentors
Matching caring adults with a passion for the outdoors with children that want to learn about the outdoors is the Pass It On program, in a nutshell. Begun in 1999 with the help of Big Brothers Big Sisters and the Kansas Department of Wildlife and Parks, Pass It On is currently active in Kansas, Missouri, Florida, Alaska, Texas, South Dakota, Arizona, Montana, Michigan, Minnesota, and Wisconsin.
To learn more, please visit www.outdoormentors.org.
About Tips Outdoors Foundation
Tips Outdoors Foundation conducts fun, hands-on, outdoor educational experiences. In addition, it provides support for, and partners with, other organizations with the same goals and purposes. Tips' mission is to introduce kids and families to outdoor related activities, helping to build family values. The Foundation also partners with corporate sponsors to produce outdoor sports related special events. The purpose of each special event is to raise funds and awareness, focusing on the cause and mission of each nonprofit organization.
For more, go to www.tipsoutdoors.org.
About School of Outdoor Sports
Developed to mesh with existing efforts to increase participation in the traditional outdoor sports of fishing, hunting, and shooting, nonprofit School of Outdoor Sports is dedicated to helping beginners of all ages become lifelong participants. Beginners are taught 'most of what they'll ever need to know' about any aspect of these outdoor traditions, via video lessons from expert instructors. All student questions are answered individually. Students requesting help finding adult mentors are matched up with mentoring organizations in their area. The result is a steady flow of new, lifelong anglers, hunters, and shooters, eventually reversing the trend of declining participation. For more, go to www.learnoutdoorsports.org
-30-
About The WON

The Women's Outdoor News, aka The WON, features news, reviews and stories about women who are shooting, hunting, fishing and actively engaging in outdoor adventure. This publication is for women, by women. View all posts by The WON →