Plano steps up involvement in school archery program
PLANO, Ill. (April 28, 2010) – Plano Molding Co., a longtime leader in recreational outdoor sports, announces it has become a national partner of the highly successful and popular National Archery in the Schools Program (NASP). It is a higher level of involvement for the in-the-school program than previously, but support of outdoors-related youth activities has always been a Plano trademark.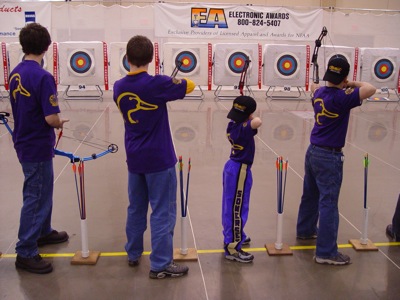 "What better way to prepare today's youngsters as tomorrow's stewards of our outdoor resources than to engage them now in healthy, wholesome activities that can be enjoyed with family and friends for the rest of their lives," said Jesse Simpkins, Plano vice president of marketing. "Archery in the Schools is a showcase example of how fun and learning can be combined into a single activity that further reinforces all classroom studies. Plano is proud to support this great educational program."
Tom Bennett, NASP co-founder, says Simpkins is right on target with his assessment. "Our program teaches three life skills that will forever be part of these youngsters lives going forward in everything they do: focus, concentration and practice," Bennett explained. "And, in archery, a student's physical size and build is a non-factor for success … if we can get just a little interest and desire, we'll take it from there to build upon a youth's self-esteem and responsibility. Thanks to companies like Plano, NASP is touching many lives."
In fact, according to NASP figures, more than 5 million students have gone through the program since its inception as a pilot project in 21 Kentucky schools in 2002. Designed to teach international style target archery in physical education class 4th-12th grades, core content covers archery history, safety, technique, equipment, mental concentration, core strengthening physical fitness and self-improvement. Teachers are required to complete an eight-hour NASP Basic Archery Instructor Training Program before being qualified to present the two-week course.
Thanks to its corporate partners, NASP archery kits, including everything needed from bows to targets, are available to the schools at a fraction of what the equipment would cost otherwise. To date, NASP is offered as part of school curriculums in Canada, Australia, South Africa, New Zealand and the United States. In the United States, 46 states have NASP programs among their schools.
"NASP is an amazing program and we applaud the organization and its supporters for their efforts to build student character along with mental and physical skills," Simpkins added. "If we grow some Plano customers along the way, great. Regardless, we feel good about having helped out with a really neat school program. We are really looking forward to being at the national shoot in Louisville in May to start our involvement out with a firsthand experience."
Plano makes a number of different protective cases for the safe and efficient transporting of bows, arrows and archery accessories. Among its lineup is the company's innovative Grab N Go case, model 1110-89. The case provides all the protection that one comes to expect from a Plano product, plus it offers the convenience of an integrated fully removable soft case that is included inside.
For more information on Plano, visit PlanoMolding.com. For more information on NASP, visit NASParchery.org.
About The WON

The Women's Outdoor News, aka The WON, features news, reviews and stories about women who are shooting, hunting, fishing and actively engaging in outdoor adventure. This publication is for women, by women. View all posts by The WON →