Yay! Kay! Miculek takes 2nd Lady in two divisions at steel championships
SPRINGFIELD, Mass. (April 14, 2010) – Smith & Wesson Corp., announced that professional shooter Jerry Miculek helped lead Team Smith & Wesson to numerous top finishes during the 2010 U.S. National Steel Challenge Championships held at the Titusville Rifle and Pistol Club.
Drawing shooters from across the nation to the three-day match in central Florida, the U.S. Steel Nationals is designed to test both the first time competitor and seasoned veteran alike. Leading the charge for Team Smith & Wesson was world-renowned revolver shooter Jerry Miuclek. With a long list of accomplishments already tied to his prestigious career, Miculek added three more national titles by winning the Iron Sight Revolver, Optical Revolver and High Senior Title.
Smith & Wesson served as the title sponsor of the event, with over 160 competitors competing for division titles. This year's match was highlighted with new match records and returning champions. In addition to Jerry Miculek's three national titles, Team Smith & Wesson also had top finishes by members Kay Miculek, Phil Strader, David Olhasso, B.J. Norris and Tony Phan.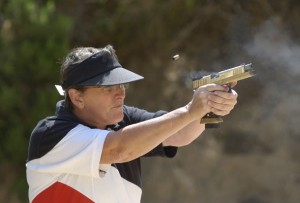 Competing in the Rimfire Division, Kay Miculek secured 2nd Place Lady while fellow teammate Phil Strader took home 3rd Place in the Iron Sight Rimfire Division. Kay also went on to finish 2nd Lady in the Open Division. In the Stock Service Pistol (SSP) Division, David Olhasso won 2nd Place while fellow teammate Tony Phan finished closely behind in 3rd Place before going on to claim another 3rd Place finish in the Iron Sight Revolver Division. Concluding the successful weekend for Team Smith & Wesson was B.J. Norris who captured 3rd Place in both the Limited and Steel Master Divisions.
"Smith & Wesson has worked with both the Steel Challenge Shooting Association and the United States Practical Shooting Association to help grow and evolve steel matches," said Tom Kelly, Vice President of Marketing for Smith & Wesson. "Together, we strive to introduce new shooters to the sport while maintaining a level of excitement that makes these matches enjoyable for both spectators and competitors. On behalf of Smith & Wesson, I would like to thank all of the hard working men and women who made this match such a success and I would also like to extend a special congratulation to all of the members of Team Smith & Wesson."
About Smith & Wesson
Smith & Wesson Holding Corporation (NASDAQ: SWHC) is a U.S.-based, global provider of products and services for safety, security, protection and sport. The company designs and constructs facility perimeter security solutions for military and commercial applications, and delivers a broad portfolio of firearms and related training to the military, law enforcement and sports markets. SWHC companies include Smith & Wesson Corp., the globally recognized manufacturer of quality firearms; Universal Safety Response, a full-service perimeter security integrator, barrier manufacturer and installer; and Thompson/Center Arms Company, Inc., a premier designer and manufacturer of premium hunting firearms. SWHC facilities are located in Massachusetts, Maine, New Hampshire, and Tennessee. For more information on Smith & Wesson and its companies, call (800) 331-0852 or log on to www.smith-wesson.com; www.usrgrab.com; or www.tcarms.com.
If you no longer wish to receive "Smith & Wesson" press releases reply to this email address with "Remove."
About The WON

The Women's Outdoor News, aka The WON, features news, reviews and stories about women who are shooting, hunting, fishing and actively engaging in outdoor adventure. This publication is for women, by women. View all posts by The WON →