'Black Man with a Gun' — Pastor Kenn Blanchard podcasts about truth, love, guns … and paintball
The WON salutes Kenn Blanchard, aka "Black Man with a Gun," aka "Urban Shooter Podcast," aka "Pastor of Pistoleros" and a real church in the D.C. area, aka family man, husband and friend to many. Kenn, who recently attended a BLACKHAWK! bloggers event in Norfolk, Va., is a firearms trainer, a gun rights activist, a blogger and a podcaster.
He produces a weekly podcast that also appears at iTunes. He communicates in a lot of different ways — on iTunes, YouTube, the Internet.
Check out his podcast at www.urbanshooterpodcast.com
See http://www.blackmanwithagun.com/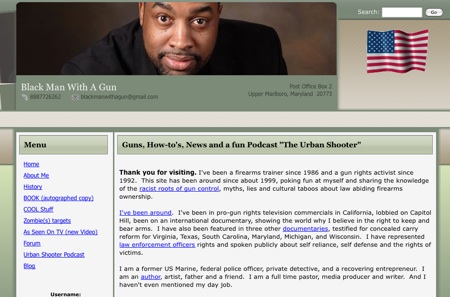 About The WON

The Women's Outdoor News, aka The WON, features news, reviews and stories about women who are shooting, hunting, fishing and actively engaging in outdoor adventure. This publication is for women, by women. View all posts by The WON →