Brownells 'Shoot Like A Girl' products support American Cancer Society
Annie Oakley* (1885), Plinkey Topperwein* (1904), Margaret Thomas Murdock* (1976) Kim Rhode* (2010) – there's no doubt girls can shoot.
Now, gals – and their guys – can help shoot the lights out on breast cancer by carrying Brownells attractive and functional line of "Shoot Like A Girl" gun cases.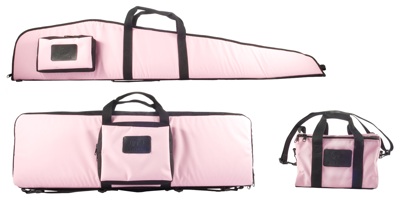 Ten percent of the proceeds of sales of the cases will be donated to the American Cancer Society to help fight breast cancer, improve breast cancer awareness, and invest in research towards a cure for breast cancer. So, for Mothers Day, a birthday or anniversary, treat someone you love, or lavish yourself with a pink gun case.
The cases offer high-quality, heavy protection for guns and gear. The Pistol Range Bag, Scoped Rifle Case, and M4 Rifle Case are made in the USA and supplied in pink in honor of the breast cancer awareness campaign. They're made of tough, 1,000-denier Cordura nylon with black trim.
All feature generous padding, double-stitched seams, full wrap-around, boxed-stitched handles, YKK zippers, a clear window for a business card or ID tag and shoulder straps for easy carry. See them at brownells.com/shootlikeagirl
"We've all been touched by Cancer at some level," said Pete Brownell, company president. "In tribute to my mother, I'm pleased to offer products that support efforts to find a cure for breast cancer."
CEO Frank Brownell added, "Breast cancer is one of the scourges of our families. It affects so many of us as we lose our wives, mothers, daughters and sisters. We are pleased to make these contributions in addition to our strong support for the Relay for Life program to help find the cure."
Like all Brownells products, the Shoot Like a Girl gun cases are backed by a no-questions-asked, no-restocking-fee, 100% satisfaction guarantee. Founded in 1939, they supply more than 30,000 firearms parts, accessories and gunsmithing tools to armorers, gunsmiths, and shooters worldwide. Brownells provides free tech help and there's no minimum order size or small order fees. To order, or for more information, call 800-741-0015 or visit brownells.com and mention code PFZ.
* Girls Can Shoot
Annie Oakley, born Phoebe Ann Mosey in 1860, was the Wild West Show's star attraction for 17 years, marveling spectators with amazing shooting feats. At 90 feet, Annie could shoot a dime tossed in midair. In one day with a .22 rifle she shot 4,472 of 5,000 glass balls tossed in midair. With the thin edge of a playing card facing her at 90 feet, Annie could hit the card and puncture it with five or six more shots as it settled to the ground.
Plinky Topperwein – A pioneer trapshooter among her sex and one of the greatest-if not the greatest – woman marksman of all times. In 1904, she became the first woman to break 100 straight at trap, a feat which she was to accomplish over 200 times in her career. She recorded fourteen 200 straights before the days of registered shooting. Plinky set an endurance record at Montgomery, Ala. in 1916 by breaking 1,952 of 2,000 targets thrown for her.
Margaret Thompson Murdock – First markswoman to win a medal in Olympic history. Three position small-bore rife shooting (1976) silver medal winner. Graduate of Kansas State, 1965.
Kim Rhode – Four-time shotgun Olympian, 2 gold, 1 silver, 1 bronze (1995 – 2008). She won her first Gold Medal for double trap, in 1996 at age 16 and as the youngest member of the U.S. Summer Olympic Team.
About The WON

The Women's Outdoor News, aka The WON, features news, reviews and stories about women who are shooting, hunting, fishing and actively engaging in outdoor adventure. This publication is for women, by women. View all posts by The WON →