Jessie Abbate wins at the National Action Pistol Championship
Columbia, Missouri – Recently signed Team Smith & Wesson shooter Jessie Abbate captured the Women's National Action Pistol Championship at the 2010 Bianchi Cup in Columbia, Missouri. Abbate, competing in only her second Bianchi Cup, won the title after a poor start on the first day of the event.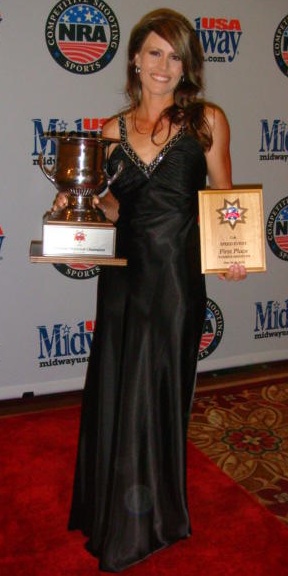 On day one, Abbate started the competition at the Smith & Wesson Falling Plate Event where she fired a perfect score of 480-48x. Later that same day, Abbate competed at the Moving Target Event and fired a score of 468-34x – a score far below her goal for the event. After the event, Abbate stated that she knew she had "dug herself a hole", but also stated that she was determined to "battle until the final shot of the competition so as to post the highest score she was capable of shooting. I'm not giving up…" Her determination was evident on day two, when Abbate posted an almost perfect score of 478-34x at the Practical Event.
Despite her good showing at the Practical and Falling Plate events, her difficulty on the first day at the Mover required Abbate to have a great run at her last event- the Safariland Barricade Event. Abbate did more than she needed to do by firing a score of 480-47x at the Barricade. Her final aggregate score of 1906-163x not only gave her the Women's National Championship, it also placed her in the prestigious Bianchi Cup top twenty.
After winning the National Championship, Abbate was not quite done at the Bianchi Cup. The next morning, an optional speed event was held for the top placing shooters. Abbate, continuing her winning ways, won the Woman's Speed Event and ended a very successful showing at her second Bianchi Cup. When asked about her first Bianchi Cup Championship, Abbate stated, "Words can't express my joy at winning the prestigious Bianchi Cup. This is a dream come true!" She thanked her newest sponsors, Smith and Wesson and Hornady, for getting on board during her preparation for the Cup. "I am so happy we were able to reach an agreement with Smith and Wesson in time for the Bianchi Cup. Having Smith and Wesson and Hornady in my corner for this match gave me an extra boost of confidence that contributed to my success."
– – M O R E – –
Abbate went on to say that "I really had no idea of my accuracy potential prior to switching to a 1911 during my Bianchi Cup preparation. The first sub one inch 50 yard group I fired with my Atlanta Arms and Ammo 9mm match ammo loaded with Hornady's incredible 115 grain XTP's was exhilarating!" She went on to say that she was given clear directions by Steve and Jason Hornady just prior to the Cup. When asked what those directions were, Jessie smiled and said they told her, "just win."
The Bianchi Cup title is Abbate's second major championship of the 2010 shooting season. She started the season in March by sweeping every division at the Steel Nationals in Titusville, Florida, capturing the Open, Limited and Rimfire National titles for the second year in a row.
Jessie Abbate has become a dominant force in the competitive shooting world. Her career shooting resume includes World Speed Shooting Championships (Steel Challenge) in 2007, 2008, and 2009; USPSA Production National Championships in 2007 and 2009; USPSA Limited National Champion in 2008 and 2009; USPSA Limited 10 National Champion in 2008; a Pro-Am Championship in both Limited and Open in 2009; Steel Challenge National titles in Limited, .22 Open, and Open in 2006, 2007, 2008, 2009 and 2010; Western 3 Gun World Cup titles in 2004, 2005, 2006, 2007, and 2008; and numerous USPSA Area and State championship titles. Abbate has also won the USPSA 3-Gun National Champion ladies titles in 2007 and 2008.
JESSIE ABBATE'S EQUIPMENT LIST:
Abbate's Gun Sponsor is SMITH & WESSON – a globally recognized manufacturer of quality firearms for enthusiasts, hunters, collectors and professionals; since 1852, dedicated to the tradition of quality, reliability, performance and innovation.
Abbate's Optical Sight is from LEUPOLD AND STEVENS – the only significant, American-owned and operated optics company.
Abbate's Bullets are from HORNADY – maker of the finest bullets available and a company that delivers the most innovative products to hunters and shooting enthusiasts.
Abbate's Ammunition is from ATLANTA ARMS AND AMMO – maker of dependable, high quality ammunition that you can count on.
Jessie Abbate is represented by August Sports Promotions – a Maryland/Washington, D.C. based sports representation agency that specializes in representing athletes from the outdoor sports. For information about Jessie Abbate, please contact the offices of August Sports Promotions.
About The WON

The Women's Outdoor News, aka The WON, features news, reviews and stories about women who are shooting, hunting, fishing and actively engaging in outdoor adventure. This publication is for women, by women. View all posts by The WON →